Stop! It's culotte time!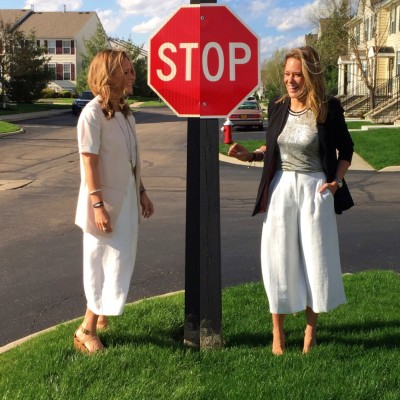 We are loving culottes this spring, and have been adding them to our clients' closets as well as our own. The silhouette seems to be popping up everywhere, from the runway to editorial spreads to street style, but we understand that they're one of those trends that may seem a bit daunting. Have no fear: Wardrobe Therapy is here to offer our pro tips on how to choose a pair of culottes, along with an example of how we'd show off those ankles in dressed up vs. casual outfitting.
Tips
Find a pair of culottes where the hem stops below the widest part of your calf, to keep legs looking slim.
To balance the proportions of the wide leg of this season's culottes, wear them with a form-fitting or tucked in top.
If you choose to pair your culottes with a looser top, be sure to wear a heel to keep the look slim and polished.  Monochromatic is best!
Look 1: Dressed Up 
Work, dinner, drinks…culottes are ultra-versatile, and love to go everywhere.  A metallic top and blazer paired with classic black pumps work perfectly for a day at the office. When its time to play, remove the blazer, add some more bangles, and hit the town!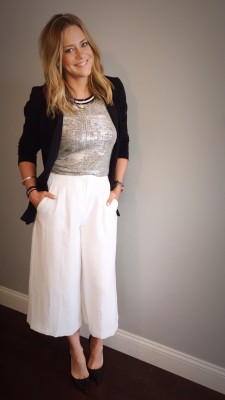 Look 2: Casual
Culottes can work for our casual lives, too! This head-to-toe white look is clean, polished, and works for anything from running errands to brunch with the ladies. Platform sandals are a great way to keep a little height in the look without sacrificing the comfort we need when running around. Add a crisp white silk tee, a blush tailored vest, and a long, gold necklace and you're set!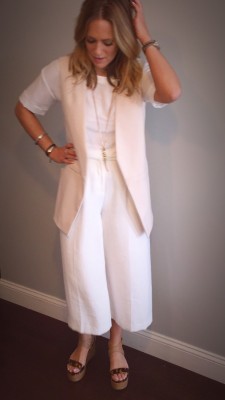 Our team would love to help you find your perfect culotte look – just contact us via the information below. Culotte-ya later!
To book an appointment or to learn more about our wardrobe consulting, personal shopping, outfitting, and corporate client services, visit https://www.wardrobetherapyllc.com, or email the stylists directly at Alic@wardrobetherapyllc.com, Christyw@wardrobetherapyllc.com, or Elizabeth@wardrobetherapyllc.com.
We're Social! Follow along for the latest on our team, our work, and our inspirations!