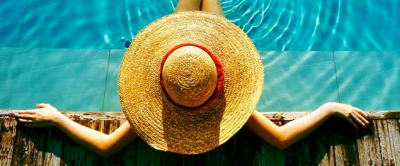 Just as soon as we were finally able to pack away our winter sweaters, it seems as though we're obsessing over fall fashion. Fringe, fur, leather and yummy knits; we just can't get enough right now! But while we're dreaming of layers we're still sweating our way through the dog days of summer.  Here's a few tips on how to float through these last few months of heat looking like the chill little cucumber that you are!
Wear Light Colors
It goes without saying that whites and neutrals are the coolest colors to wear in the sun.  Darker or olive skin tones look incredible in crisp whites, luscious creams, or the palest of pastels. But no matter your skin tone, you don't need to be afraid to dress in light colors! For fairer skin tones who want to avoid looking washed out, try neutrals in a richer sand, camel, khaki, or slate grey. Look for pastels with a little more pigment, and bring in warmth by adding a pop of color with a red lip.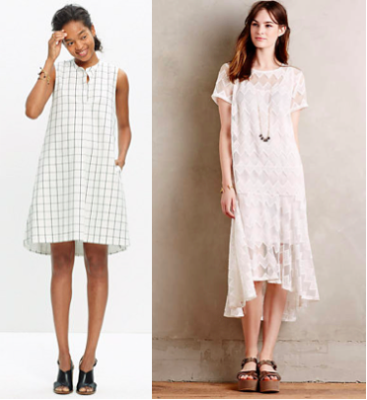 Madewell Sleeveless Shirtdress in Grid Print – $110
Anthropologie Jenna Dropwaist Dress – $178
Refresh your Dresses
Everyday maxi dresses don't have to be boring come August.  Try tying up one side of the hem of your dress into a little knot to add detail as well as open up the leg.  Or find a great lacey bralette or supportive cropped cami to layer underneath your dresses – no more fumbling around with a sticky strapless bra and the beautiful lace will bring something new to your coolest pieces!  This is also a great trick to add a little modesty for those of us who are more blessed in the bust.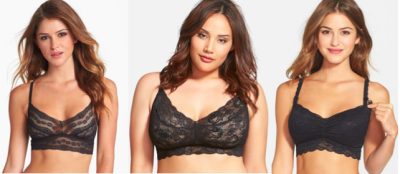 b.tempt'd by Wacoal Lace Kiss Bralette – $18
Cosabella 'Never Say Never Sweetie' Bralette – $65
Cosabella 'Never Say Never Mommie' Soft Cup Nursing Bralette – $79
Keep Jewelry Minimal
This is the time of year to layer in a different way.  Thin chains, dainty gems, and skinny bangles are perfect to accessorize on the hottest days of the year.  Layering a short necklace with a longer necklace will keep the eye going up and down the body and stacking skinny bangles will draw attention to the wrists.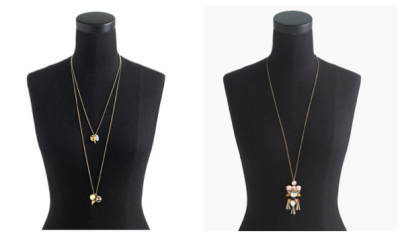 J Crew Tiered Charm Pendant Necklace – $35
J Crew Dragonfly Pendant Necklace – $88
Breath Easy in Breathable Fabrics
Outfitting in pants, tops, and even layers like vests, cardigans, jackets, and scarves is doable at the end of summer as long as you invest in the right fabrics. Cotton (including seersucker and jersey blends) and linen are the most common, natural, and lightest of fabrics, however, make sure you factor in time and money for a good iron or steamer when wearing linen pieces. Rayon, albeit a man-made fabric, is also incredibly lightweight and airy and usually comes with a lower price point. Silk and georgette are also great options, but best to keep for evenings or dressier occasions as they can stain easily with perspiration and need to be dry-cleaned.  Love the denim look but not the weight? Chambray is the perfect alternative to denim and can be found in tops, shorts, and the cutest of dresses!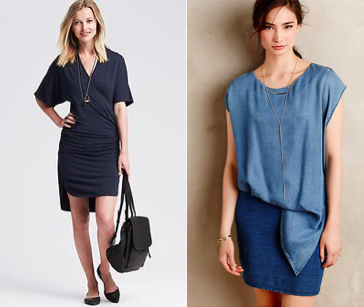 Banana Republic Heathered Faux Wrap Dress in Rayon Blend – $78
Anthropologie Tucked Chambray Dress – $148
Enjoy the last few months of summer with your new found knowledge on how to look stylish while keeping cool! To learn more about our wardrobe consulting, personal shopping, outfitting services, visit https://www.wardrobetherapyllc.com, or email the stylists directly at Alic@wardrobetherapyllc.com, Christyw@wardrobetherapyllc.com, or Elizabeth@wardrobetherapyllc.com.
Keep Making Every Day a Runway!!