When it comes to scarves, it's easy to fall into a styling rut – you know one tried-and-true method, and come back to it over and over. But, inevitably, you'll see someone with a wisp of fabric tied about her neck just so, and it all looks so effortless and chic that you crave a freshening up of your scarf game. That's where we come in – our stylists routinely use accessories to create various outfitting options for our clients. Elizabeth's here with video tutorials of three basic ways to wear a large square scarf, as well as one intermediate option – 101 and 102 if you will, because if there's one thing we love, it's teaching styling tips and tricks.
General Scarf Styling Tips & Tricks: 
We recommend that our clients wear a necklace as they normally would underneath any scarf with which they're accessorizing – this way, if they remove the scarf, they don't feel under-accessorized.
When belting at the waist (as seen below), choose a skinny belt and fasten it at your natural waist, an inch above your belly button.
Women with larger busts often ask if they should be accessorizing with scarves – to which we reply with a resounding yes! As long as the fabric is light, any of the styling options here work for any bust size.
Styling 101: Wear Your Scarf as Over Under, Infinity, or Belted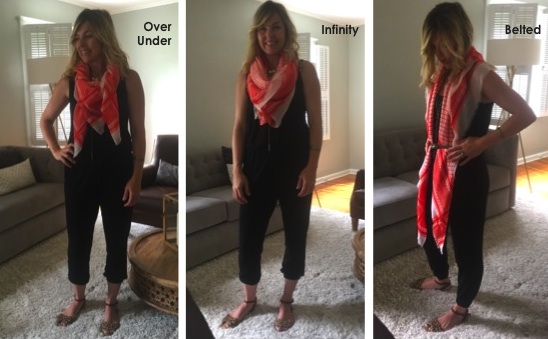 These are three easy and versatile ways that we love sharing with our clients. Click below for Elizabeth's video tutorial, which includes instructions for all three!
Styling 102: Wear Your Scarf as a Vest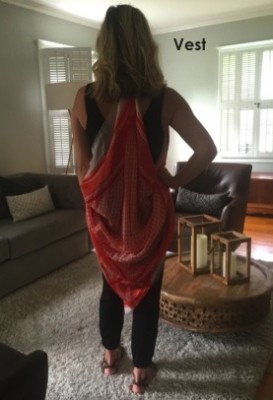 Now that we've mastered the basics, let's kick it up a notch with a sassy and inventive styling trick – turning your scarf into a breezy summer vest with just a few knots! Click below for Elizabeth to walk you through how to create this look.
Note: creating any of these looks is best done with a large, lightweight square scarf, such as the options noted below.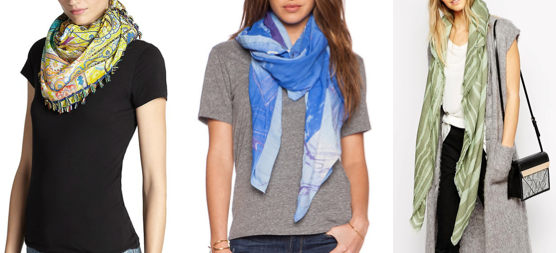 L to R: Etro Bombay Pom Pom & Silk Shawl, $346, Marc by Marc Jacobs Milky Block Scarf, $103, Asos Pieces Square Oversized Scarf, $39
Our expert stylists would love to help you with all of your wardrobe needs, including how to breathe new life into your current accessories. To book an appointment or to learn more about our wardrobe consulting, personal shopping, outfitting, and corporate client services, visit https://www.wardrobetherapyllc.com, or email the stylists directly at Alic@wardrobetherapyllc.com, Christyw@wardrobetherapyllc.com, or Elizabeth@wardrobetherapyllc.com.
We're Social! Follow along for the latest on our team, our work, and our inspirations!