There's one thing for certain, we love ACCESSORIES. Accessories truly have the magical ability TO MAKE an outfit! Or in some cases…make an outfit lose its full impact. As you may know, the goal of accessorizing is to enhance (we also like the phrase "set off") your clothing pieces. We are moving into those cooler temperatures and incorporating the right accessories is a unique way to keep your late fall/early winter style fresh and fun. Today, we are sharing some simple accessorizing do's and don'ts. From arm candy to ring stacking, we've got you covered!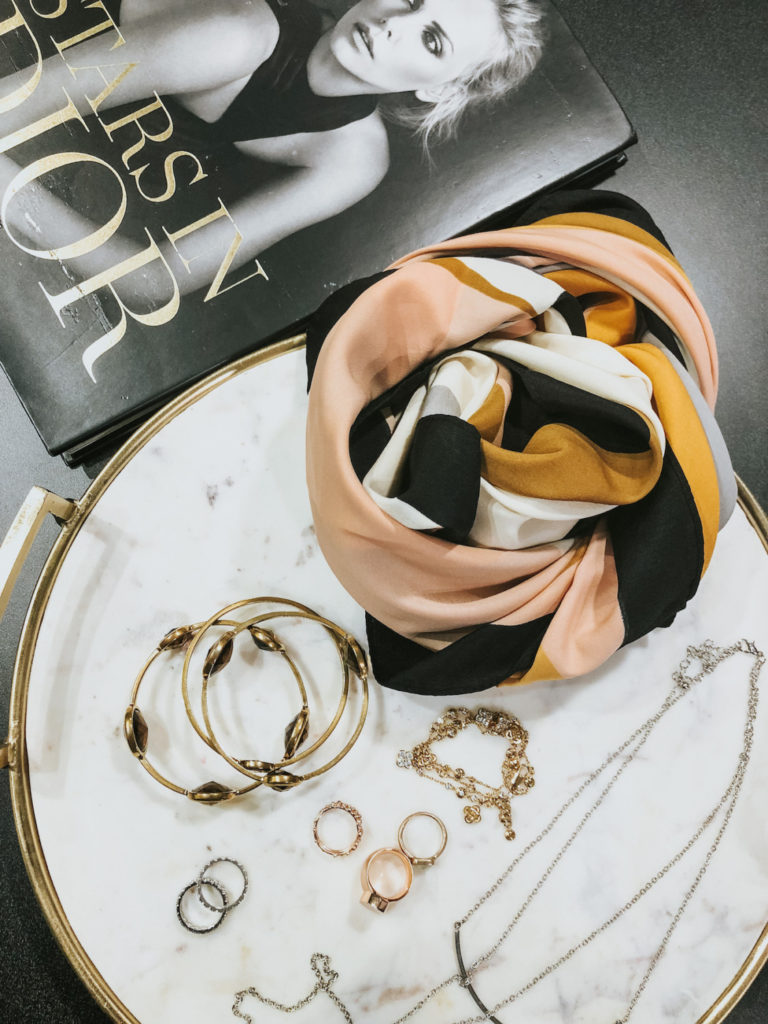 ADDING A SCARF
Scarves make great accessories! Often times, scarves can be the left behind accessory, as they can be found a bit more complicated to style due to various lengths, fabrication, etc.
When it comes to wearing a scarf with other accessories, it's all about balance. You DON'T want to over complicate the look by layering in too many jewelry pieces. Rather than opting for a necklace, statement earring and a scarf, we encourage you to DO the 1:1 ratio: a scarf + statement earring OR a scarf + necklace.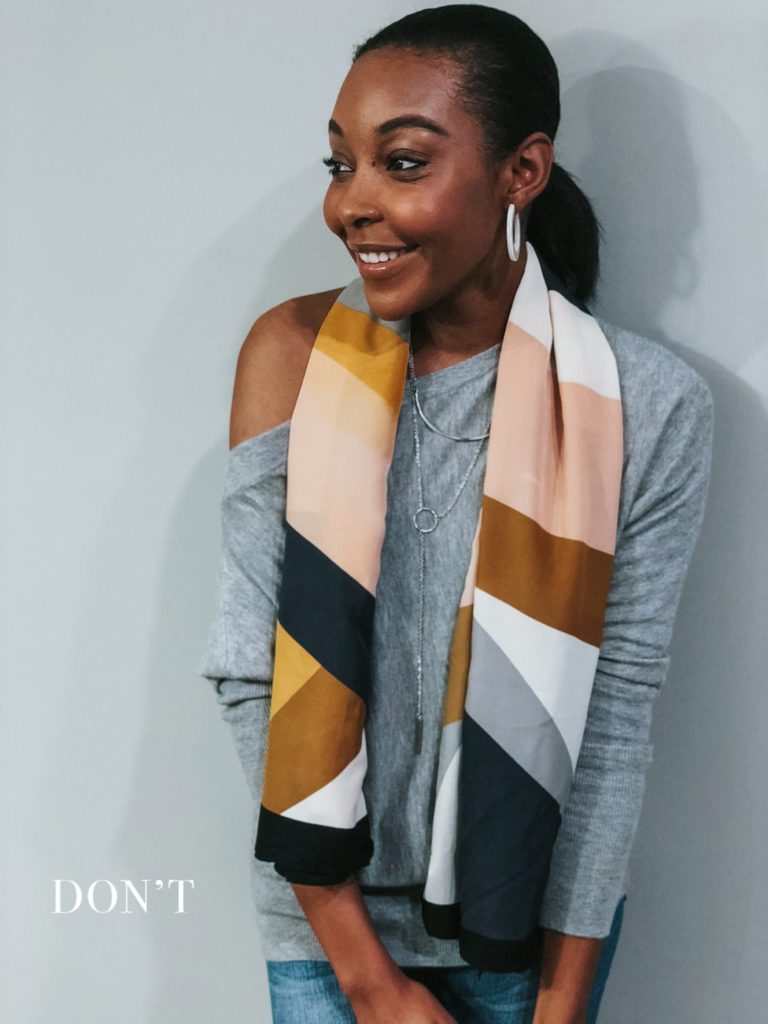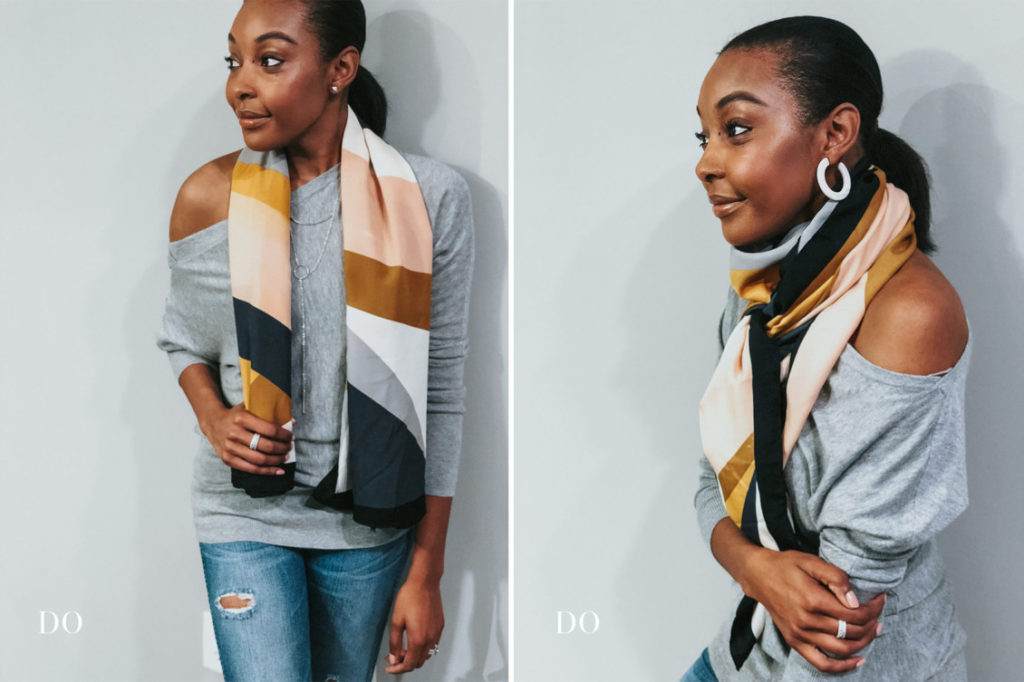 One of the great things about wearing a scarf/earring combo is that it warrants unique ways to tie the scarf. You can do something classic like the basic loop or you can do the doubled up neck as shown here. You can continue to play with scarf styling techniques even when utilizing a necklace. However, how you wear the scarf is going to come down to the style of the necklace! Since this necklace is double layered, we opted for the classic drape.
ARM CANDY LAYERING
Adorning your wrists to make the perfect arm candy situation is always a good idea. However, it's important to be mindful of volume when layering those pieces on. You DON'T want to create too much bulkiness. You DO want to make sure the proportions of your arm candy are balanced and complementary to your overall look. When it comes to accessorizing that arm candy, we like the idea of lightly layering one wrist and layering a bit more heavily on the other wrist. This balance ensures that your arm candy looks effortlessly chic, while it was most definitely well planned.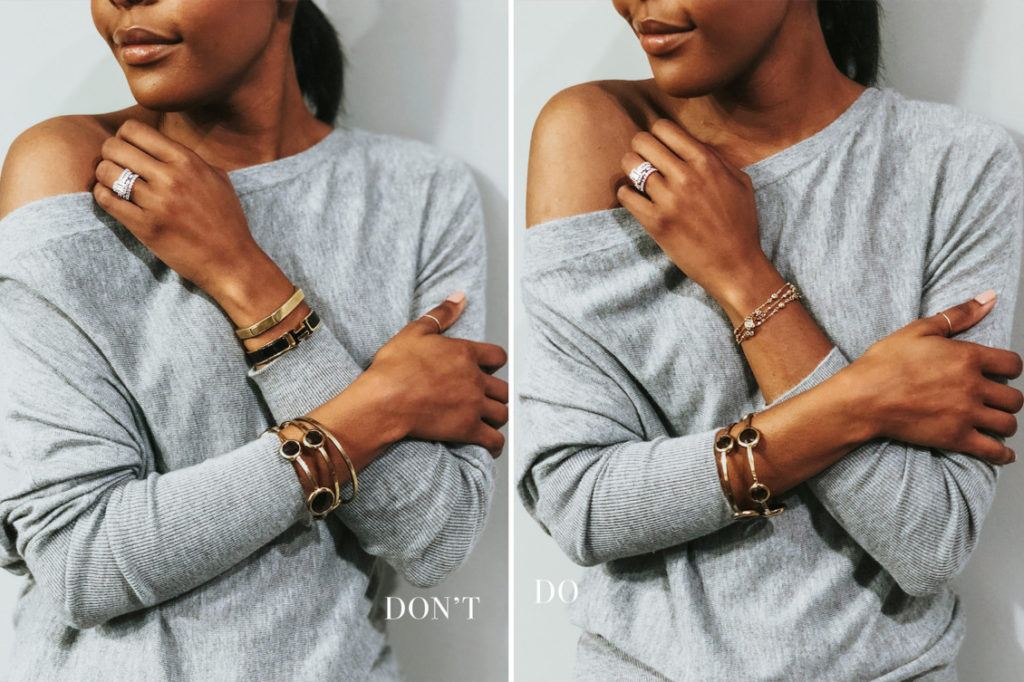 RING STACKING
Much like arm candy, ring stacking is all the rave these days! Rings are yet another way to add a sense of uniqueness to your overall look. When it comes to stacking your rings, you DON'T want to lose the allure of this accessorizing technique by stacking too many rings too closely. When accessorizing with rings, DO pick out a focal point for the stack and build accordingly. A good rule of thumb is after you've selected the focal ring, make sure the other rings you are incorporating are smaller in size!  Keep in mind that negative space is KEY! Don't hesitate to skip a finger or two when layering. Also, always feel free to add a complimentary ring layer to your opposite hand!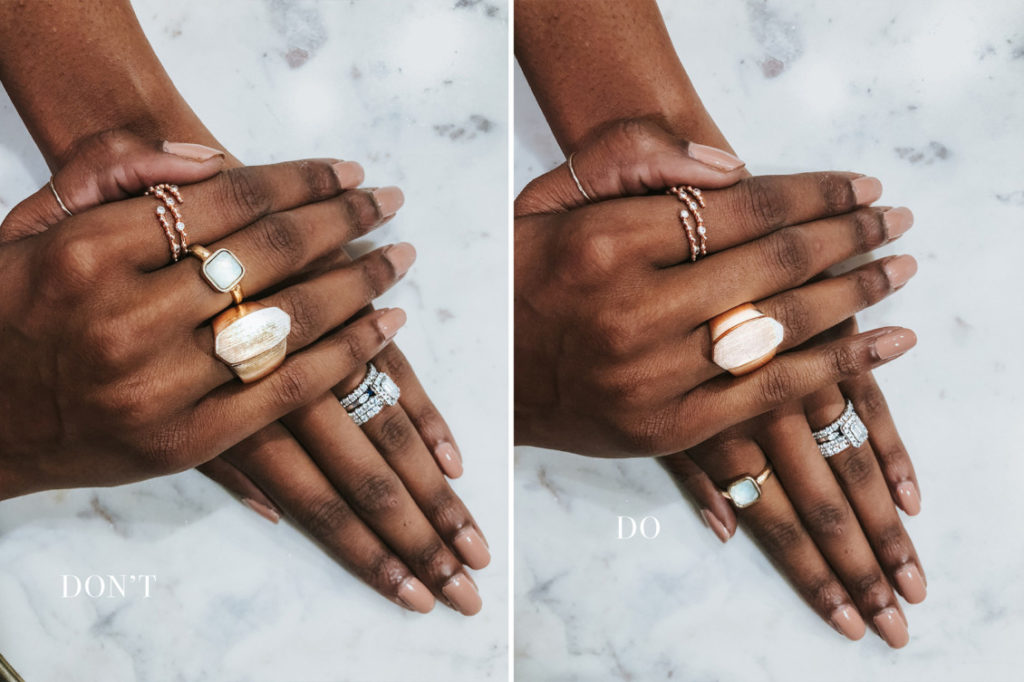 And there you have it, just a few easy tips and tricks on accessorizing! Also, Fall consulting, personal shopping and outfitting are here! We are booking now through December!