Holiday Parties! It's that time of the year and we know our ladies are already searching for their perfect party looks. Well, we're getting ready for Holiday season, too! While dressing, shopping and finding the ideal outfits for clients, we put together FIVE LOOKS categorized by occasion that range from Office Chic to Family Time to Holiday Sparkle! We'll get you to your special place looking and feeling your best!
Holiday Glam: Look 1
Holiday Soirée: Did someone say New Year's Eve or Holiday Party? We love a good jumpsuit that says sophistication and chic all in one glance. This one is perfect because of the sleeves and longer bodice. The v-neckline is flattering for so many bustlines. We can get behind that! As always, the accessories make the look!! To make it cocktail glamour, add a sparkle earring, statement shoe and pop of color in the bag.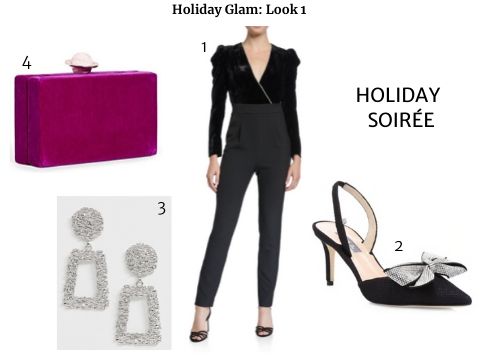 Shop Look 1: 1. Jumpsuit  2. Shoes  3. Earrings  4. Clutch
Holiday Glam: Look 2
Evening Romance: We love the slip dress trend happening! For this occasion, especially, it offers a level of sexiness without being too revealing. Pair it with a leather jacket for a great juxtaposition of fem+masculinity. Add a soft, luxe, fur (or faux!) topcoat for warmth and elevated layering. You can feel romantic yet playful and brave the cold for an evening out with your main squeeze! These Jimmy Choo booties introduce a new neutral in the hazelnut tone we are loving this season, and the AMAZING Valentino handbag offers great texture and highlights those spots we so adore!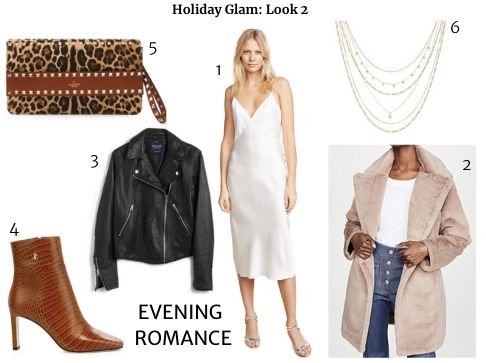 Shop Look 2: 1. Slip Dress  2. Fur Coat  3. Leather Jacket  4. Booties  5. Clutch  6. Necklace
Holiday Glam: Look 3
Family Time Feels: Even when spending time with family for Thanksgiving or Christmas Dinner, it's always nice to make your look feel a little extra special! One of the trends we are loving this season is leather! This pleated faux leather skirt feels elevated and a touch edgy, giving it a subtle "laidback" vibe for an evening holiday dinner. To further communicate this more elevated, laidback, dressy holiday look, we love the idea of pairing it with a simple black turtleneck and denim jacket, along with a few accessories that feel holiday-esque! If you aren't feeling the denim jacket, you can always opt for the next level. Say hello to this green velvet blazer…so very festive.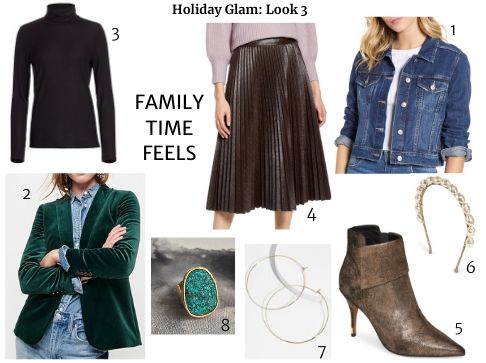 Shop Look 3: 1. Denim Jacket  2. Blazer  3. Turtleneck  4. Skirt  5. Shoes  6. Headband  7. Earrings  8. Cocktail Ring
Holiday Glam: Look 4
Office Party: This holiday look combines key trends: color, luxe, leather. Green is having a major moment; it looks festive yet sophisticated in this rich, velvet blazer (we love it so much, it's a two looks in one piece situation!). To give this look an edge, pair it with leather pants and a sleek, modern earring.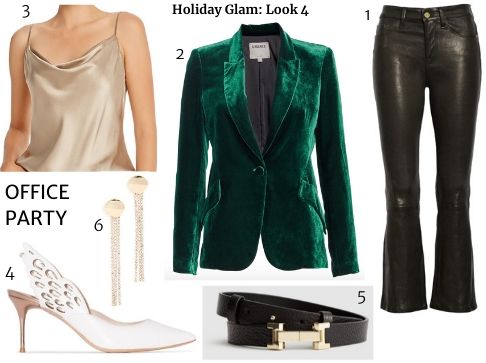 Shop Look 4: 1. Leather Pants (in photo) || Leather Pants Under $100  2. Blazer  3. Cami  4. Shoes  5. Belt  6. Earrings
Holiday Glam: Look 5
Give Me Sparkle: Winter holidays call for SPARKLE!!! From beautiful tree lights to storefront decorations, everything feels extra special. To create your winter wonder-look, we've taken this draped sequin asymmetrical skirt and matched it back to its v-neck sequined bodysuit for a "dress-effect." Make it glow with this timeless silver blazer, a pointed heel bootie and Melissa Lovy hoops. To top it off, head to Rae of Light to find this clutch or customize your own for $100 or less! You'll look like a STAR all night long!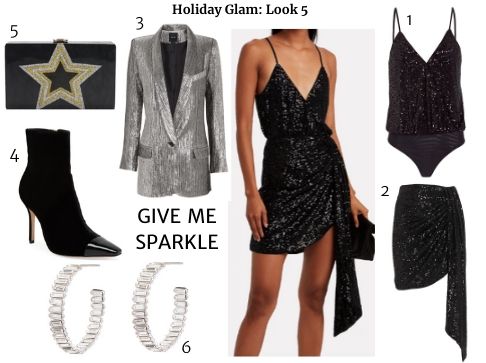 Shop Look 5: 1. Sequined Bodysuit  2. Sequined Skirt  3. Blazer  4. Shoe (in photo) || Similar Shoe Option  5. Bag  6. Earrings
Holiday Gift Card SPECIALS are COMING SOON! Stay tuned!
We're here to help you with all of your holiday needs! We are currently booking through December.
To learn more about our Personal Shopping, Wardrobe Consulting, and Outfitting Services, visit us here:  https://www.wardrobetherapyllc.com/about/