Holiday Party invitations are in the process of being sent out… and we know the ladies are already planning their perfect party looks. And we are getting ready for the Holiday season too, dressing, shopping and finding the perfect outfits and gifts!!! We're excited to get you to your special place, with our three looks that range from Party Chic to Holiday Wow!
Holiday Glam: Look 1
We love this blue sequin top from Zara. It was the foundation for this look. Of course, the Chanel metal belt took the outfit to the next level.. we imagine you wearing this to your favorite holiday party or out on the town.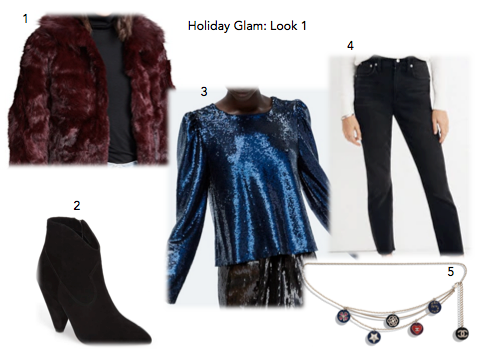 Fur Coat   2. Bootie  3. Sequin Top  4. Denim  5. Belt
Holiday Glam: Look 2
A great cocktail pant with a fabulous shoe can take any look up a notch. Paired with this beautiful silk cami, blazer and cocktail earring, this look becomes ageless. So classy, so chic. Definitely fits the bill for a cocktail casual look or holiday chic attire party.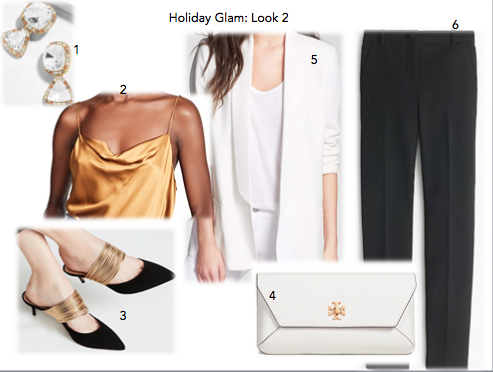 Holiday Glam: Look 3
A beautiful tuxedo dress can make a woman feel powerful and sexy. We love the high dose of sparkle by adding the necklace, paired with the velvet Jimmy Choo pump. It's Holiday Dress at it's finest.  Not wanting to have a bare leg? Add a perfect pair of Wolford tights.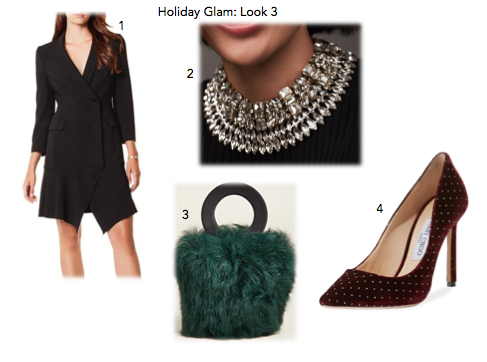 Holiday Giftcards are HERE! We're here to help you with of your holiday needs! To learn more about our Personal Shopping, Wardrobe Consulting, and Outfitting Services, visit us here:  https://www.wardrobetherapyllc.com/giftcards