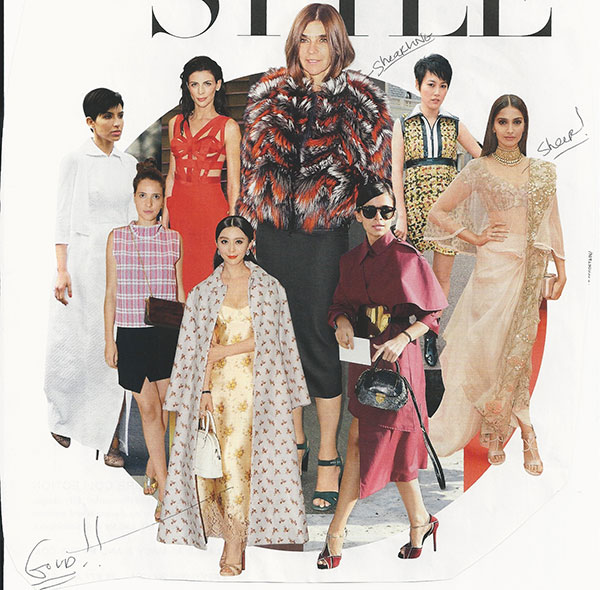 We've done it again!  Our team combed through stacks and stacks of Fall fashion magazines (seriously, check out this Instagram snap of our brainstorming session) and watched the Runway shows over and over to determine what's hot this fall.  As always, we have boiled it down to the most wearable trends we'll be helping our clients style for the season.
1. Shearling/Fur
Who can resist feeling a little western in a shearling coat this season?
Prada, Burberry and Alexander Wang did some of our favorites.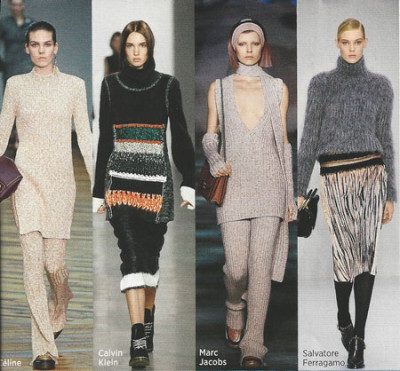 2. Sweater Dressing (it's all about the knit).
Layer long luxurious cardigans over sweater dresses and pair with a perfect pair of knit pants. Sophisticated and Chic, too.
Watch The Row, Stella McCartney, and Marc Jacobs for inspiration.
3. Retro- 60's Inspired
From the bright colors (think Hermes Orange) to Cherry Red and Cobalt Blue to the little mini dresses with pencil pants. We are obsessed with this trend.
3.1 Phillip Lim, Miu Miu, and Louis Vuitton were among our favs.
4. Coats, Capes, Wrap Jackets
They are EVERYWHERE. In both bright colors and pastels. This is one place to splurge. It finishes the outfit, and is the first thing someone notices.
Vince Camuto, Burberry and Fendi have this one "covered".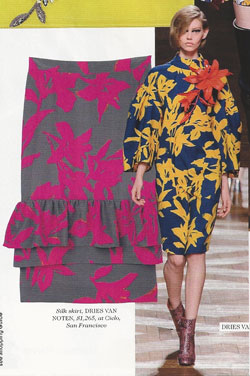 5. Novelty Prints
From the tropical remix, to polka dots, all the way to snakeskin details in shoes and bags. We are still lusting over prints.
6. Tonal Neutrals
Gray on Gray. Nude tones with Nude tones. Blush on Blush. Army Green on top, Army Green on bottom. Don't be afraid to match perfectly this season.
Ralph Lauren.
7. Head-to-Toe Suiting
Suits aren't just for interviews for our fashion mavens. Yes, menswear is still making a statement. We love the Pierre Hardy loafers (that Jcrew did well too).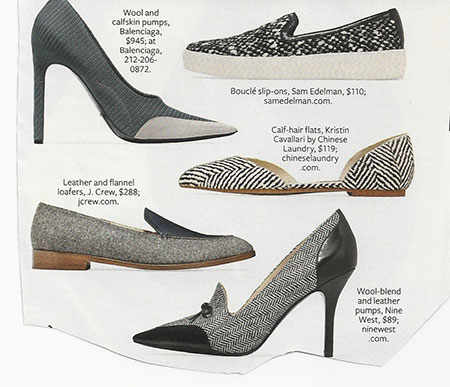 8. Sheer
From long gowns that have a sheer overlay to vests that feel like you're wearing a bathrobe to chiffon pants.. We're romanticizing on how we work this into our clients' wardrobes.
Check out Donna Karan, Givenchy and Valentino.
9. Extreme Polished
Think being dressed. Really dressed. Looking like you're going to a business meeting, when you're really heading to grab a coffee and lunch. Skirts, dresses and layers. Finished with the perfect accessory.
10. Tweed
Tweed is a classic for Fall. Pull from your past, it's sure to make a statement this season.
Chanel, Proenza Schouler, and Lanvin were among our favorites.
Items Needed to Support the Trends
1. Turtleneck
(yes, you're reading this right! Layer under your chunky knits and pair with your cashmere pants).
2. Corset Belt
Layer over your jackets, pair with your knits. Finish your denim looks. (Make sure it has a gold hardware for a must-have accessory)!
3. Black Open-Toe Booties