Fall 2015 is all about lavish Boho with RICH hues and BOLD textures. It's about feeling GLAMOROUS. It's about LUXURY.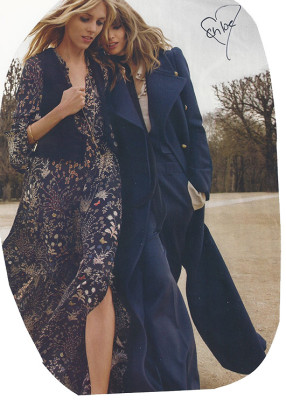 Our top 10 trends that we are LUSTING over…have us ready to put on our shopping shoes and get in your wardrobe!
The Long Coat- This is EVERYTHING! This season's staple can be thrown on with any outfit! Knee-length or longer in camel, navy, or grey and tweed and cashmere fabrications.
(inspiration: Express, Chloe, Michael Kors)
Texture Mixing: The bolder the better! Plaid, houndstooth, tweed, chunky knits, cashmere, herringbone. Pair them together! Mixing them is SO GOOD.
Ultra High-Waisted: Skirts, denim, trouser pants— It's about thinking above the belly button, ladies! Don't be afraid to show that waist, tucking blouses in is a necessity!
Ladylike details: Think lace, bow blouses, fur cuffs, fur stoles, jewels-large and oversized (cocktail rings, brooches-grandmother's jewels). It's the lovely fem you have been wanting to try.
Do Denim! Every day. Every outfit. Every piece. Make it a goal to buy one new denim piece this season– skirts. dresses. shirts. jackets. blazers. neckties. Handbags.
Lush Florals: Deep, rich colors set against black tones. Shirtdresses are the perfect silhouette to try this trend. Style with your long coat!
Menswear Inspired: Borrow from the Boys. Literally.
Herringbone blazer worn oversized (and back to the classic trouser pant), men's loafers, neckties (worn as neckties!), shirt collars over sweaters. You get the idea.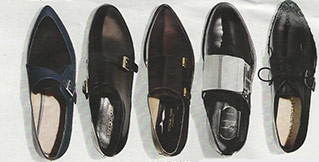 Mod Silhouette: Think Twiggy dresses. This one is for our petite ladies (you know who you are!)
(inspiration: Louis Vuitton, White+Warren, Jimmy Choo)
Car Wash Pleats– it's fringes chicer cousin! Found in capes, skirts, and knit tops! Again, fabrication is everything when choosing this special piece!
Fancy Feet: Your classic styles reemerge with a facelift for Fall.
Ballet Flat=Pointy-Toe Lace Up.
Classic Pump=Fem Kitten heel.
Ankle Boot=the perfect mix of chunky yet sleek.
Men, look for our guide to Fall Fashion for the Fellas next week!