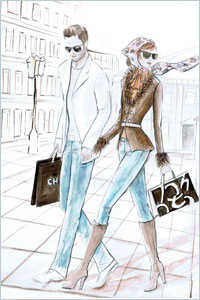 Looking for a last minute gift idea for the the fabulous man in your life? If you always feel like you're struggling for him…and wanting something unique, get a Father's Day giftcard from Wardrobe Therapy! Our male clients LOVE their Look Books…he likes to look good and feel pampered too, you know! We are offering a 10% off a minimum of 3 hours for the Man in your life.
Deliveries end on Saturday, let us know if we can make the search a little easier!
Read what a male client has said about Wardrobe Therapy:
"My wife surprised me by having Wardrobe Therapy prepare a Look Book. My Look Book has turned out to be both remarkable and invaluable. I feel as if my wardrobe has doubled in size, and I can now take the guesswork out of choosing what to wear. The fashion combinations created by Wardrobe Therapy have enabled me to literally have dozens of options at my fingers on any given day. Wardrobe Therapy was even able to recommend and locate sensible items for me to purchase to further round out my wardrobe. Wardrobe Therapy was a pleasure to work with."
J.K. – Businessman, Father
Keep Making Everyday a Runway!