With so many of our businesses returning back to the office this Summer, whether that's in a hybrid manner or all in, we know it will be a big transition for all. We spoke to several clients about what they're seeing in their own workplaces, and we love their insight. But we didn't stop there this week…this IS Wardrobe Therapy after all 😉 We're also bringing you a handful of go-to looks whether you're working at home or on-sight. Enjoy!
---
We are starting to see our clients return to work in a hybrid model, which means we're getting dressed again! The work trends I'm seeing definitely err on the casual side, but elevated for the office – dresses and sneakers, denim or joggers with blazers, etc. 
-Megan Shroy, Public Relations for Approach Marketing 
Since the beginning of the pandemic I believe dress in the work environment has made several shifts/changes. Initially, we all went from suits/smart casual to sweatpants and sweatshirts, except for when on video calls. Even then, a casual dress shirt was acceptable. Now that society is slowly opening back up it feels as though customer expectations have changed a bit and business casual/smart casual is more acceptable than it was pre-pandemic. I'm having far more internal meetings with employees and other business professionals in my network than I am with clients. The business environment just seems more accepting of relaxed dress. Perhaps Covid gave us a big enough scare where we're not taking ourselves as seriously as we used to.

– Chris Winkelmann, Owner of Winkelmann Insurance Agency 
The dress code at my workplace is more casual than before the pandemic. I am seeing more athleisure bottoms, dressed up sneakers, and colored denim paired with more traditional business professional pieces like blazers and woven shirts. It's the Zoom effect: professional on top, casual on the bottom!

– Amanda Bundy, Columbus Academy Faculty 
I'm seeing business casual as a whole, with spring flair from the most stylish ladies — colors, florals, and plenty of flowy dresses. Definitely an elevated comfort vibe with breezy dresses and denim paired with trendy tops or jackets and great shoes.
-Kristy Eckert, Kristy Eckert Communications 
All In Work Setting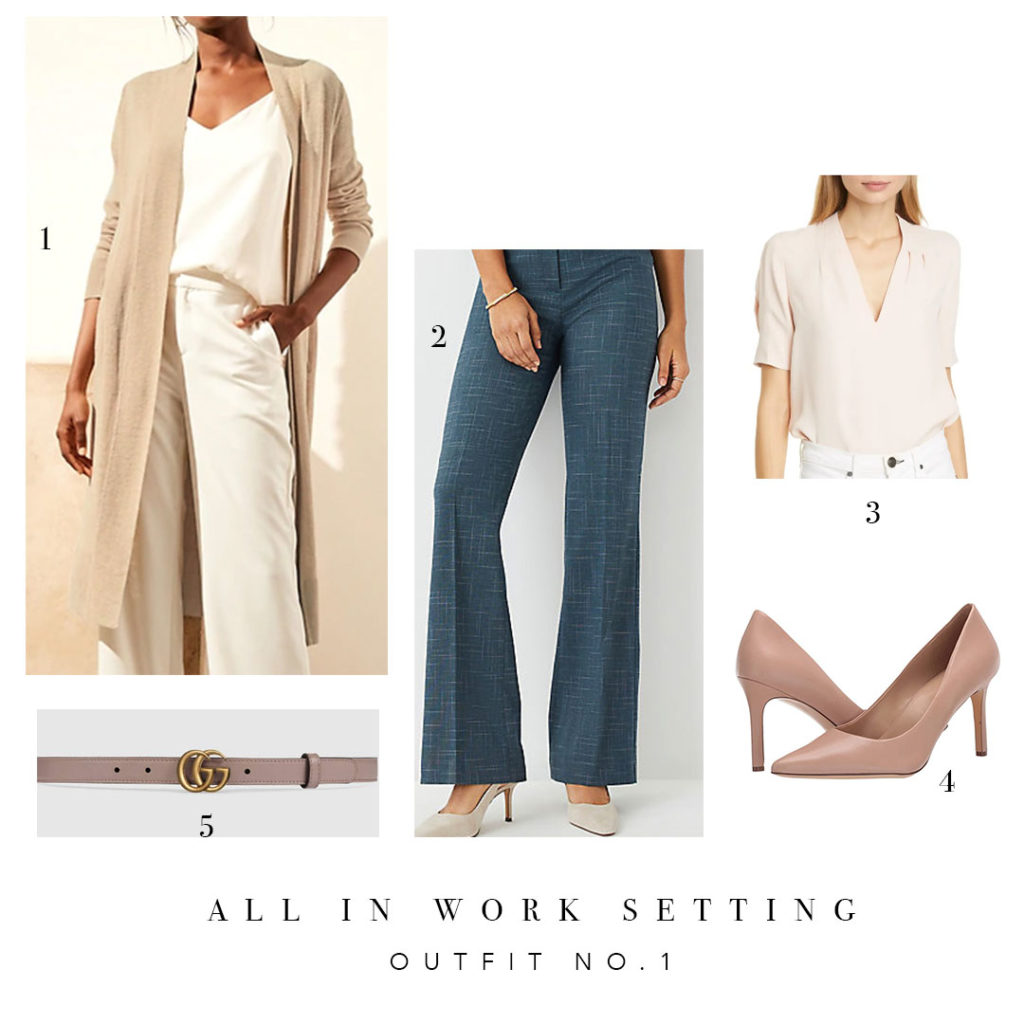 1.CARDIGAN | 2. PANT | 3. BLOUSE | 4. PUMP | 5. BELT
We love this look for the woman that is headed into a business casual to business environment. This pant is easy to style with a simple blouse or an easy knit. The cardigan is easy to layer for air conditioning offices in the summer! Style the blouse by tucking into the pant and pushing the sleeves of the cardigan up. A polished belt can finish this look!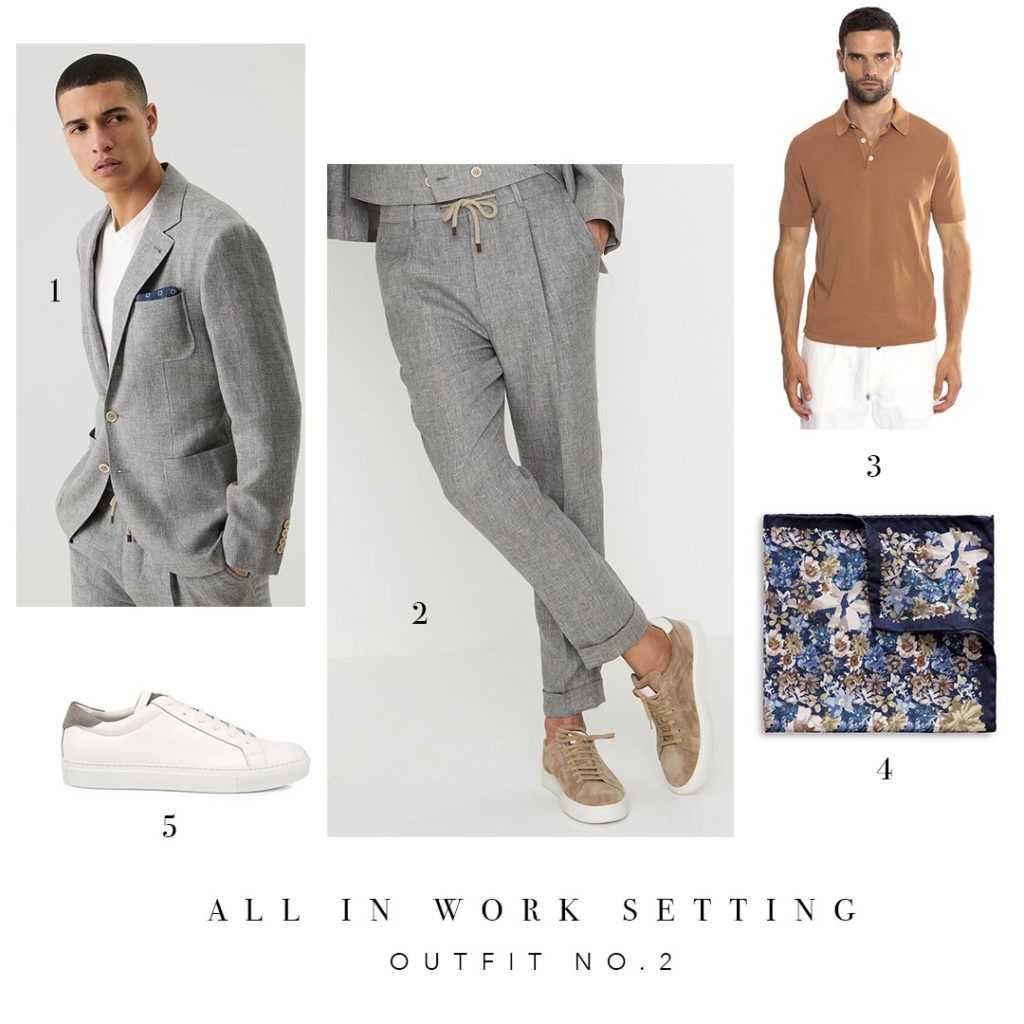 1. JACKET | 2. PANT | 3. POLO | 4. POCKET SQUARE | 5. SNEAKER 
We can't help but wonder if going back to the office full time would feel exciting; almost like the first day on the job. If that's the case, getting dressed and looking your best would also be exciting to start your first day back.  This business casual suit looks great together or could be styled as separates for versatility.  Paired with a polo-style shirt (buttoned all the way up) to keep it business casual and professional.  The pocket square will add a bit of flare and personality, and the sneaker is a great finish to the look.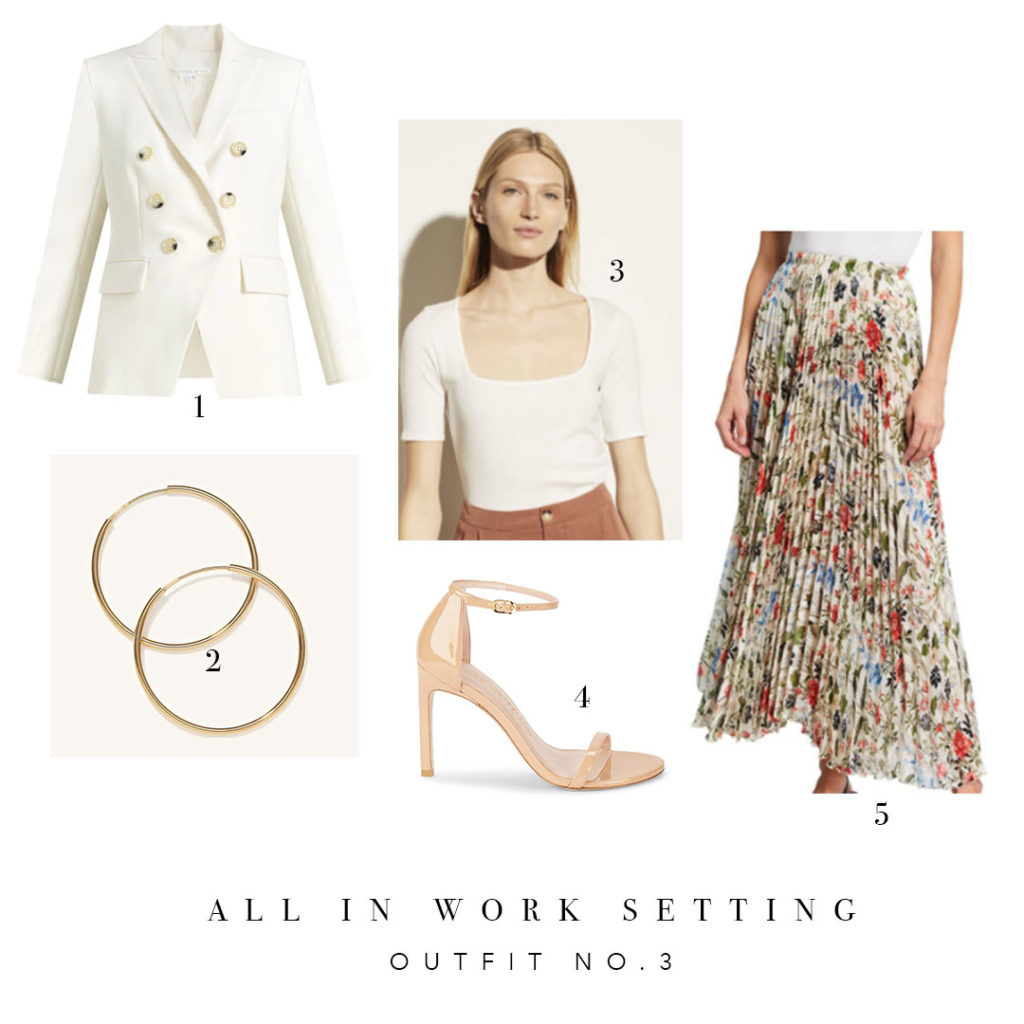 1.BLAZER | 2. EARRINGS |3. TEE | 4. SANDAL | 5. SKIRT
If you are returning back to the office after more than a year of working for home, you may already already be feeling timid about the process of getting reacquainted. But you know what?! You've been in lounge and yoga wear for far too long and it's time to celebrate your style again! Keep it professional yet fun with this great printed skirt and blazer combo. So as to ease into this more tailored than you've been used to style of dressing, opt for a great "dressy" knit under your blazer. You'll still be on the comfier side without lacking polish.
Hybrid Work Setting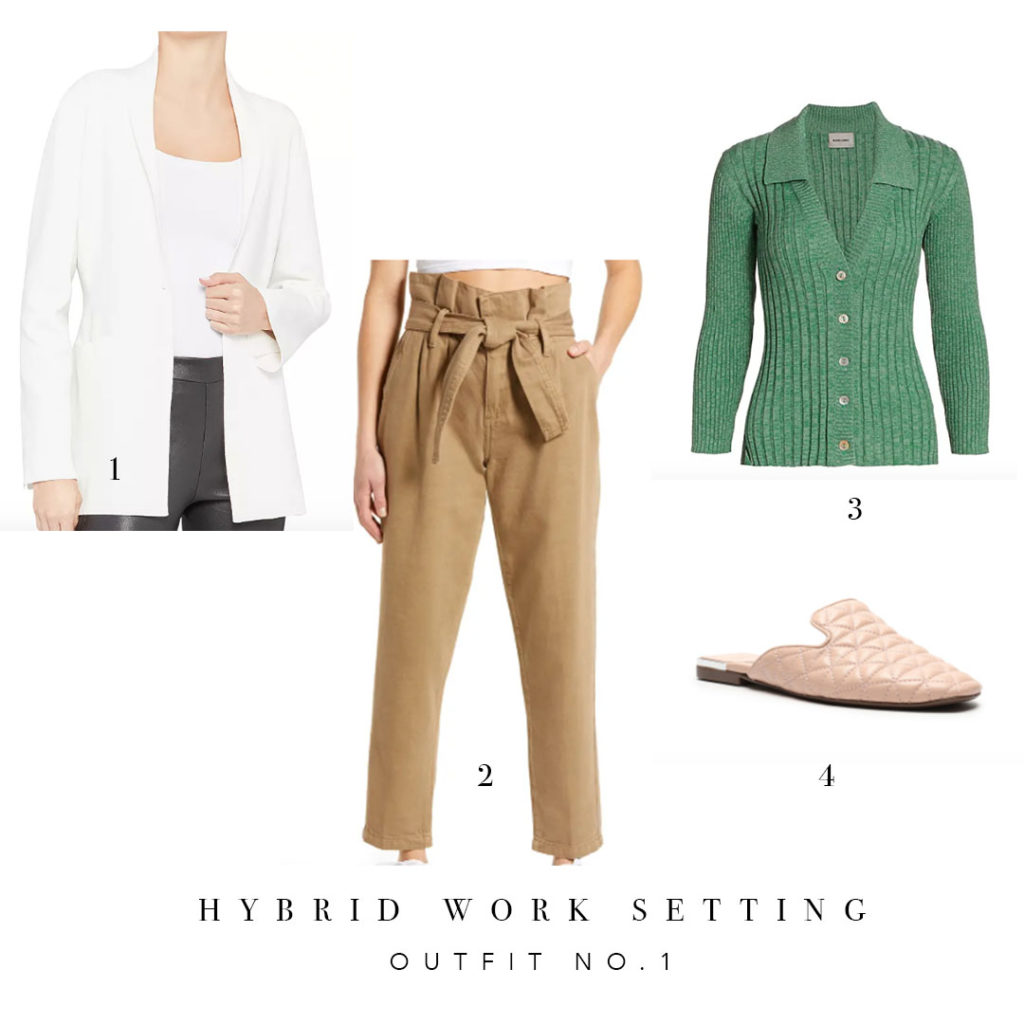 1.BLAZER | 2. PANT | 3.POLO | 4.MULE 
This outfit is great for the woman who needs flexibility in her wardrobe. She wants to feel polished, yet practical too. She's meeting a client for a few hours, heading into the office for a work meeting and then working remotely a variety of hours too. Her wardrobe needs to follow her through the day. This option allows that. She can quickly add her blazer for an instantly chic look. Finished with a runaround Mule.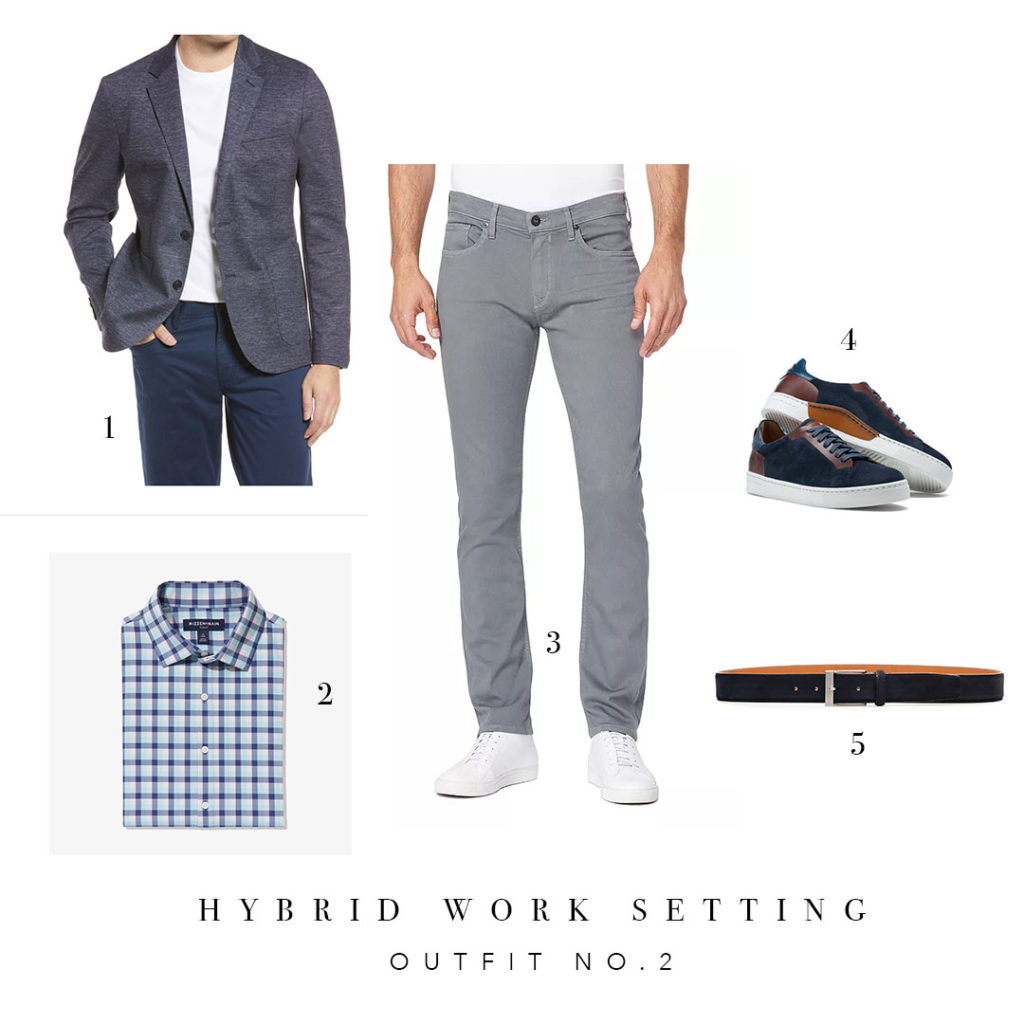 1.SPORTS COAT | 2. BUTTON DOWN | 3. DENIM | 4. SNEAKERS | 5. BELT 
Working from home naturally would result in a more comfortable look.  The trick is to keep it professional and versatile so that when you do need to meet a client for lunch or join a virtual meeting, you can easily transition the look to business casual.  The performance technology in this shirt gives the comfort for wear all day without feeling like you're wearing a dress shirt.  Pairing it with a stretchy denim will keep you comfortable all day.  The shoe and belt combo elevates this look for when you are in the office, and you can easily throw on the knit blazer for a more professional look if needed.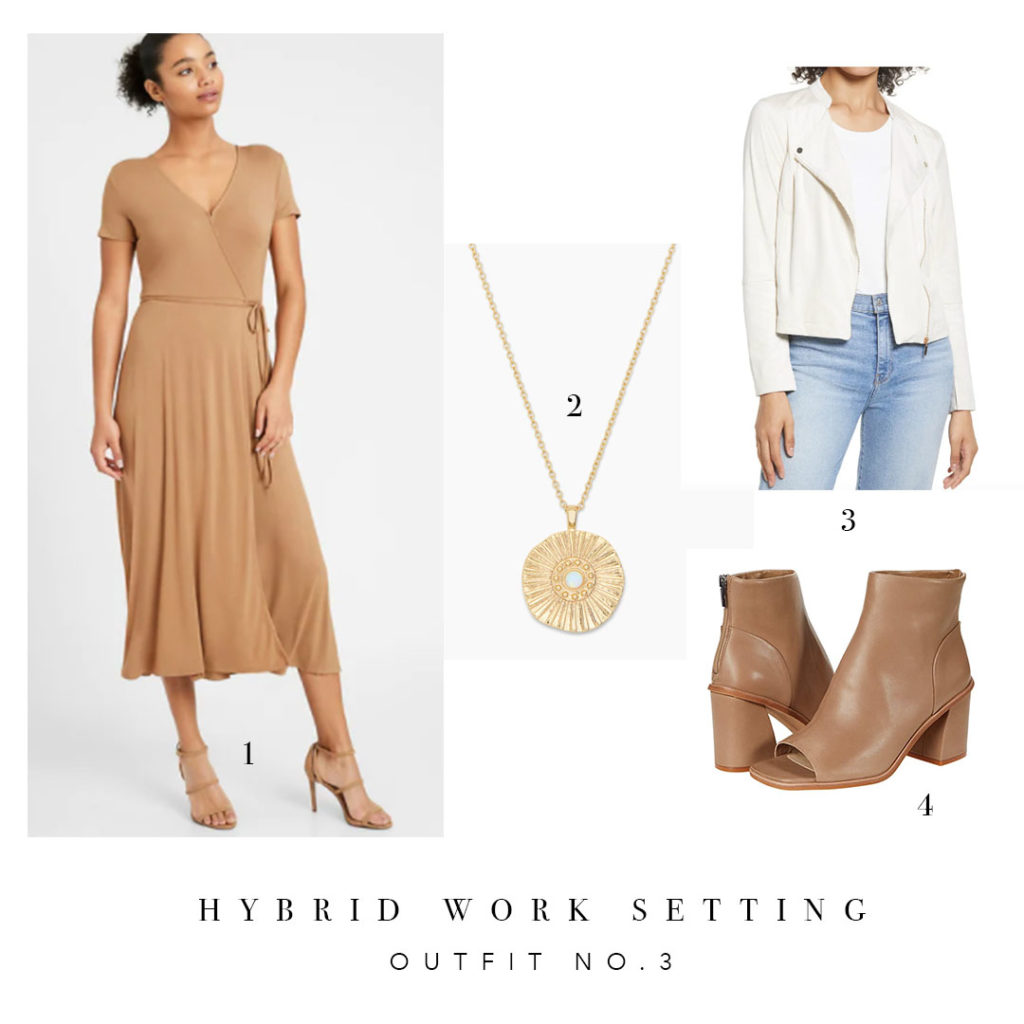 1.DRESS | 2. NECKLACE | 3. JACKET | 4. BOOTIE
For those in the hybrid setting, versatility is key. A dress offers that flexibility where it's easy and breezy to wear while home on Zoom, but can quickly shift to the office by adding the right jacket and heel. This option is a knit which adds instant coziness and comfort…but the wrap feature flatters the bottom by bringing attention to the waistline. It's a win win!
Our stylists are currently booking for spring! To schedule your appointment or to learn more about our Personal Shopping, Wardrobe Consulting, and Outfitting services, visit us here: https://www.wardrobetherapyllc.com
For content created on our website and social media, some links contain affiliate links which we earn a small commission from.