With President's Day upon us, we've got traveling on our minds! Perhaps you have a weekend getaway in store or you're mentally prepping for Spring Break soon!? We know first-hand it can be a struggle choosing those select few items to pack in your carry-on, so to help alleviate the stress, each stylist is sharing our TOP travel essentials! Whether it be in-flight or road-trip style, our team clearly thinks alike when heading out of town (you may notice some similar product overlaps). We can't say we were too shocked!
Elizabeth Bean Smith
You rarely see Elizabeth without her sunglasses in arm's reach. The hair ties you may ask? Just in case you need to whip up a quick braid, you've got yourself covered. To stay warm, it's always safe to pack yourself a light jacket and a scarf (pieces you can use ON your vacation, too, so it's worth the added cargo).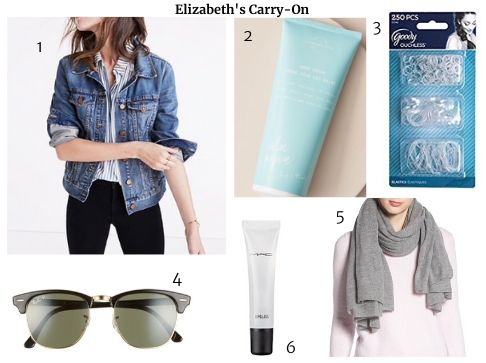 Shop Elizabeth's Bag: 1. Madewell Denim Jacket  2. Mer-Sea & Co. Hand Cream  3. Hair Bands  4. Sunglasses  5. Cashmere Scarf  6.  MAC Lipglass
Christy Walsh
When packing for a beach vacation (let's be honest, 9 out of 10 times Christy is headed to the beach when getting away), you always want to pack an "emergency" swimsuit in your carry-on JUST in case some luggage goes missing in transit, and the "travel" scarf can double as a sarong. Oh, and some self-care along with a good book is such a must-have in flight or on a road trip!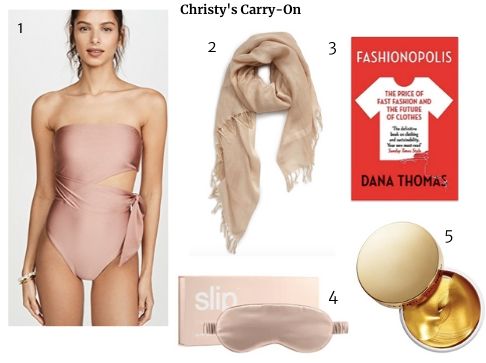 Shop Christy's Bag: 1. Swimsuit  2. Linen Scarf  3. Fashionopolis Book  4. Slip Sleepmask  5. PTR Hydra-Gel Eye Patches
Candace Read
For Candace, it's about the right-sized tote, some self-care, a yummy snack, and that cozy scarf. Let's be real, packing some healthy nuts with a sweet twist is such a perfect carry-on item when in need of a light bite. Those in-flight snacks don't always cut it when it comes to curbing those hunger pangs!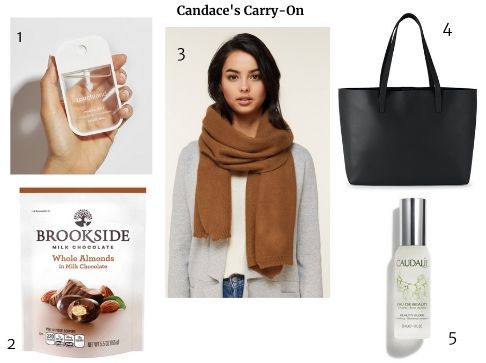 Shop Candace's Bag: 1. Touchland Hand Sanitizer  2. Milk Chocolate Almonds  3. Soia & Kyo Scarf  4. Structured Tote  5. Caudalie Beauty Elixir Travel Size
Meagan Cafarelli
Meagan is all about the two-in-one idea… saves space, true?! Staying warm is the name of the game, and this cardigan truly doubles as a blanket when on the go! Oh, and this lip balm acts as a cuticle cream for dry, chapped hands and skin. Looking for a baggie to throw liquids in? This clear pouch will take you through security or customs without opening your bag–bonus!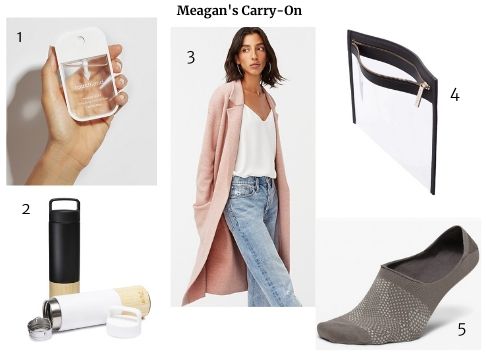 Shop Meagan's Bag: 1. Touchland Hand Sanitizer  2. GOOP Travel Bottle  3. Cardigan 4. Truffle Clear Liquid Storage Pouch  5. Lip Balm  6. No Show Socks
Falen Serena Nutis
Falen often heads right from the airport runway to yoga, hence her glossy leggings. Why not?! After sitting, we can use some movement post-airborne status. And from disposable face masks to skincare goodies, and her uber health-conscious travel bars, she's got this travel thing in the bag 😉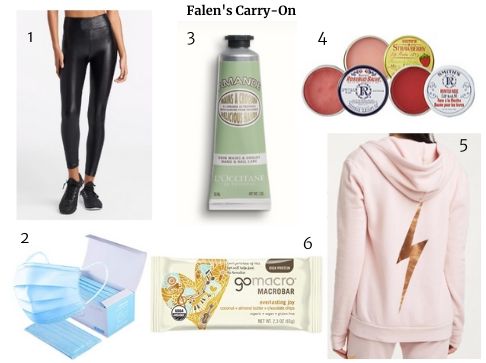 Shop Falen's Bag: 1. Lustrous High-Rise Legging  2. Disposable Face Masks  3. L'Occitane Almond Hand Cream  4. Rosebud Lip Balms  5. Aviator Nation Bolt Hoodie  6. Go Macro Bars
Bon Voyage Friends!! Keep Making Everyday A Runway!  
We are currently booking through February and March. Secure your spot with a stylist… prep for vacation getaways or gear up for Spring! Reach out to your stylist or visit our website Contact page.
To learn more about our Personal Shopping, Wardrobe Consulting, and Outfitting Services, visit us here:  https://www.wardrobetherapyllc.com/about/