Stylist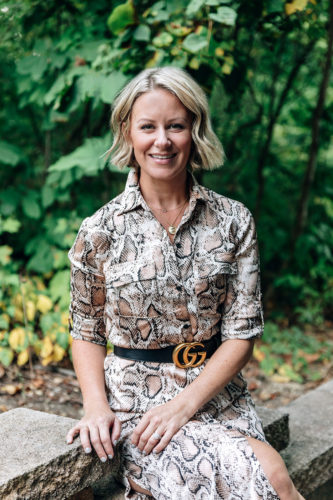 Meagan graduated from Ohio University with a degree in fashion merchandising. After college, she worked as a Fashion Assistant Editor at Ocean Drive magazine in Miami, FL. She then moved back home to Columbus and worked as a corporate stylist at Lane Bryant. She now lives in Worthington with her husband and two sons.
Style philosphy: Don't wear something because others love it. Wear something because YOU love it and feel good in it.
Personal style: Preppy with an edgy, tomboy twist
Favorite label: Staud - I'm especially obsessed with their bags and shoes!
 Most meaningful item in my wardrobe: My vintage Rolex. I bought it for myself in my mid-twenties when I finally got promoted to Wardrobe Stylist. It enabled me to travel to New York monthly and work some of the top talent in the fashion industry.
Favorite jeans: Madewell High Rise anything
Biggest splurge: A Marc Jacobs handbag - I bought it ten years ago and it's still just as stylish as it was then.
Greatest steal: A Christian Dior coat I found at a thrift store in Old Worthington
Designer I'd choose to create my Oscars gown: Tom Ford
Favorite place: My bedroom. It's our family's favorite spot to cozy up and watch movies and have our weekend sleepovers.
Perfect Saturday: Getting in a fun workout with Beatz dance fitness. Then watching our boys play whatever sport they're in that season. Grabbing brunch. Lounging on our back patio with friends and family and nice bottle of wine.
My life in a hashtag: #piecesofmomlife
Word to live by: Do something today that your future self will thank you for.
Contact Meagan at meaganc@wardrobetherapyllc.com.
Sorry, we couldn't find any posts. Please try a different search.