If you live in central Ohio, one of the signature golf tournaments is RIGHT around the corner. And we find the fashion to be a plenty! Our clients are getting dressed for the Memorial Tournament hosted by Muirfield Village Golf Club, and we can't think of a better way to try out some fun summer looks! Whether your style is Sporty, Casual or Chic (or perhaps a combo of all!), you can (and will) get inspired! Enjoy!
SPORTY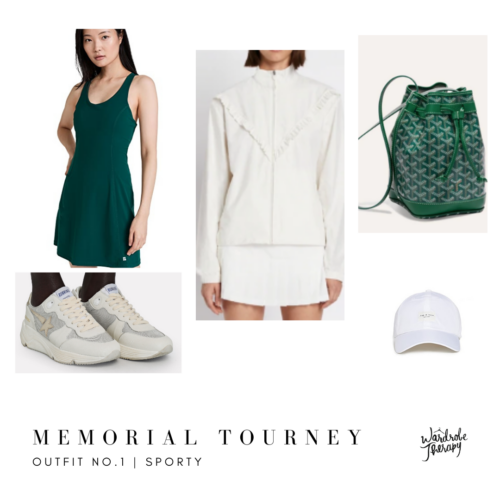 Love this little workout dress with a built in short for a perfect walk around the golf course and yet feel so chic! Style by putting a great lightweight jacket on for morning and then tie around your waist for the afternoon! Throw on your hat and sneakers (and of course your crossbody) and you're ready for an all day adventure!
SPORTY  CASUAL
Who says they guys can't go to the Memorial Tournament with a bit of style?!  This unexpected soft turquoise color will pair well with the navy performance pant from Travis Mathew.  This is a great pant that will give you comfort and mobility whether you are walking the golf course or hanging out at the clubhouse.  The exclamation point of the look are the Ferragamo slip-on sneakers with matching belt.  This will surely elevate the look for a fun day at Muirfield!
CASUAL
You don't want to go the sporty route, a linen short with a feminine tank can offer you style but still keep you cool in the afternoon sun. Add a belt bag, bucket hat and comfortable sandal to make walking the course easy yet stylish.
CHIC
We believe that chic is always a good idea. This easy, but elevated dress by Veronica Beard would be perfect for the Memorial Tourney. For an extra dose of chic, opt to carry a small top handle bag in a canvas or rattan fabrication.  And for finishing touches, add a stylish sun hat, oversized sunnies and sneaker or sandal..pick your shoe based on the amount of time you plan to be staying. All day, do the sneaker. For a few hours, do the sandal!
SUMMER is here! We are currently booking through summer!
Make sure to book a stylist for your travel packing needs this summer!
Keep Making Everyday a Runway!
For content created on our website and social media, some links contain affiliate links which we earn a small commission from.