Happy Monday! We made it another week and while Ohio and many other states begin to slowly open up, we will prepare too, more information coming!
Our Closet Chronicles Series that we added to the Monday morning line up the month of April was super successful, allowing us to share even more tips and virtual styling with the ladies who follow along with us! For now, we will allow this series to rest for a bit…but with that we have some exciting news!! Your new bi-monthly Monday blast will be all about supporting our male clients and the information that they need as well. We will continue to focus on female driven trends/tips/styling details/shopping in our Thursday newsletter! Please share with your spouses, guy friends, brothers and dads! We would love them to stay up-to-date!
This week, while so many offices and meetings remain on a virtual basis only, we are focusing on a few key looks that you can work into your weekly Zoom meetings!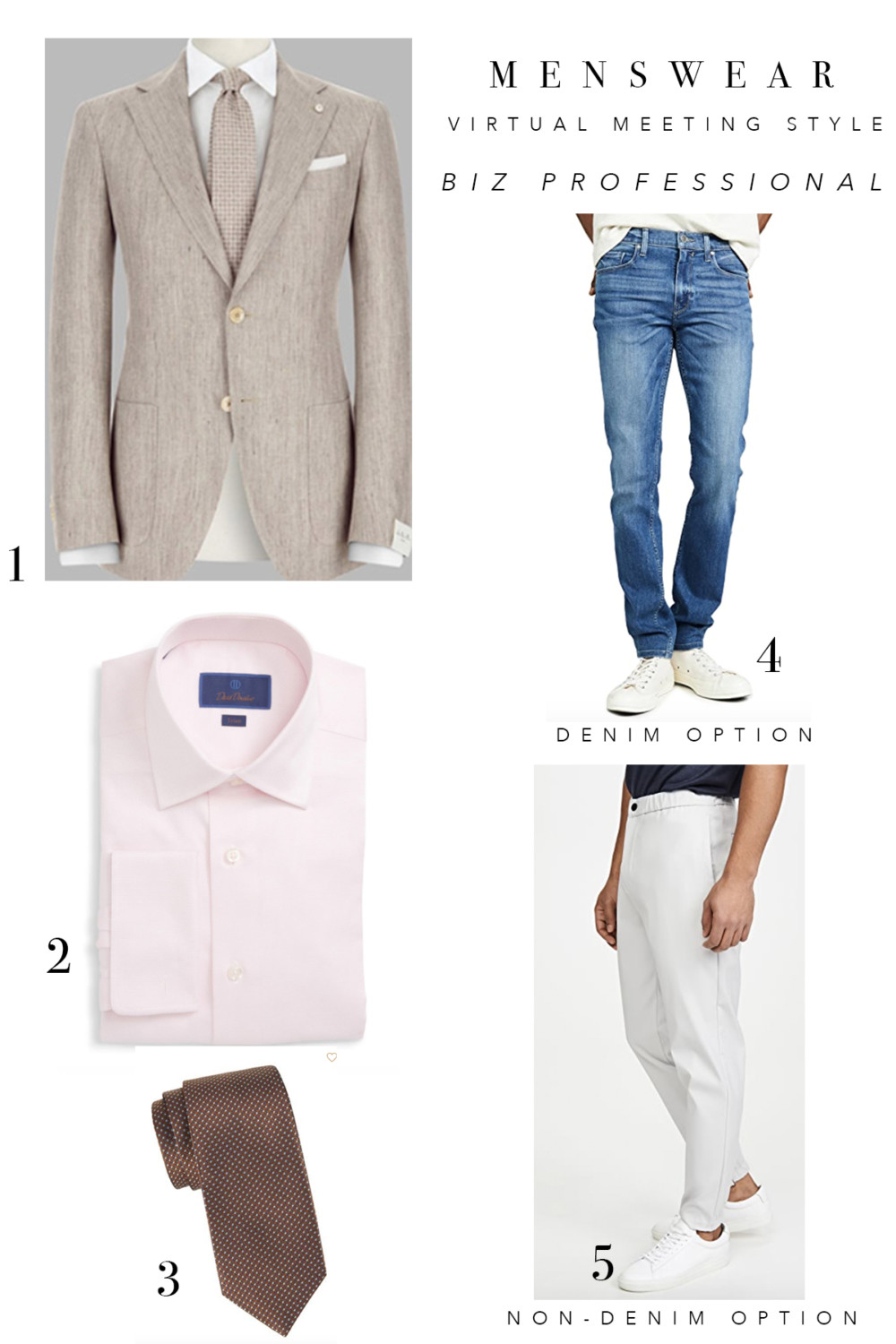 1 Lubiam Sport Coat | 2  David Donahue Dress Shirt | 3 Brioni Mini Sot Silk Tie | 4 Pagie Lennox Slim Denim | 5 Theory Terrance Pants
For the executive who needs to be polished from the waist up when leading his team on a visual call, we suggest a smart sport coat and shirt. Our team's motto for both our male and female clientele is "when you look good, you feel good", and working from home should be no different. We feel it is important to set that example of the Power of Dress!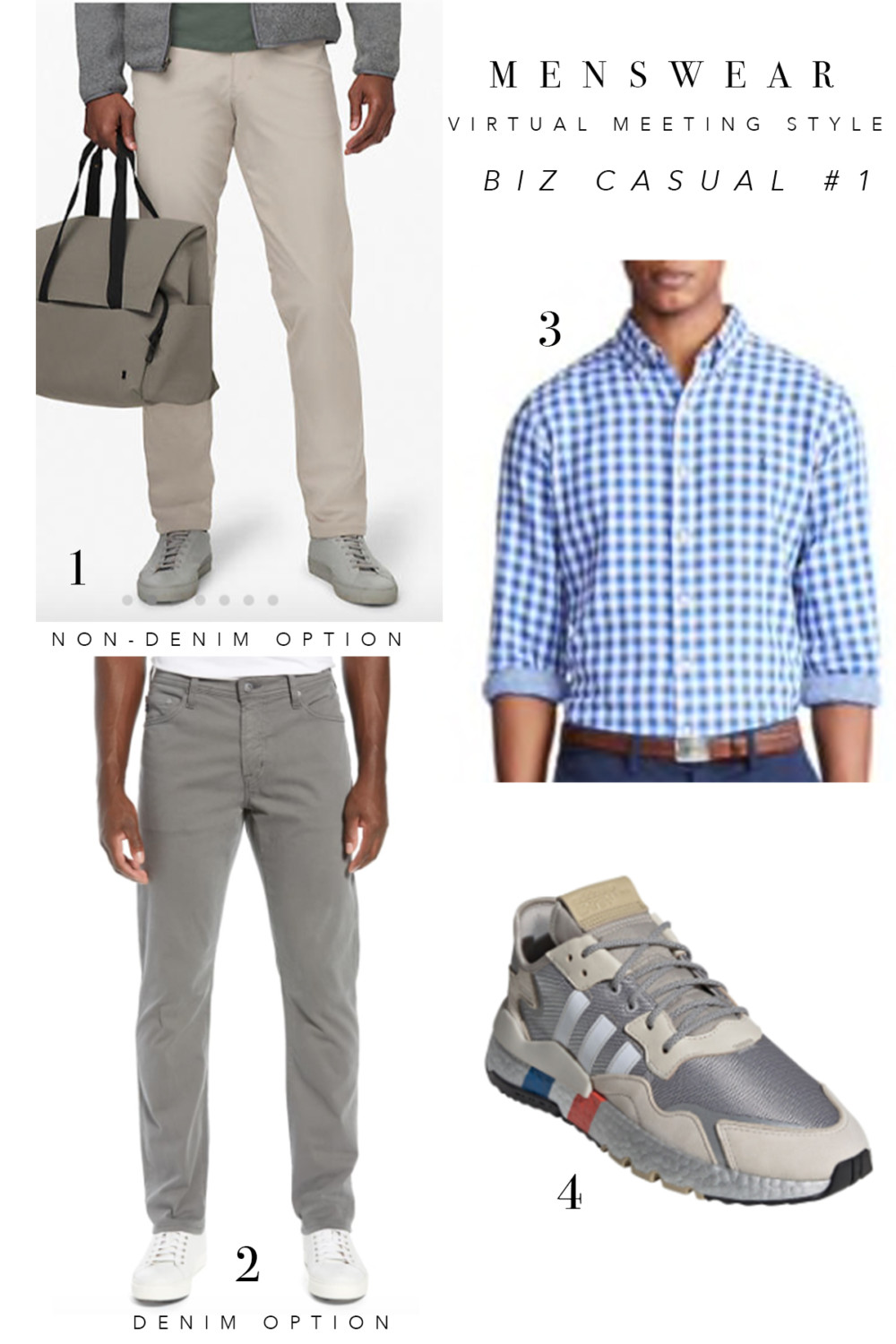 1 Lululemon ABC Pant  | 2 AG Everett SUD Pants | 3 Polo Ralph Lauren Gingham Shirt  | 4  Adidas Nite Jogger Trainer Sneakers
For the man who needs to be dressed for the team call in more than athleisure, but the option of adding a suit jacket or tie is too over-the-top, we suggest a great looking casual woven. Style the sleeves by rolling, and pair with colored straight denim or a Lululemon pant for the bottom. No colleague will challenge your look here. Easy, but polished. And you'll be feeling equally great too.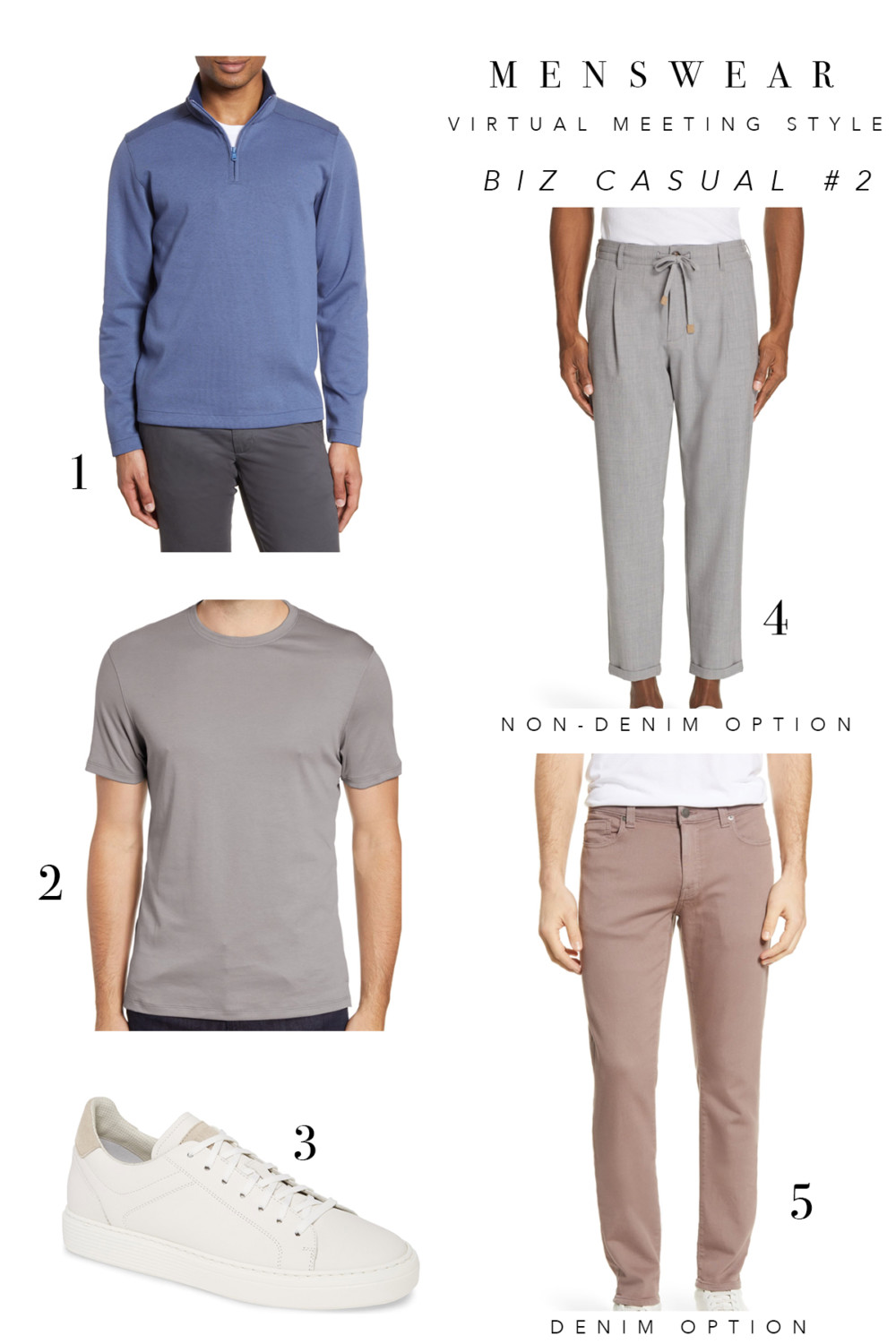 1 Bonobos Wear to Work Quarter Zip Pullover | 2 Robert Barakett Georgia Tee | 3 Brunello Cucinelli Airsole Sneaker  | 4 Eleventy Stretch Wool Jogger Dress Pant | 5 Fidelity Torino Slim Jean
For the gent who is business casual and needs a little more than a woven, we suggest a half zip. It gives you that layer you need to feel extra polished, while still embodying that casual professional vibe. When it comes to a half zip, you can layer with a woven or a very sharp tee like the one above from Robert Barakett. With comfort in mind, we love the idea of reaching for a tailored jogger pant. If you are more of a denim guy, go ahead and reach for those (in a color option or just a standard medium to dark wash). Neither idea is wrong!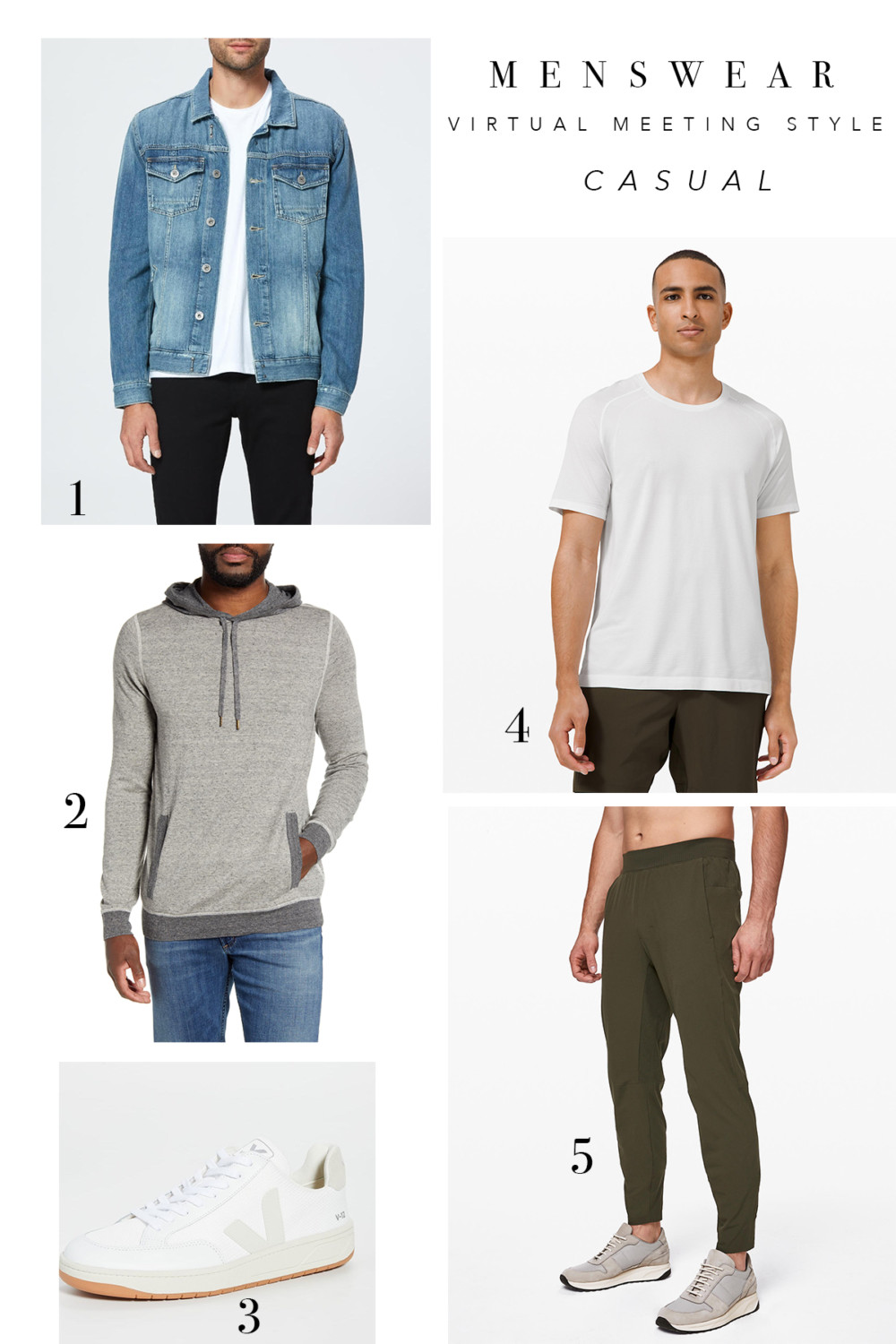 1 Paige Denim Jacket  | 2 Billy Reid Neppy Pullover | 3 Veja V-12 B Mesh Sneakers  | 4 Lululemon Metal Vent Tech Shirt | 5 Lululemon In Mind Pant
For our male client who works in a creative industry or has a casual corporate environment, he can opt for an athleisure-inspired look for those virtual conference calls. A textured hoodie layered under a light wash denim jacket can give his comfortable look some extra style. And the jogger pant is the updated version of the traditional sweatpant, offering a more streamlined, fitted look.
To learn more about our Personal Shopping, Wardrobe Consulting, and Outfitting services, visit us here:  https://www.wardrobetherapyllc.com
For content created on our website and social media, some links contain affiliate links which we earn a small commission from.