We are continuing our blog series of showing one trend styled in three ways, and perhaps our most coveted of the Top 10 Trends of the Fall Season is the long coat. It's effortlessly luxe and exudes style and sophistication. We're loving it single-breasted, double-breasted, cocoon-style, wrapped, duster-length–you name it! However, like any trend, we have to keep in mind body shape and which style is most flattering for your individual shape and silhouette! With that, we've put together 3 ways to style the long coat to keep you looking chic this Fall!
Petite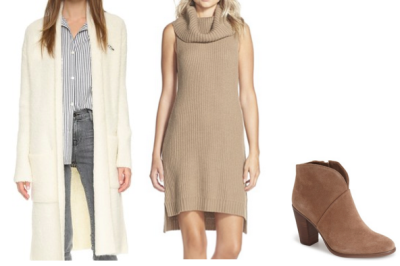 The long coat is certainly fabulous, but it could get overpowering on a small frame. To get the look without compromising what's right for your shape, go with a long cardigan that doesn't extend past the knee! Pair it over a hi-lo lightweight sweater dress that goes just above the knee to allow lengthening in the leg, and add an ankle bootie that hits low enough on the foot as to not shorten the leg by covering too much of the ankle!
Triangle/Pear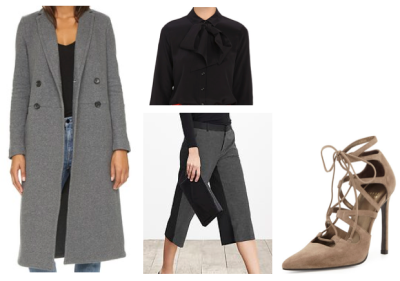 The double-breasted long coat is perfect for someone who wants to draw the attention away from the hips! The detailed collar adds volume and structure and balances out the lower half. We paired this great coat with a bow blouse and cool leather wide-leg long shorts! The lace-up pump is a perfect accent, or in the winter you can replace with a knee-high boot and black opaque tights!
Hourglass/Rectangle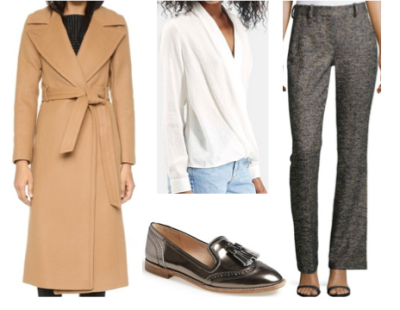 For those who want to emphasize their waist (whether you are proportionately fuller in the bust and hips OR you have very little shape and need help to form some curves) this long wrap coat is perfect! We love the wrap-blouse and flare pant to further accentuate the curves. If you are tall, this metallic oxford is just a beauty! For more height, though, go with a pump or bootie with a heel.
For more style tips or to learn more about our Wardrobe Consulting, Personal Shopping, and Outfitting services, visit https://www.wardrobetherapyllc.com, or email the stylists directly at Alic@wardrobetherapyllc.com, Christyw@wardrobetherapyllc.com, or Elizabeth@wardrobetherapyllc.com.
Keep Making Every Day A Runway!