Of all the trends that we have found while shopping at stores and online this Fall season, this could be one of the more difficult for women to actually TRY. It's not because it's so forward, but mainly because we hear, "How do I pull this off without looking like my guy?" You can do it ladies… it will give your ballet flats a bit of a break!
For the Classic Woman:  Try it on with the skinny!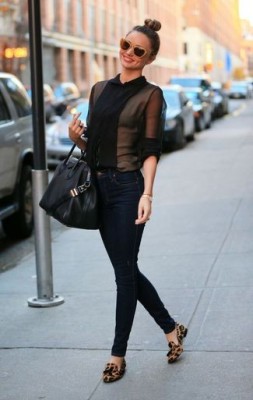 We love how Miranda Kerr looks so effortless here.  She made this super feminine, by adding a shear, chiffon blouse and oversized bag. The key to this look is that the loafer isn't too bulky for the skinny denim.
For the Executive Lady:  Make your WTW pant, fresh again!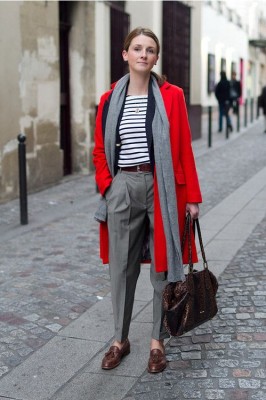 Doesn't this look make you WANT to go to work? Our woman who don't work, now do! The key to this look is that the pant isn't too long. It's a slim ankle pant, which elongates the leg, and doesn't make this look get too masculine. Paired with a pop of color, we're smitten.
For the Fashionista:  Pull out your Culottes.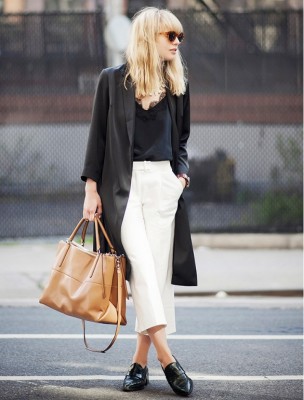 We love how Lisa Dengler of Just Another fashion blog is owning the menswear loafer. The key? The culottes are just the right length (not too long, not too short, and not too full!) and Lisa tucked her blouse into the pant, and threw on her long jacket. It makes the look, so fabulous.
For more style tips or to learn more about our Wardrobe Consulting, Personal Shopping, and Outfitting services, visit https://www.wardrobetherapyllc.com, or email the stylists directly at Christyw@wardrobetherapyllc.com, or Elizabeth@wardrobetherapyllc.com.
Keep Making Every Day A Runway!