Our team at Wardrobe Therapy has been hard at work finding new ways to contribute to the health and wellness of our community.  As part of those efforts, we recently had the privilege of speaking with Allison Salopeck, President and CEO of Jennings Center for Older Adults, located in Cleveland, Ohio.  Jennings offers a wide range of choices in the continuum of care, with a focus on celebrating and nurturing individuals as they age, through exceptional choices and continuous innovation.  Allison shared a wealth of knowledge related to how facilities are dealing with the current pandemic and what we can all do to help show our support!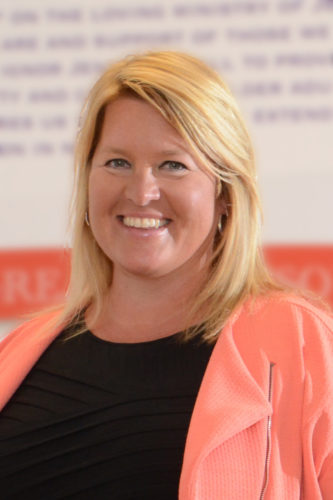 Q. Allison, we appreciate you sharing your time and insight with our community! Can you tell us a little bit about yourself and the overall community you serve at Jennings?
A. Jennings is a non-profit long-term care facility. We were started by the Sisters of the Holy Spirit in 1942. We offer the whole continuum of care from adult independent living to assisted living to full nursing home care, even adult day care and childcare. I've been with Jennings since 1991 and in my role for the past 6 years.
Q. What has been the impact of COVID19 on your communities and what are you all doing to help keep spirits up?
A. We've closed our adult care and limited our childcare facilities. We've acquired a pandemic childcare license, only servicing children of our healthcare workers. We've closed down community spaces and limited interaction with visitors. We have 450 staff members and our priority is to keep them healthy. Our biggest need (as well as the need nationwide) is protective equipment: hospital-grade masks, gloves and gowns. Residents have now been recommended to wear masks (non medical-grade, homemade is acceptable) for when staff members come in to give care.
To keep spirits up, we are encouraging residents to limit exposure of the news to just once a day. We want them to be informed, but not stir anxiety. Each resident has access to an iPad, a profit of our annual fundraising event last year, and they have been programmed to allow FaceTime capabilities so families can interact with them often. Our website allows families to schedule conference time, too, which alleviates the need for our residents to have to worry about the technology on their own!
We are also helping our residents create "love notes" and posting those on our social media so families can see them.  We have continued group activities, like sing-alongs for the residents, as well, we are just keeping them isolated to their own rooms.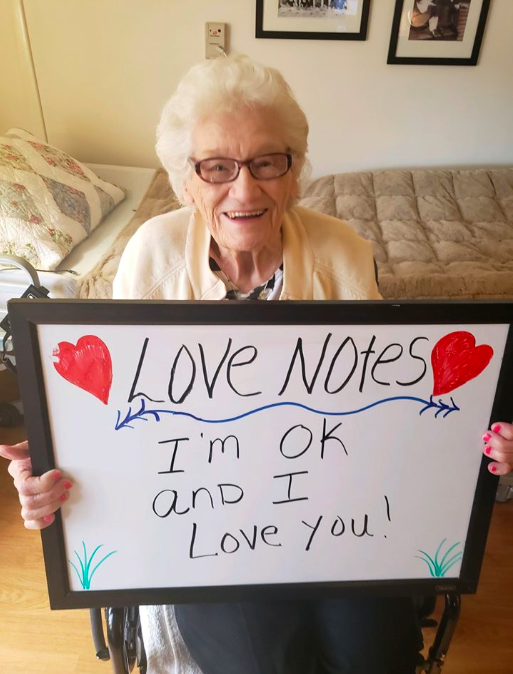 Q. You mentioned residents are now encouraged to wear non-medical grade masks when being given care. What are your thoughts on the creativity of so many people and organizations doing their part to help those in need (i.e. Louis Vuitton, Prada, Gucci) turning over their production lines to make masks and isolation gowns?
A. I have not heard about this, I think that's great and so clever! It's important for residents to be covered, but we also want the staff to remain safe. Products like these homemade masks are so helpful when going out into public. Our gift shop has actually been transformed into a mini market, stocked with eggs, milk, and other essentials to limit the need of our staff needing to stop on their way home! But when they are going out into public, we encourage them to wear non-medical masks, so products like these are wonderful and so helpful!
Q. Proper hand washing and safe social distancing are two things we can continue to practice at home to help bend the curve.  What are some ways we can help the healthcare workers on the frontlines and the patients they serve to keep them safe?
A. Yes to all of those. Staying at home and practicing social distancing is the best thing people can do to keep themselves, their loved ones, and our essential healthcare workers safe and healthy. At Jennings, we are accepting care packages for our residents to lift them up and brighten their days! We recently put out a request for personal protective equipment and were honored and blessed to have a local high school student make 600 face shields for our staff at cost. These are unprecedented times, but the kindness of humanity reminds us we are all in this together.
If you have talent, time, and technology and wish to contribute to health care staff, visit: Repurposing Project
To donate a care package to a resident, visit: Donate
Please join our community here in Columbus in supporting our doctors, nurses, health care providers, sanitation workers, grocery store employees, pharmacy employees, delivery service employees and other essential workers by tying a blue ribbon on your lamp post, a tree branch or anywhere else visible to show your support and to thank them for their commitment to serving our community!