The 4th of July is quickly approaching and you are probably wondering, "What am I going to wear?!"  Luckily, we are already planning our outfits and can help you too for the various holiday events that will keep you looking festive without looking like you tried too hard.
Look #1: The Cookout
Pair a cute tank dress with some metallic sandals for a stylish yet cool and comfortable look.  I love this striped dress from Leal because it allows you to sport red and blue in a not so obvious way.  I paired it with some gold J. Crew sandals.  Add some gold accessories to complete the look!
Look #2: Fireworks in the City
This next look will take you from fireworks with the family to bar-hopping with friends!  I paired a loose, cotton white top from Rowe with some red shorts (McQ) and neutral wedges (Nine West) for a great holiday casual chic look.
Look #3: Country Club Chic
A maxi dress is one of this season's most popular styles.  This pick from Ladybird is the perfect dress for an evening at the country club.  Style it with a neutral or metallic shoe and some bold accessories!  You'll be classy and sassy at the same time!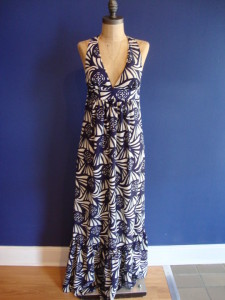 Look #4: The Day Tripper
Since it is the 4th of July, there is a good chance that you will be lounging by the pool or on a boat (hopefully near the Hamptons) ..Here is a look that will help you celebrate the holiday in style!  (T-Bags swimsuit and Antik Batik coverup)
Look #5: The Ladies Man
And last, but not least, a 4th of July look for the men!  Look and feel cool in a lightweight checkered button-down from Brigade and some navy shorts from J. Crew.
Make every day a runway!
Claire
**Don't forget to become a fan on Facebook for the latest news!