We are going on week two of working from home and let us be completely honest with you, things have gotten real casual. We love to keep our leisurewear looking good though to keep our spirits up. And with the popularity of FaceTime and Zoom conference calls, we never know who will see us! Here's what we're wearing and what we're loving for these work-from-home days. Right now is a great time to shop, too, with so many daily sales most retailers are offering!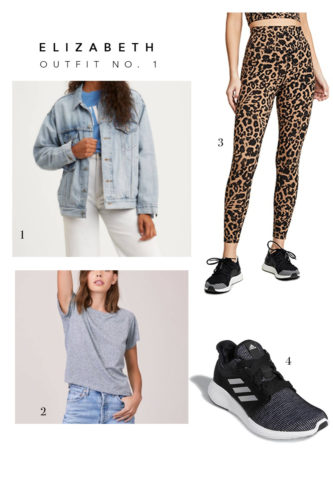 These past few weeks,  I'm finding my leggings are my bottoms of choice. Rowe is my go-to to find LNA clothing. I'm obsessed, so chic! Great with denim, so comfy, but stylish. A denim jacket is a must to feel finished. This oversized one from Ladybird changes it up a bit. I like to roll the sleeves up, so it doesn't look too oversized. And my sneakers are absolutely on rotation. We've got this ladies!!
1. Levis denim jacket / 2. LNA tee / 3. LNA leggings / 4. Adidas sneakers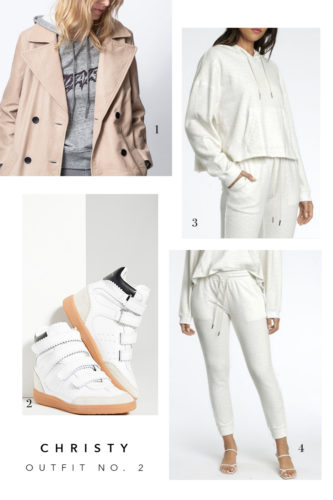 As we navigate through this uncomfortable era of social distancing and unrest with this pandemic we are facing, I am taking comfort in continuing to get dressed every day and putting the steps forward to keeping as much normalcy as possible. I do love a good athleisure look, especially a matching set, and now's the time more than ever to get cozy while we await brighter days ahead.
1. Zadig & Voltaire trench (or call 614-578-1814) / 2. Isabel Marant high tops / 3.Pistola sweatshirt / 4. Pistola Sweatpants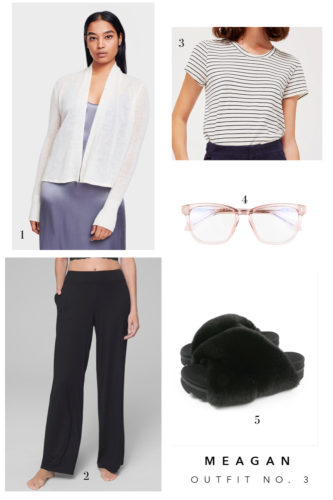 While I'm missing the days of running around town, shopping, and seeing clients, I'm also loving this comfy, cozy with my family. I'm usually in a combo of athleisure piece and pajamas. Layers are key, depending on what part of the house I'm hanging around in, and this cashmere cardigan from Leal is as luxe as a layer can get. I also am loving these Soma pants for their drapey feel and contoured comfort waistband.
1.  White + Warren cardigan (or call 614-488-6400)  /  2.  Soma pants / 3. Lacausa tee / 4. Quay Blue-light blocking glasses / 5.  ROAM cloud slides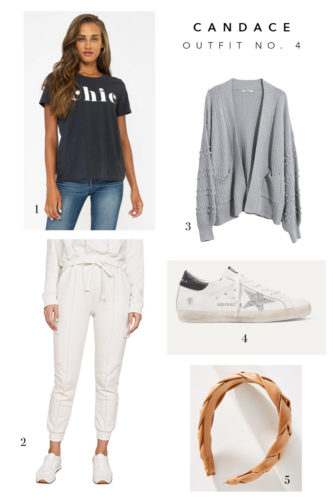 COMFORT is definitely king these days.  I've so enjoyed experimenting and pushing myself to find happiness and comfort in more laidback pieces as we adjust to this new normal. For me, it's about feeling cozy and polished,  that way I feel ready to tackle my day at home! I love finalizing my laidback look with accessories…it just seals the deal for ME!
1.  Sol Angeles tee (or call 614-578-1814) / 2.  David Lerner sweatpants (or call 614-578-1814) / 3, Madewell cardigan / 4.  Golden Goose sneakers (or call 614-578-1814) / 5.  Headband
Also!! We are introducing ONE EXTRA newsletter a week! This will keep us in contact with you and give you more tips within your wardrobe! And next week, we will begin breaking down the Spring Trends! Our top 10 trends will take us through April! We can't wait to share!
To learn more about our Personal Shopping, Wardrobe Consulting, and Outfitting services, visit us here:  https://www.wardrobetherapyllc.com