We know.. we can't believe it ourselves.. but the Holidays are right around the corner… which means lots of GOOD SHOPPING and of course, good food, and much time spent with family and friends.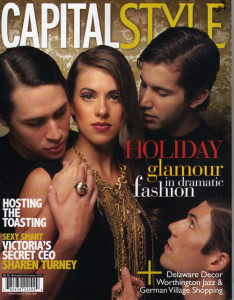 This holiday season we're focusing on the "Gift of Style and Grace".  The Capital Style Holiday issue officially got us in the Holiday mode.  We focused the fashions on glamour and anything fabulous!  From the dresses, to faux furs to jewelry and accessories!  The Ohio Theatre made the fashions easy to translate…And the Models.  The Ballet Met dancers.  1 word.  AMAZING.
These are just a few of our favorites… pick up a copy to see more!
Our clients are preparing for the shopping season, as are we.  Giftcards are here… and the Holiday Newsletter is in progress as we type! We are so looking forward to many celebrations this Holiday Season and would like to help you celebrate too! Sign up to receive our Newsletter and Give the Gift of Style and Grace! We will donate 10% of each giftcard purchase sale to Flying Horse Farms in your name.
Call today to get a jumpstart on your Holiday Shopping!
Make Everyday a Runway!