Love/hate relationships. That's my feeling for swimsuit season. I love a fabulous suit. Then I go to try it on, and it's not EXACTLY the way I imagined. Our clients usually express that they're feeling the same way. So it's good to know that I'm not alone (Misery loves company…)
But I also LOVE when I find one that's so right. Style is key, but fit is a whole different ballgame. And we can go on and on about why one suit would or wouldn't work. So this blog is dedicated more to Styles of Suits.. then you can choose according to your shape (or call us).
The One Piece.
Why? It's got a bit more coverage. But can be tricky for the gal that has a long torso.
Here are a few that we love. Whether it be a deep plunging back, a plunging front or a fabulous rusched middle, this style of suit is one our clients are LOVING!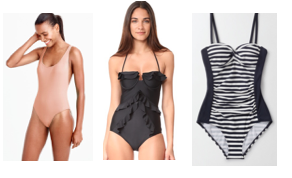 Left to Right: 
Jcrew One Piece $98 Shopbop Suboo Suit $200  Boden Almalfi Suit $83
The Sporty Tankini.
This suit is perfect for the lady that is at the pool, but not necessarily lounging. She's chasing kids.  She's wanting coverage, because she needs it (and maybe doesn't want to show as much anymore).  She likes to feel like she's not letting it all hang out, but still look fab. Don't worry, you don't have to sacrifice style for this suit!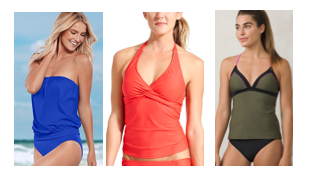 Left to Right: 
Venus Blouson Tankini $42 (top, bottom $21) Athleta Tara Halter Tankini $72  Prana Aleka Tankini $65
The High-Waisted Bottom.
This is for the lady who's confident with her shape (or is willing to have a little extra help). She's ready to give the low waisted bikini bottom a run for her money. But it also CAN give a secure fit for the gal who has a fuller tush and middle (think tummy control…. the last suit is a plus size!) Wanna get frisky? Pair it with your favorite top, because pieces are generally sold separately.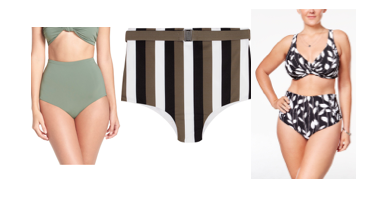 Left to Right: 
Nordstrom Mara Hoffman $103 (bottom only) Net-A-Porter Fella Stripe $100 (bottom only)  Macys Anne Cole Plus Size $50.99 (bottom only)
The Bikini.
No one can deny a great bikini. Neckline is everything here. If you are fuller in the top choose a halter, wrap or a full shoulder strap. If your bust is smaller, choose a triangle or bandeau.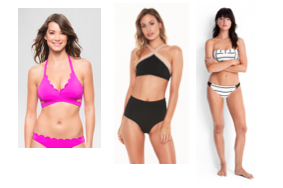 Left to Right: 
Target Scalloped Bikini Top $24.99-$26.99 (top only)  L*Space Color Block Top $95 (top only)  Seafolly Castaway Stripe Bustier Bandeau Top $102 (top only)
Don't let a bathing suit (or lack of one) keep you from not enjoying your summer surroundings! We can help! Call us.. we're confident we can get you into the right suit!
Summer is fast approaching!  Let us spruce up your closet and keep YOU looking fresh with our Wardrobe Consulting, Personal Shopping, and Outfitting Services. Visit https://www.wardrobetherapyllc.com We're Social! Follow along for the latest on our team, our work, and our inspirations! Instagram Facebook