We get it…shopping for a swimsuit can be difficult! Trying on lots of styles to not find anything that you truly love or feel amazingly confident in. When it comes to bathing suit season, we truly believe THE KEY  to feeling your best is to first identify your body type, then create balance by accentuating and playing up your best features! In hopes of inspiring you to find your BEST swimsuit, here's our summer style guide to finding the best swimsuit by shape!
APPLE
We understand that when finding a swimsuit to get coverage through the middle or to help conceal our bust,  can many times make us feel like forgetting swimsuit season all together. However, the key is to create an illusion. Swimwear that gathers on the side or the middle will help to define the waist. To keep the eye vertical. A detail at the neckline will help too.  Or for a gal that is ready for a 2 piece, try out the ever popular high waist bottoms.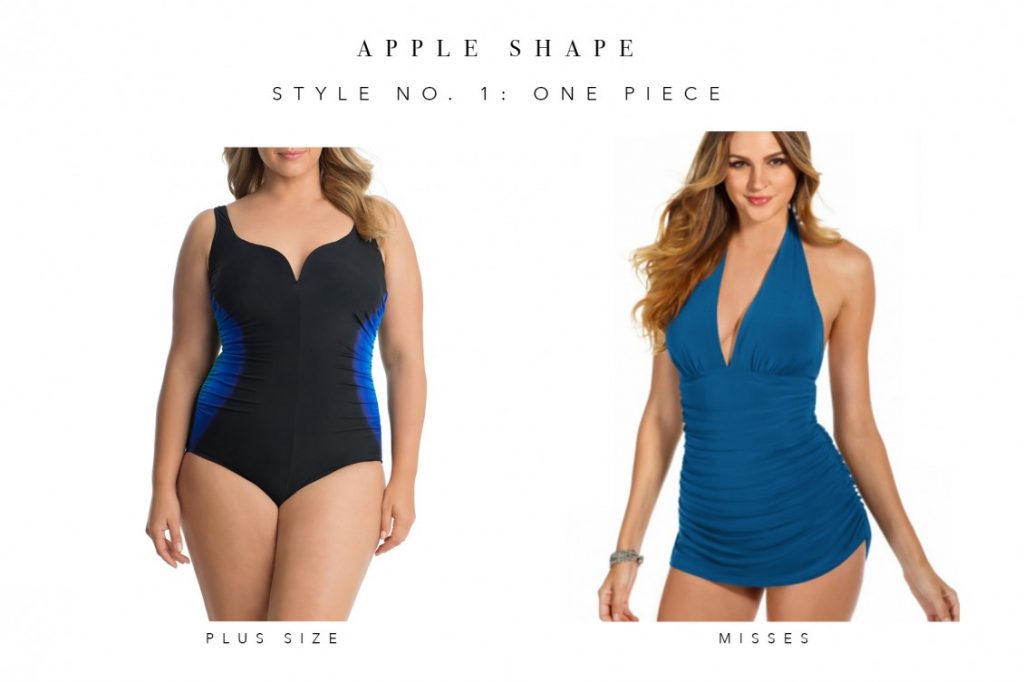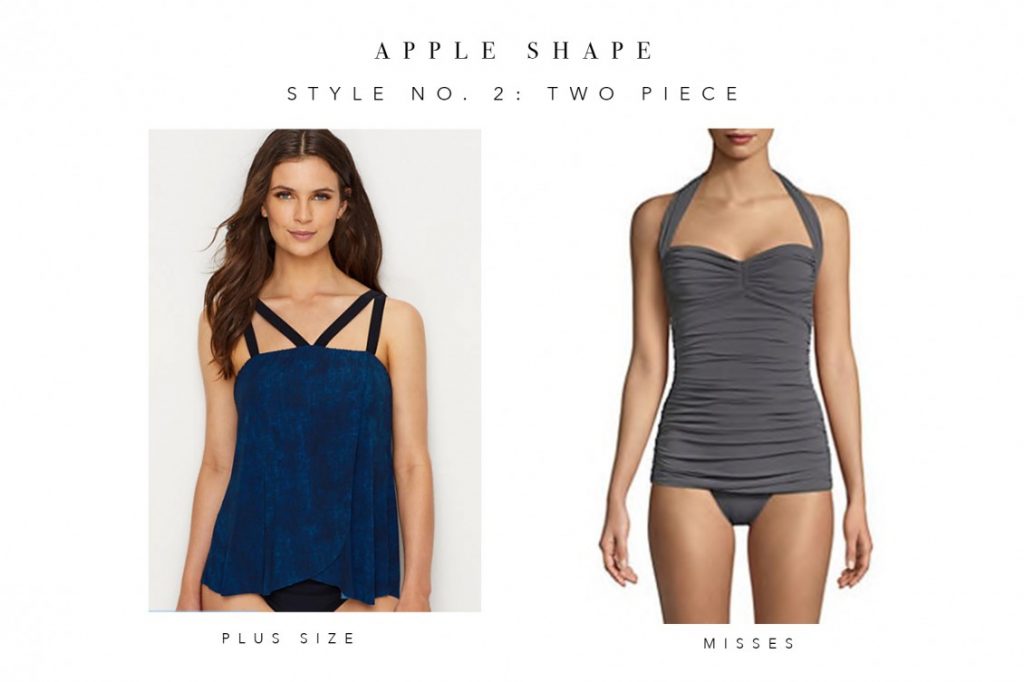 Misses:
Miracle Suit, The rushing at the waist, along with the deeper v, allows for this suit to highlight our areas we love!
Miracle Suit, $144
.
Two-Piece, Plus Size:
BareNecessities Magic Suit Love how this is chic, but has coverage through the middle.
BareNecessities, $114. 
HOURGLASS
With an hourglass shape, you are more equally balanced on the top and lower half of your body. While there are seemingly a variety of styles that will work for an hourglass shape, you will want to be intentional in your selection. When shopping for a swimsuit, we encourage you to look for pieces that will further accentuate your waistline. The goal is to zero the eye in on the waist and help it move effortlessly up and down the body.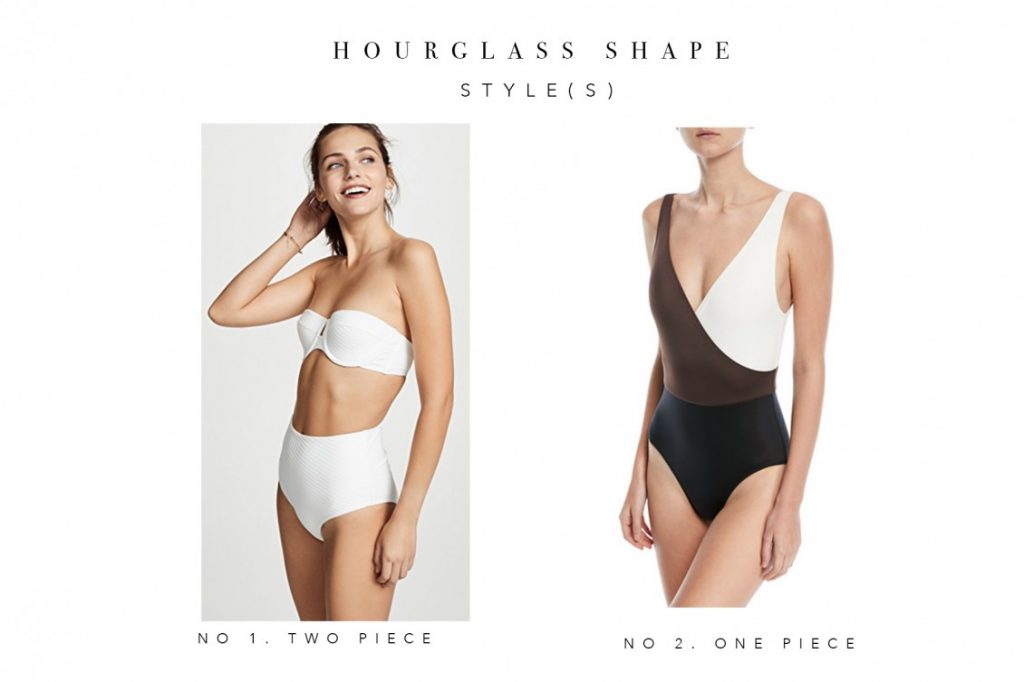 Two-Piece:
This bikini top (it comes with a strap) and high waisted bottom will create a nice definition through the waist. The underwire support of the top aids in enhancing the bust line, which contributes to defining the waist. The high rise bottom helps to pull the eye up. If you are a bit shorter, be sure to be mindful of where the bottom is sitting on your waist, as we do not want it to cut you at the torso. You can easily swap the high waisted bottom for a more traditional one. Just be sure that it is simplistic and not fussy. 
Zimmerman, Shopbop Top $185 and Bottom $
85.
TRIANGLE
As a triangle shape, your bust and shoulders are smaller than your hips. The goal is to find a swimsuit style that will balance the top half of your body with the lower half. While creating this balance can be a bit of a dance, you do have some freedom with tops, as a halter and deep v necklines were made for you. These necklines lend to moving the eye up the body.  To make sure the proper balance is in place, one should be mindful of bottoms. You want to avoid styles that are high cut, have lots of detailing on the sides, etc. Less is more with your bottoms.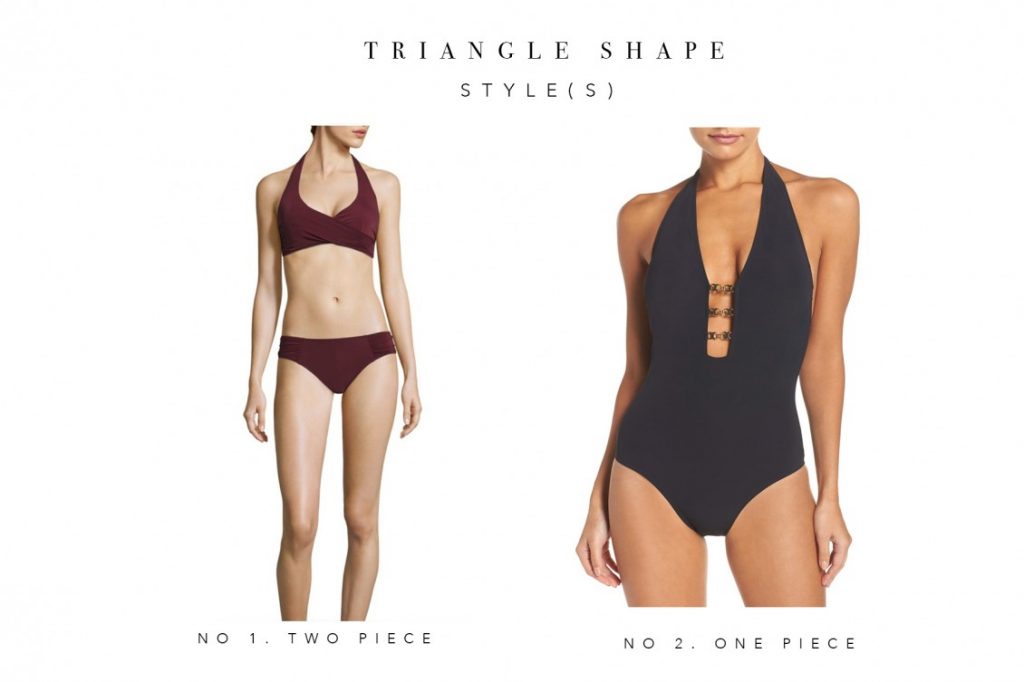 One Piece:
This plunging neckline makes the most perfect suit for a triangle shape! Love the little touch of hardware and how it adds a layer of interest to a classic black swimsuit.  
Tory Burch, Nordstrom $218. 
Inverted Triangle
When you have a larger bust and/or wide shoulders, but are small in your hips we want to create balance by minimizing the top and maximizing your lower half. Don't opt for a strapless bra–it won't allow for enough support. Instead, try a top with underwire and thicker straps. A halter style helps give the illusion of narrower shoulders, and also gives great support to a fuller bust. Another tip to help create a balanced look is to mix and match colors, wearing a brighter color or print on the bottom with a darker color in a solid on top to help draw the eye down. Keep in mind, when choosing a two-piece, you may need to look for a bathing suit sold in separates to pair two different sizes on the top and bottom.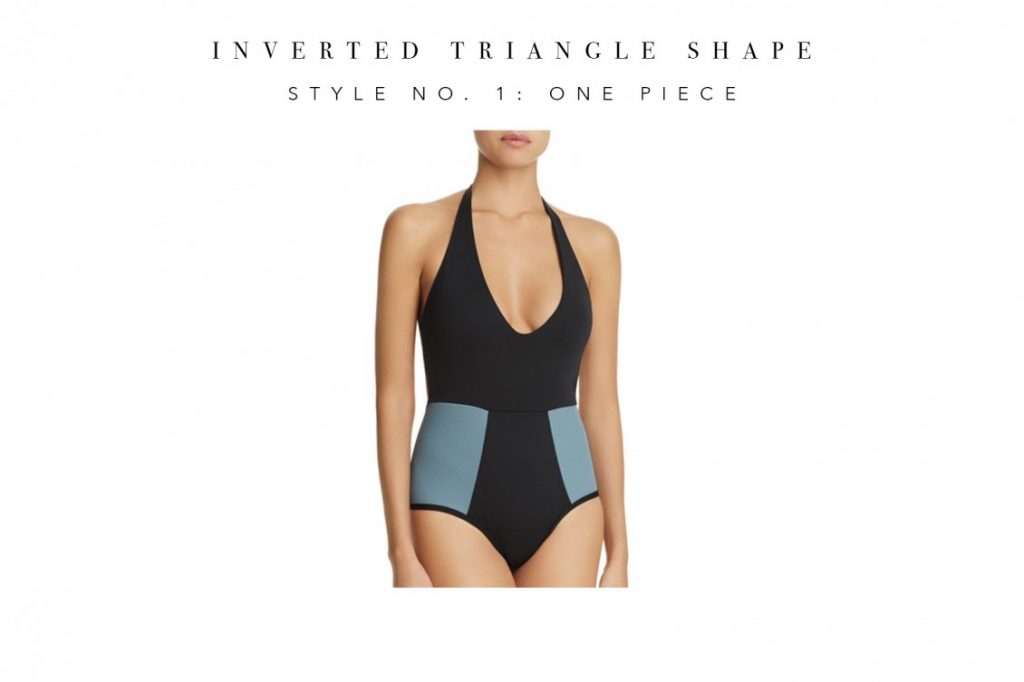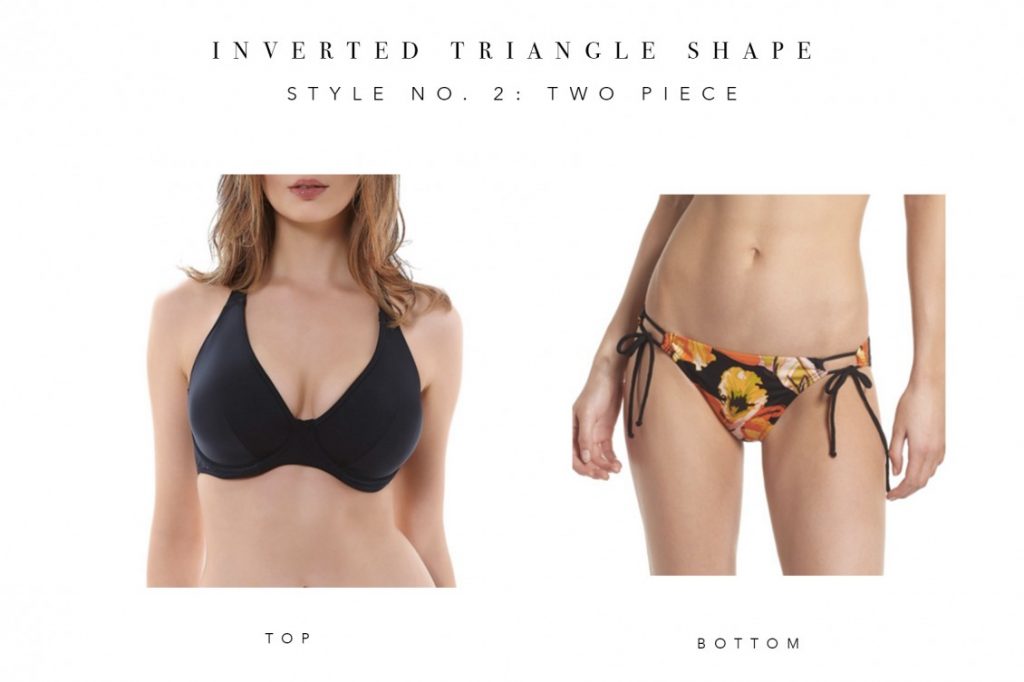 One Piece:
The lighter blue on the bottom half helps draw the eye down, creating balance with the shoulders and bust. The top is halter to lend support.
L Space, Bloomingdales $134.80.
Two Piece Top: Dark-hued halter neck top with underwire for support.  This bikini top offers great support to a fuller bust. The dark hue helps to minimize, and the halter is a flattering shape for wider. Freya, Nordstrom $60. 
Two Piece Bottom:
The ties on the sides help add volume to the hips, and create space and length in the legs which help draw the eyes down.
Robin Piccone, Nordstrom $46.80.
RECTANGLE
A straight up and down body type without many curves, this body type is typically broad-shouldered, proportional in the hips, without a defined waist. The best way to add curves is to look for a suit with details and volume: ruffles, ties, and bows at the top and hips for example. A sweetheart neckline not only adds curves, it helps create a soft, feminine look. Avoid a bandeau style top, as it will only emphasize a lack of upper body curves. Ties at the hips help to create curves, rusching at the waist does the same, and a higher cut allows the illusion for longer legs.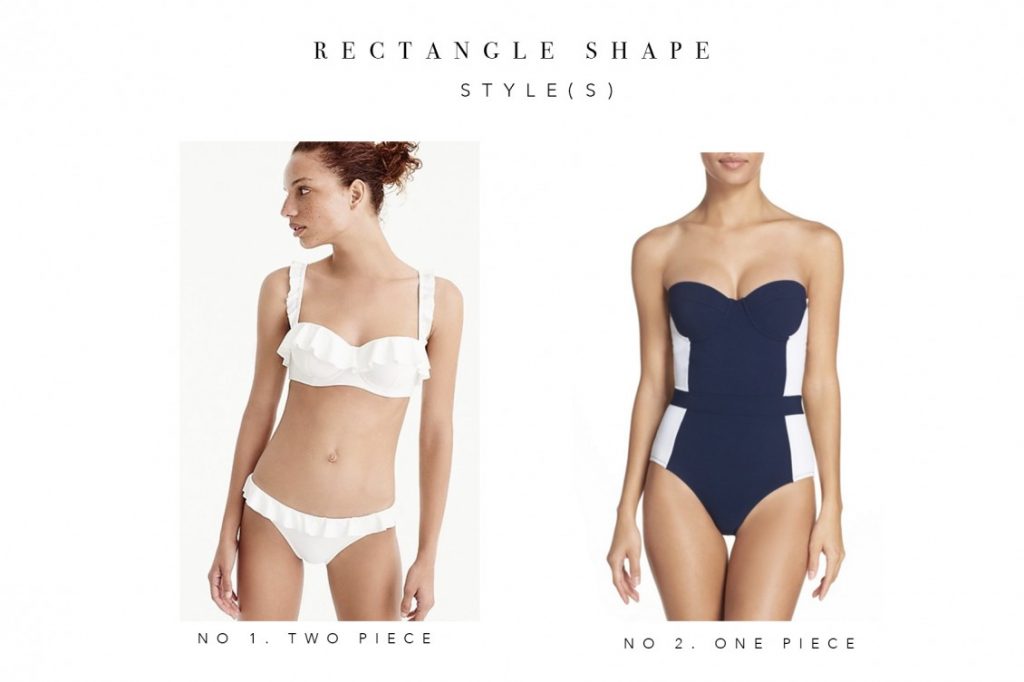 One Piece:
The sweetheart neckline coupled with the color-blocking gives a great illusion of curves. The belted waist helps draw the middle in and create the look of proportional curves. 
Tory Burch, Nordstrom. $228.
Summer shopping and outfitting are underway! Contact us for consulting, personal shopping and outfitting! To learn more about our Personal Shopping, Wardrobe Consulting, and Outfitting Services, visit us here:  https://www.wardrobetherapyllc.com