This week our team is highlighting 4 pieces that we worked into outfits that fit the dress code most of us are abiding by these days. You may still be working from home, you might be quarantined with kiddos and need your wardrobe to reflect as much, or perhaps you're just ready for a refresh of casual to casual chic outfits as you begin stepping back out there as we are. Whatever this climate looks like for you, we want to make sure you are prepared with items that feel comfy, yet sophisticated. Think, stepping out of your athleisure and into that in-betweener 😉
BERMUDA SHORT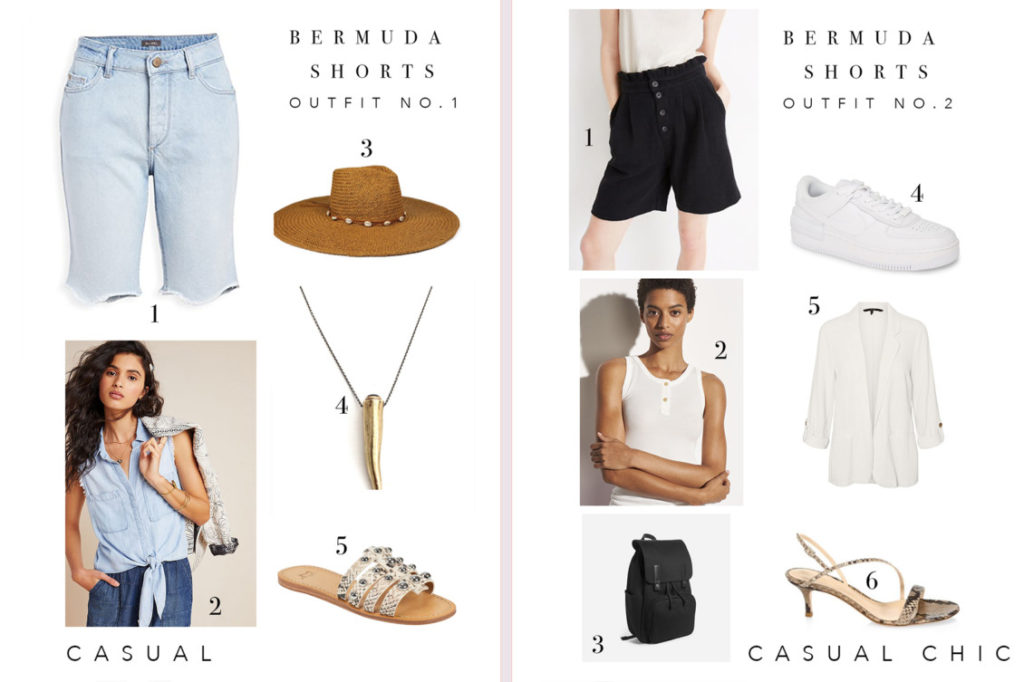 Outfit No. 1
Outfit No. 2
This look for summer is so chic, and yet practical too. All ages can relate to this trend for 2 reasons: 1. The length of this short will make all feel comfortable. 2. It gets you out of your workout wear, and into a waistband!
The first look is an easy summer look for the casual gal that doesn't always want to put on a dress, or even a short for that matter. This feels so easy, but practical for a picnic in the park or casual patio lunch type of day! Also, the top is so great for the woman who doesn't want to tuck something into her short! We love the simplicity of a detailed knit top tucked into the paperbag bermuda short. It's a great day look that can be worn with sneakers, and then styled with a blazer and paired back to an easy kitten heel for a casual dinner. So chic. So classy.
LINEN PANT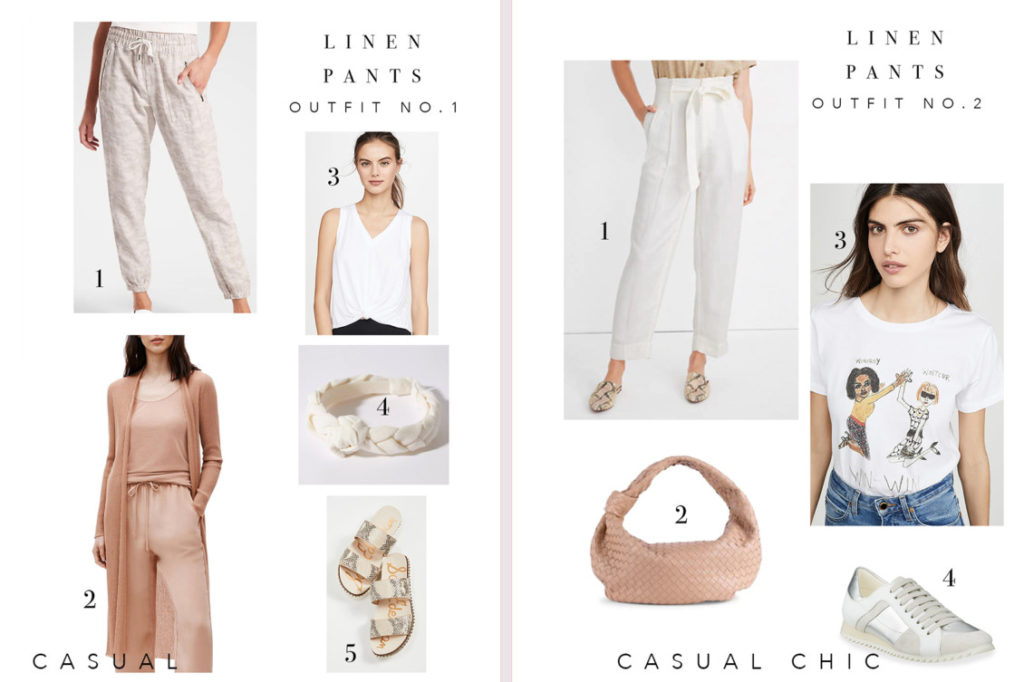 Outfit No. 1
Outfit No. 2
The linen jogger gives a sporty feel, while still looking elevated. Pair it with a knotted tank and throw on a lightweight cardigan or jacket for the cooler days we've been seeing. We love it paired with an easy slide, but a sneaker works as well!
The paperbag waist effect of these white linen pants helps elevate this look. Great for a casual outing that allows comfort without sacrificing style. Keeping the look cool, we paired it with a chic fashion graphic tee, great sneakers, and one of the biggest IT bags out there! Squeal!
T-SHIRT DRESS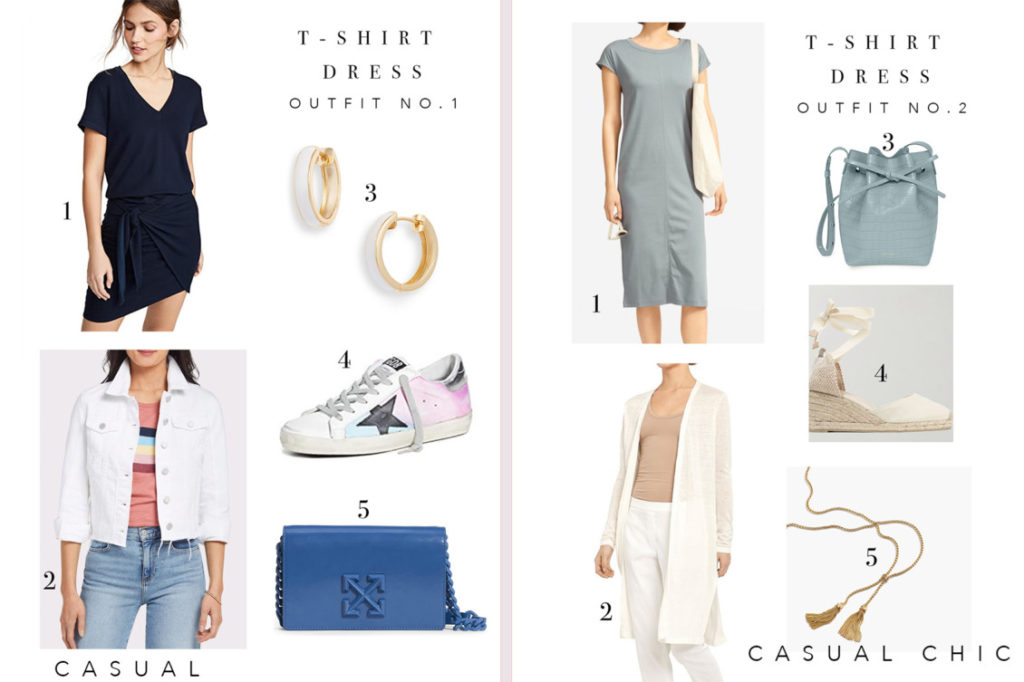 Outfit No. 1
Outfit No. 2
As summer kicks off, a cotton t-shirt dress is a great alternative to your cozy sweats. You can get the comfort of a t-shirt without having to sacrifice your style! While this t-shirt dress is on the fitted side, we love the faux-wrap detail to add extra coverage in the midsection while complimenting the waistline. Throw on a denim jacket and sneakers for running around during the day. And if you heat up, the jacket can look cute tied around your waist.
This muted, midi t-shirt dress could easily become a summer go-to. The mid-calf length makes it practical for chasing kids, but with the right accessories can look effortlessly chic at night. We love the idea of pairing it back to other neutral tones, like a long-line cardigan and of-the-moment espadrilles.
KNIT SKIRT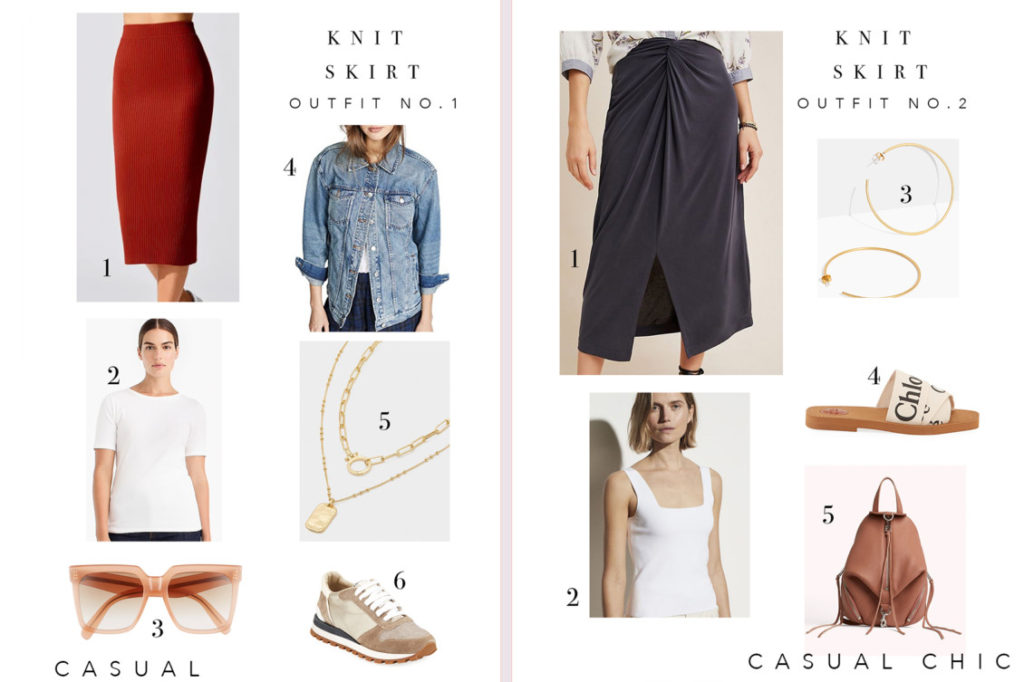 Outfit No. 1
Outfit No. 2
Not feeling dresses yet, but over pants? Say hello to the knit skirt. Knit skirts are the perfect in-between for these more casual days. While skirts can have a tendency to feel a touch dressier, being intentional and selecting a knit fabric allows you to stay nice and casual. For the first look, we love the color of this ribbed knit pencil. We love the length too, making it super practical for day-to- day. To keep things nice and simple, you can pair this skirt style with a fitted tee and throw on a denim a jacket! We especially love this oversized one above, as it provides a little coverage for the tush. To finish it off, grab your fav trainers, fashion sunnies, and a few layered necklaces!
Looking for something a touch fancier, but still casual? This skirt is great because it has two moments of interest: ruching/knot detail at the waist and the subtle slit. And yes, it is a KNIT, which makes it crazy comfortable and easy to wear. Again, less is more. Keep this look simple, but adding a fitted tank, hoop earrings, and a sandal slide. If you need a handbag, we suggest a darling mini backpack…functional and cute. This look is great for dinner at your neighbor's home or out on the patio at a local restaurant.
And oh yes, because not everyone loves the more fitted midi skirt , we've got two additional skirt recommendations: here for Outfit No. 1 and here for Outfit No 2.
To learn more about our Personal Shopping, Wardrobe Consulting, and Outfitting services, visit us here:  https://www.wardrobetherapyllc.com
For content created on our website and social media, some links contain affiliate links which we earn a small commission from.