And like that, it's September! Our team is welcoming this month with open arms, and the promise of crisp, sweater-encouraging temperatures ahead. First thing's first, however, we must send-off Summer the best way we know how…with fashion! We've compiled our go-to looks based on each of our Labor Day weekend's activities. Oh, and make sure you stay tuned for the last outfit…we may just have an exciting announcement to make next week about the newest member of team Wardrobe Therapy…but we'll leave you with a little teaser here first!
This weekend we will head to Lake Erie for a weekend of family, friends, boating and relaxing! Casual and comfortable is always my wardrobe at the lake. Pieces that I can throw on by the water and wear again for evening are a must. I love this cotton cardigan to throw on over my favorite tank. An easy look paired with this flowing, yet flattering pant!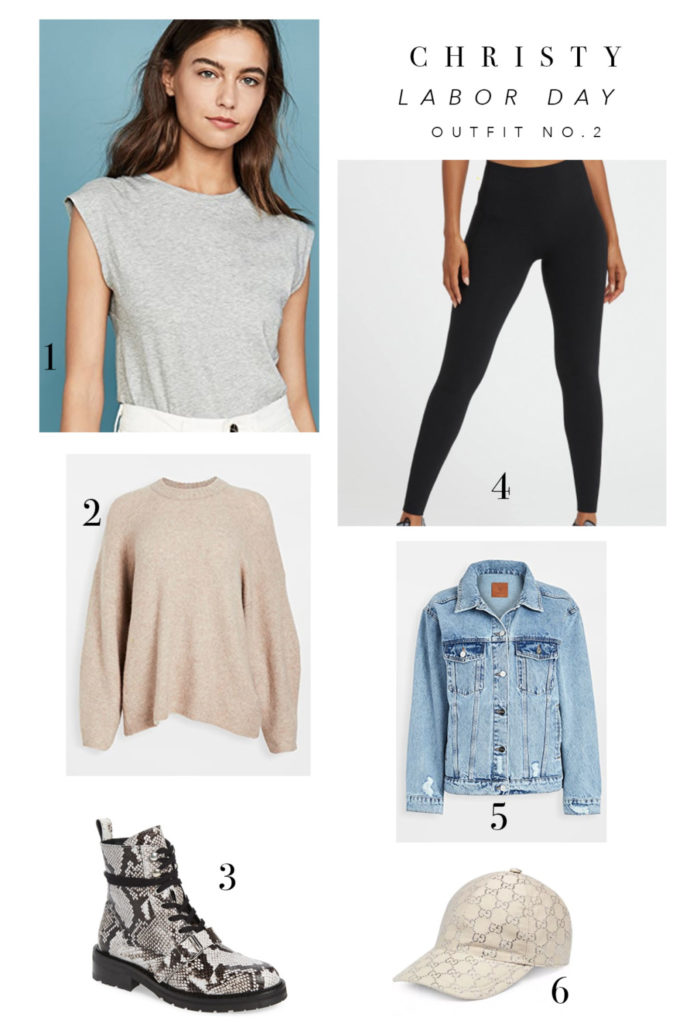 Believe it or not, folks, I will be going glamping this Labor Day weekend! But being "one with nature" doesn't mean sacrificing style! Dress will be casual, comfortable, but well-intended. Can't go wrong with athletic leggings and a great cotton tank (I like a front tuck into my leggings), paired with chic combat boots for day!…then adding a layer or two for night! The sweater alone looks chic and offers great coverage with the pants. If it gets chilly enough, the jacket can be layered with…or I'll do an and/or situation, depending on the sundown temps…whatever the combo, both options work 🙂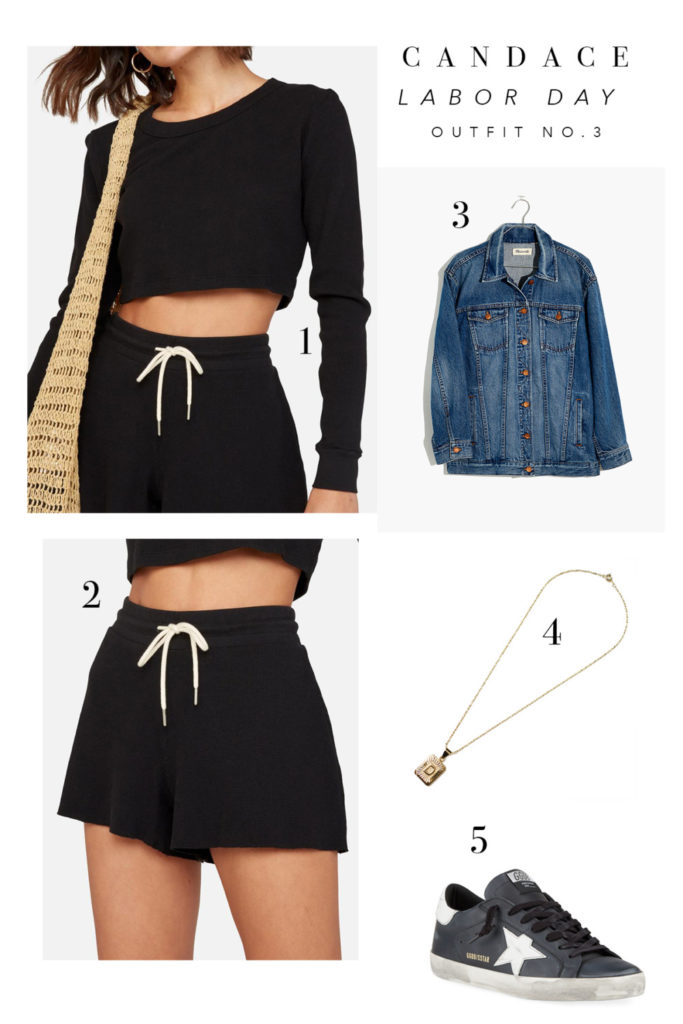 Labor Day will be extra cozy this year, as we will be staying home with our new pup and enjoying a full day of rest! I plan to do some lounging around and this 2 piece set from Mate will be perfect for exactly that! We might go for a Target run or something of the sort and if we do, I'll be popping on my oversized denim jacket, buttoning at the waist, popping the collar and rolling those sleeves back. I will complete that look with these matte black Golden Goose I just snagged at Truluck Boutique and one of my favorite go t0-necklaces from Honey Rose&K.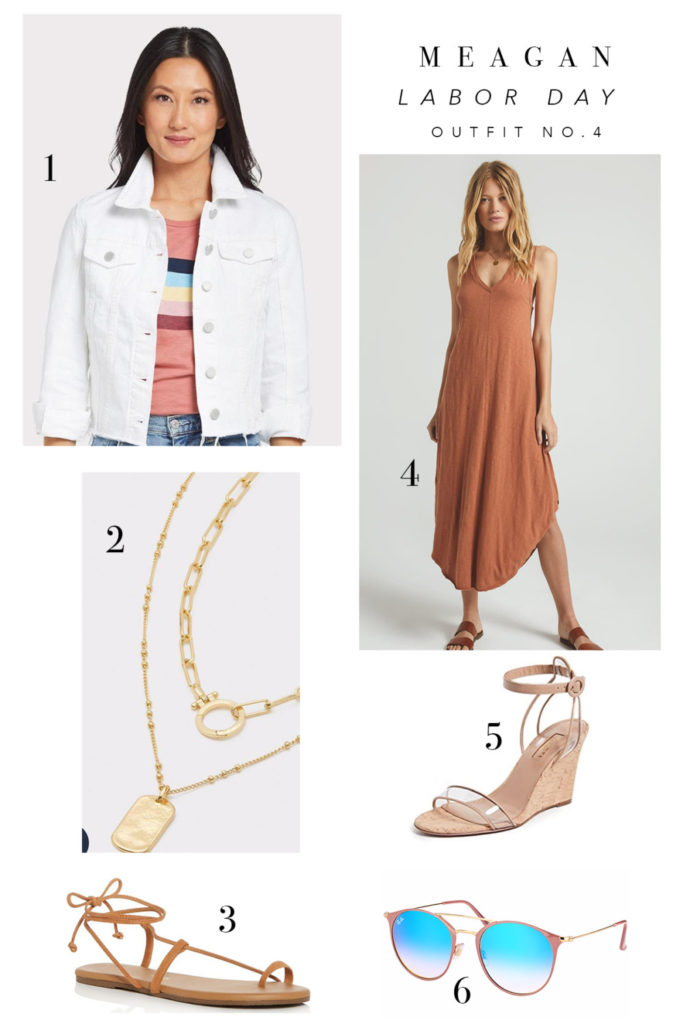 I'll be enjoying the final days of summer style with a flowy t-shirt dress that can take me from the baseball field to a casual patio dinner. I can swap out the flats for heels and add gold necklaces to dress it up on-the-go. This warm flesh tone color is one of our key trends for fall. The white denim jacket has been a favorite of mine for styling clients for warm weather. Read-to-wear layered necklaces takes the guess work out of wearing the layered look. The simple ankle wrap adds a touch a femininity to this minimalist sandal. The mix of textures and materials make this wedge unique. And its on major sale! And lastly, blue mirrored sunglasses are a summer fave of mine!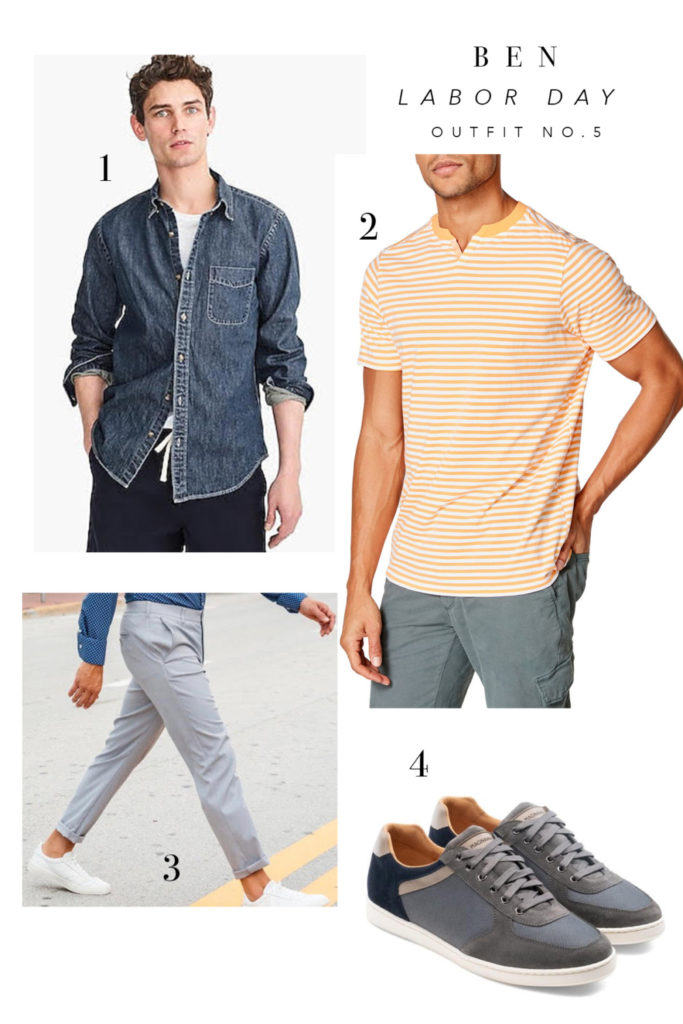 This weekend we will be traveling for Labor Day to see family.  I chose a casual, comfortable look, but kept it sharp for those impromptu family photos.  My absolute favorite pant for travel is the Mizzen + Main Chino.  Its moisture wicking, stretchy, and most importantly wrinkle resistant for that long car ride home! For those chilly mornings, I've included a denim overshirt.  The overshirt is going to be a Fall must-have for men and has great versatility.  I would style this with just the two or three middle buttons buttoned as shown in the pic to show the great detail of the undershirt.  For this weekend, it'll be easy to peel off when the sun heats up in the afternoon.This is a nice comfy t-shirt that will add detail and a pop of color.  You can choose the blue one too, for a more monochromatic look. One of my favorite shoe brands–Magnanni! This is a family owned business out of Spain and they make the must-have sneaker for every man's wardrobe!
It is almost time for Fall Fashion. Our stylists are booking now through September! To learn more about our Personal Shopping, Wardrobe Consulting, and Outfitting services, visit us here:  https://www.wardrobetherapyllc.com
For content created on our website and social media, some links contain affiliate links which we earn a small commission from.