History will be made today, as the first female to be elected into the White House will be inaugurated as Vice President. We're popping into your inboxes a day early this week in honor of this momentous occasion. As stylists, it's part of our job to predict the fashion at major events such as these, as well as pay close attention to the fashion during said event. We did our homework, and the conversation revolving the Inauguration and what to expect in the wardrobe department is quite interesting, yet not surprising.
"This time around representatives for Jill Biden and Vice President-elect Kamala Harris have made it clear they are not interested in conveying a fashion message, according to a few designers and executives, who were asked to submit sketches and designs for both women."- WWD
Based on each of their styles and what we've seen from them in the past, we are forecasting Inauguration Day looks for President-Elect Joe Biden, First Lady-Elect Dr. Jill Biden, and Vice President-Elect Kamala Harris.
President-Elect Joe Biden
Joe Biden has a classic American style.  His signature look includes his dark single breasted suits and white or light blue dress shirts.  According to Women's Wear Daily, he will be wearing a Ralph Lauren suit for the Inauguration, which is a perfect match to the President-Elect's style.
We chose this Ralph Lauren purple label single breasted navy suit.  It is the epitome of Joe's classic style. We paired the suit with a navy wool-cashmere topcoat since the inauguration is typically held outside.  This look demands a crisp white shirt from David Donahue and a classic oxford shoe and belt from Salvatore Ferragamo.  The American patriotism can be expressed through a red, white, and blue Zegna tie and pocket square, plus they add dimension and a bit of pizazz to the look!
Very classic; Very American; Very Joe Biden!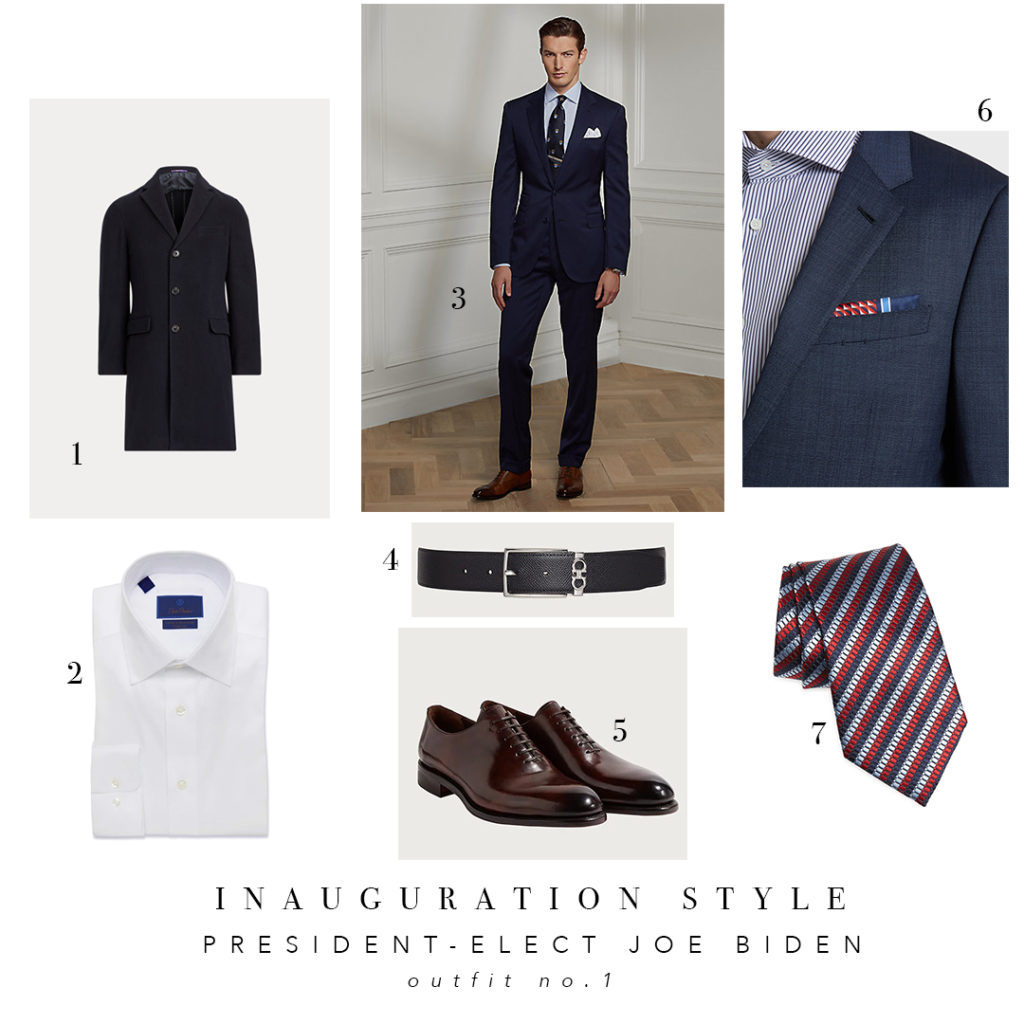 First Lady- Elect Dr. Jill Biden 
Dr. Jill Biden is no newbie to sartorial dressing. After 8 years of supporting her husband in his role as Vice President, she understands the power and practicality of what it means to dress accordingly on a monumental day like this. One of the things we have noticed about First Lady- Elect is her love for a good dress and her willingness to play with color. From bold blues to floral prints, but she does it all with staying true to her classic style.
Knowing that Dr. Biden has participated in inaugural events before and what she wore during the campaigning, we believe that she will reach for a statement dress accompanied by a stunning coat. Fully invested into the message of unity and hope that President-Elect and Vice-President Elect are championing, Dr. Biden's look will communicate her support of exactly that.
We love the idea of this stunning dress by Akris Punto that is the most lovely deep red allowing, her to show American spirit, without being too loud in the line up. The fabrication is also a key to note because it is wool making the choice even more practical for the outdoor event. We're completing the look with a white topcoat that will beautifully compliment this belt dress. And to finish, much like the last Inauguration , we think she will reach for tall boots, complimentary leather gloves and her preferred earring choice, a pearl.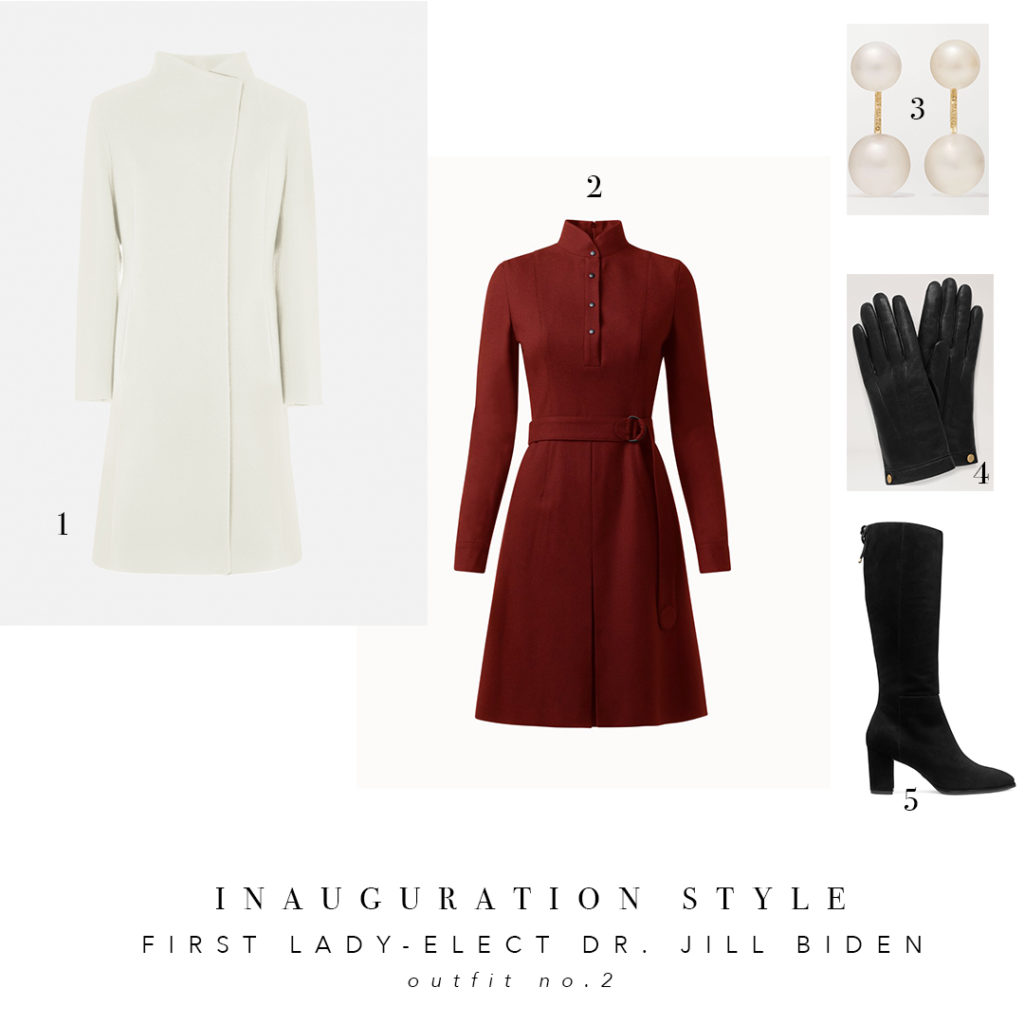 Vice President-Elect Kamala Harris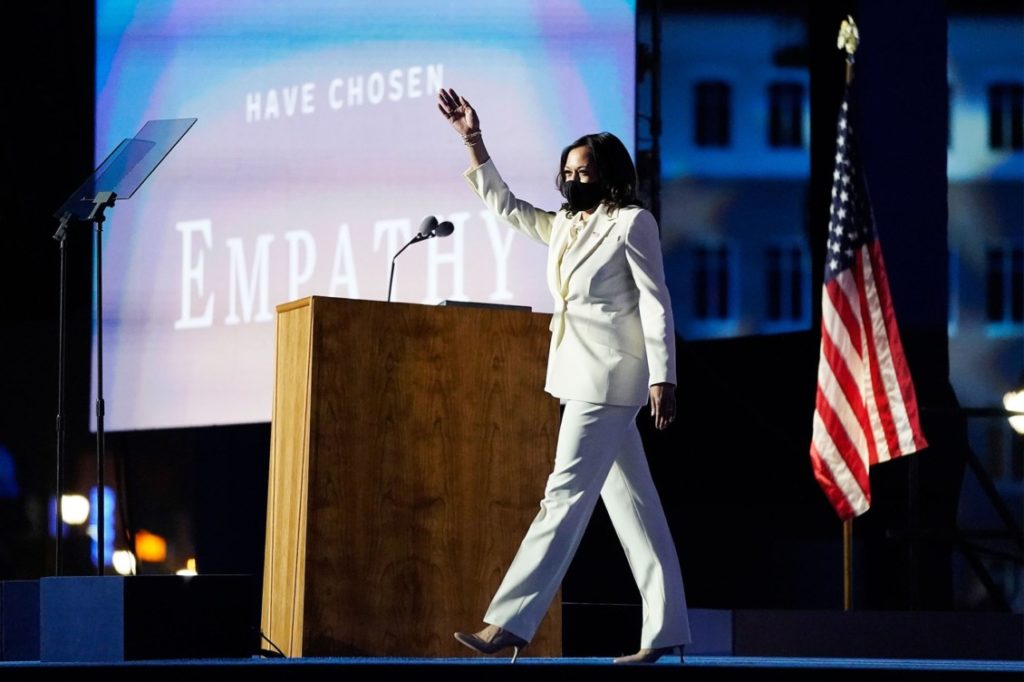 Staying true to Vice President-Elect Kamala Harris's style, we believe that our new VP will choose something monochromatic, but stately. Classic, but clearly defined. And über sensitive to the environment she is in.   We adored the all white Carolina Herrera pantsuit that she  wore for their victory speech in November, and believe that she and President-elect Joseph Biden will both wear versions of blue; a color that symbolizes trust and loyalty, wisdom and sensitivity.
We think a suit similar to this one designed by Altuzarra will be worn by Kamala. This New York designer also knows the importance of making Women Empowerment celebrated! He's dressed Michelle Obama and Meghan, Duchess of Sussex.
Also, we think a pearl necklace is a strong contender for jewelry. Kamala loves pearls, and is yet another symbolic nod to refinement and wisdom. We know whatever Kamala decides, she will exude both confidence and class.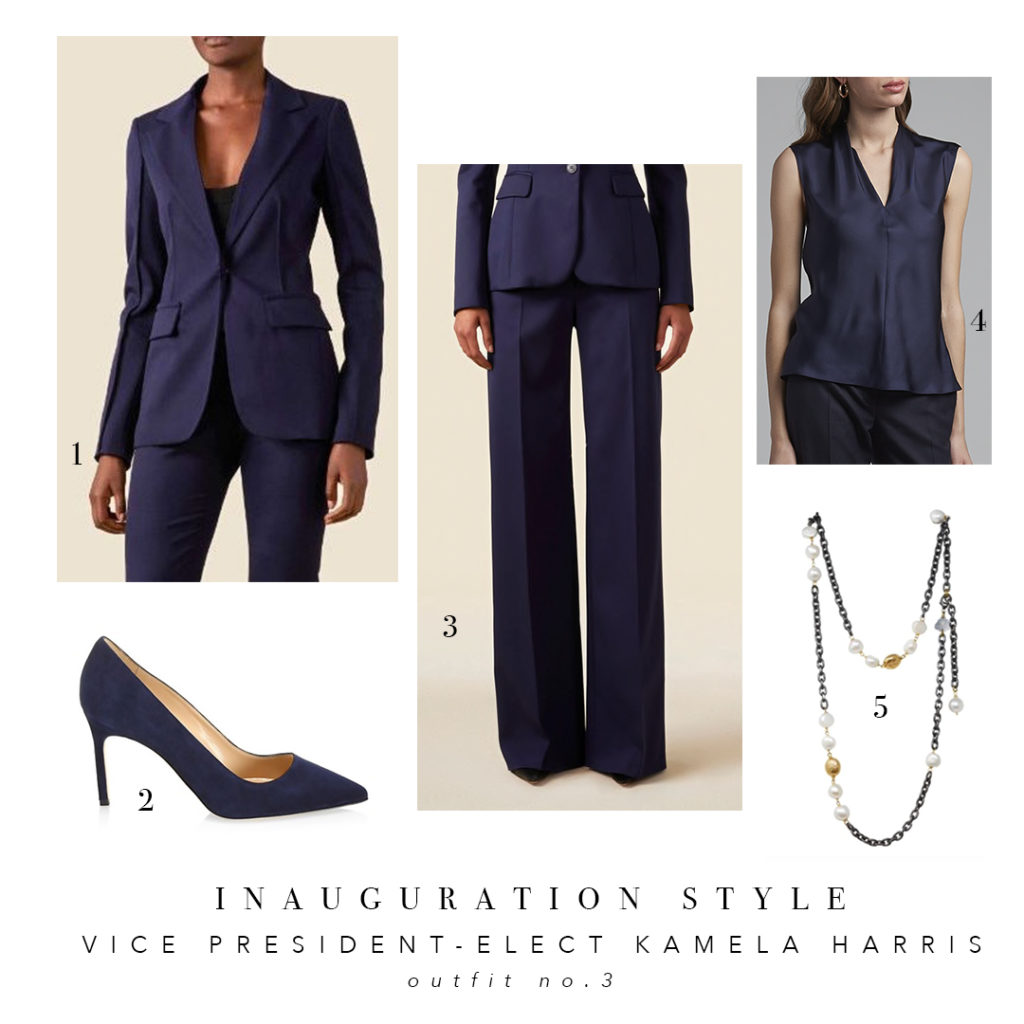 Happy New Year from our team! New Year, New You! Let us help get you started!! To learn more about our Personal Shopping, Wardrobe Consulting, and Outfitting services, visit us here: 
https://www.wardrobetherapyllc.com