We recently had an inside conversation with Marc Desrosiers owner of KILN, a men's store in the Short North. He shares with us how this store was born and the things that inspire him in men's fashion. We love hearing his personal perspective (it's so approachable) and couldn't be more excited to shop the Men's Fall assortment for and with our clients!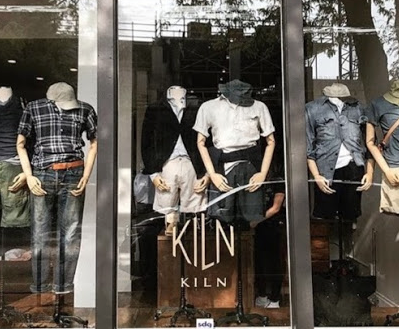 Q: Tell us a little more about what prompted you to open a men's clothing store in Columbus?
A: It was kind of a perfect storm of reasons that all kind of converged at once. We just had our daughter and I wanted more time with her. I had a great gig in Concept Design at a major retailer alongside an incredible crew, but I missed the creative challenge of doing things on a small, intimate scale with little budget and the guerilla atmosphere that creates. I felt the industry drifting away from a decade-long doctrine of buying less but better, which I think is incredibly important. At the same time, we were getting a ton of feedback at our women's store, ROWE, from guys needing a reliable source for style advice in the city. The shop grew out of all of that. First as a pop-up, and now our permanent location at 988 N. High St. 
Q: What demographic/type of guy do you see drawing into your store? 
A: The shop is built on a series of principles that we think transcend demographics. You know that Frampton tune "Do You Feel Like We Do?", that's kind of the idea. How our customer feels vs. their age or state. We carry a mix of classic, contemporary clothing that is earnest instead of ironic. The roster is incredibly personal, made mostly stateside, based on a deep appreciation for quality, craft and the handmade. Nothing is precious. It's meant to transcend wearing occasion, wear hard and age well. Fashion isn't our thing. We're focused on the long game. That Brooks Brothers oxford cloth shirt you stole from your dad in college, that's the idea. Future heirlooms.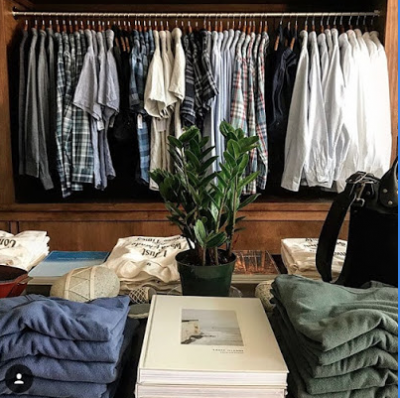 Q: What are some of the lines that KILN carries, that we should know about for Fall?
 A:  I'm really excited about what we have on deck for fall. We were confined quite a bit in Summer based on when we chose to open. This Fall we get to stretch our legs and launch a few brands in the greater Midwest. 
     – Engineered Garments: 100% Made in New York City, designer Daiki Suzuki's point of view on American sportswear is unlike any other. Ask any mens designer their favorite labels, EG is definitely in the mix.
    – Carhartt Work in Progress: WIP preserves everything you love about classic Carharrt with a better fit, increased range of functional fabrics and a counter-cultural energy rooted in the brand's history as a resource for affordable, durable clothing for skateboarders.
    – Snow Peak: A favorite among outdoor die-hards in the Pacific Northwest, Snow Peak's function-first, approach yields a unique aesthetic that feels both at home at 14,000 feet and running errands around town.
    – Sunspel: The official polo provider to James Bond. The 60+ year old UK manufacturer redefines luxury basics through innovative knitting techniques it defined and refined from the 1950s onward.
    – Drakes: Another Brit in the mix this fall, Drakes looks at traditional tailoring through a playful, irreverent lense. When it comes to neckwear, their fabric selections are on another level.
   This will layer on top of our New England-made house label and shop favorites Save Khaki, Moscot, Novesta, Craighill, Ystudio, Cat Bates, Matthew Ready, Hasami Porcelain and more. 
    In addition we've had some amazing collaborative conversations with both brands and artists that we can't wait to bring to Columbus. Projects and pieces unique to our shop alone. We started small this July with our Colorado-made belt collaboration with Denver couple Roy Katz and Tanya Fleisher of Winter Session. Stay tuned for more.
Q: The ideal outfit for a K I L N guy? 
A: I don't think there is one. Style is hyper-personal. Never has there been more choice for guys. I'd advise guys to be comfortable but take chances. If you feel uncomfortable, always err on the side of caution. The classics are the classics for a reason. Be confident and have a point of view. If you don't have a point of view, try a lot on. That's the only way you'll ever weed out what you hate from what you love, you'll learn how different fabrics feel and how fit varies even within a single style based on fabric selection and factory tolerances. Learn how to do laundry properly and make friends with a good tailor. It's the best thing you can do for your wallet. If you have any questions come in and see us. We love that stuff.  I helped a guy buy deodorant the other day and he came back a week later to say thank you. That's why we're here.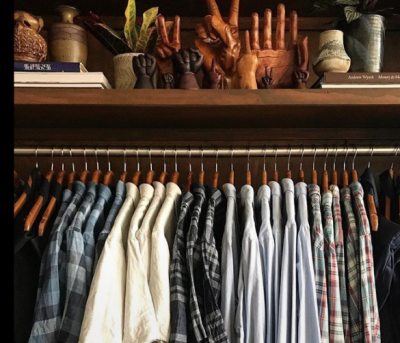 Q: 1 go-to piece in your wardrobe (or at the store), that can go from day to night?
A: If it's cool, a grey or black crewneck sweatshirt can be layered like a lightweight sweater, but because it comes from an athletic history feels way more masculine and way less stuffy. If it's warm, a white pocket tee. When paired with light jeans and white sneakers you're good for anything. Throw a navy sportcoat over it in the evening and you're golden.
Q: Favorite Fall 2017 trend for Men? 
A: Ease. The athleticwear explosion over the last 5ish years has helped guys understand that skinny jeans are kind of a drag and being comfortable is pretty great! The problem was you had to dress like a ninja.  I'm excited to see the way designers have reacted. Softer fabrics, unrecognizable stretch, easier fits, and experiments with pleats in new  non-Costanza-esque ways. We've spent so long at the skinny extreme, I'm excited to see things retract to a more sane place. 
Wanting more? Visit
KILN
at 988 N. High St. – Columbus, OH, 614.867.5610
Beat the heat, and let us spruce up your closet and keep YOU looking fresh all summer long with our Wardrobe Consulting, Personal Shopping, and Outfitting Services. Visit https://www.wardrobetherapyllc.com We're Social! Follow along for the latest on our team, our work, and our inspirations! Instagram Facebook