Our 2nd edition of our Spring Trends Breakdown is here! Like last week, we are bringing you several options of each trend, a few in the casual category as we continue to navigate life working from home (most of us), and a few in the dressy category as well! If you haven't already taken a look, you can find our Spring Trends Newsletter here. This first week we are focusing on the Leather and Vests!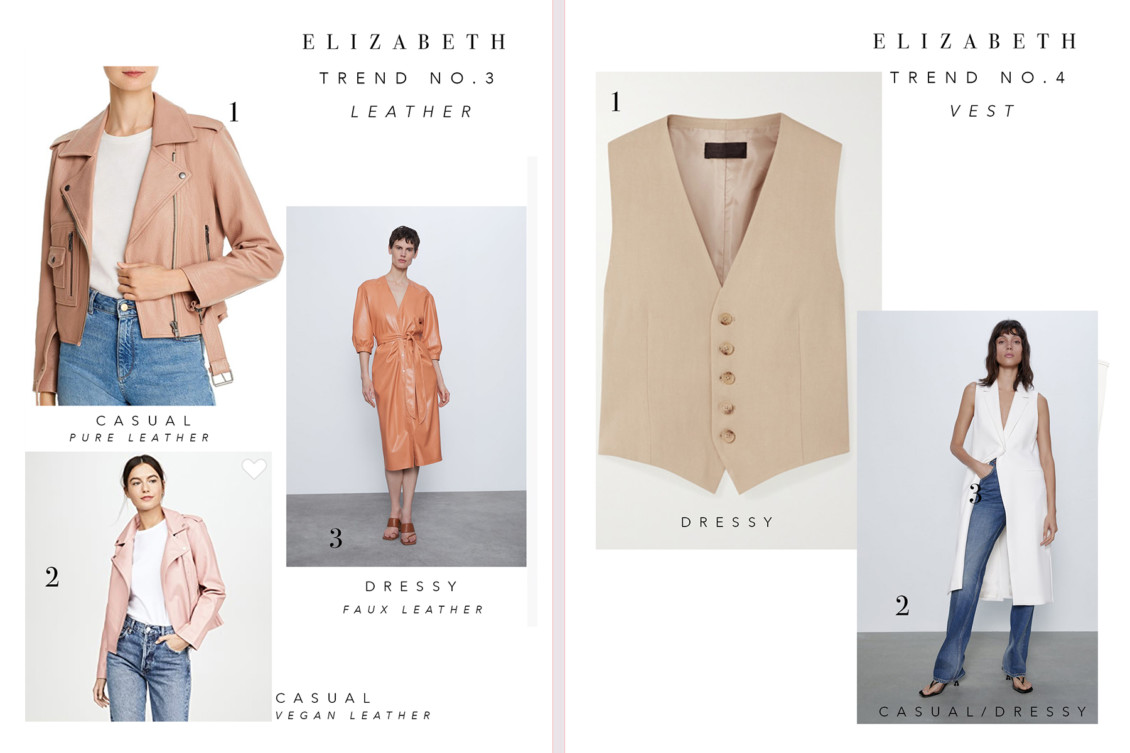 1 Joie  Ondra Leather Jacket  | 2 BB Dakota  Just Ride Vegan  Leather Jacket | 3 Zara Belted Faux Leather Dress
This first leather jacket–love the color! It's cinnamon stick! It's so good for Summer.. and yet will love in the Fall!! Bonus, it's on sale! If vegan leather is more your style, this pale pink option is so chic. It's an easy add to spice up your wardrobe! And the dress?! EEKS!! I will be wearing this the moment we can go back to work!! I'm loving this so much!
1 Nili Lotan Angelina Twill Vest | 2 Zara Long Vest
I love the versatility of this first vest. If you are one that got on early with this trend and you may not be needing it for under your jacket at the moment, but try it with a white t-shirt and denim. Or throw on your favorite seventies style dress and layer the vest over top. So chic. The second vest will be in my daily rotation. The long and lean silhouette is so easy with skinny denim or with leggings too…and even a sneaker!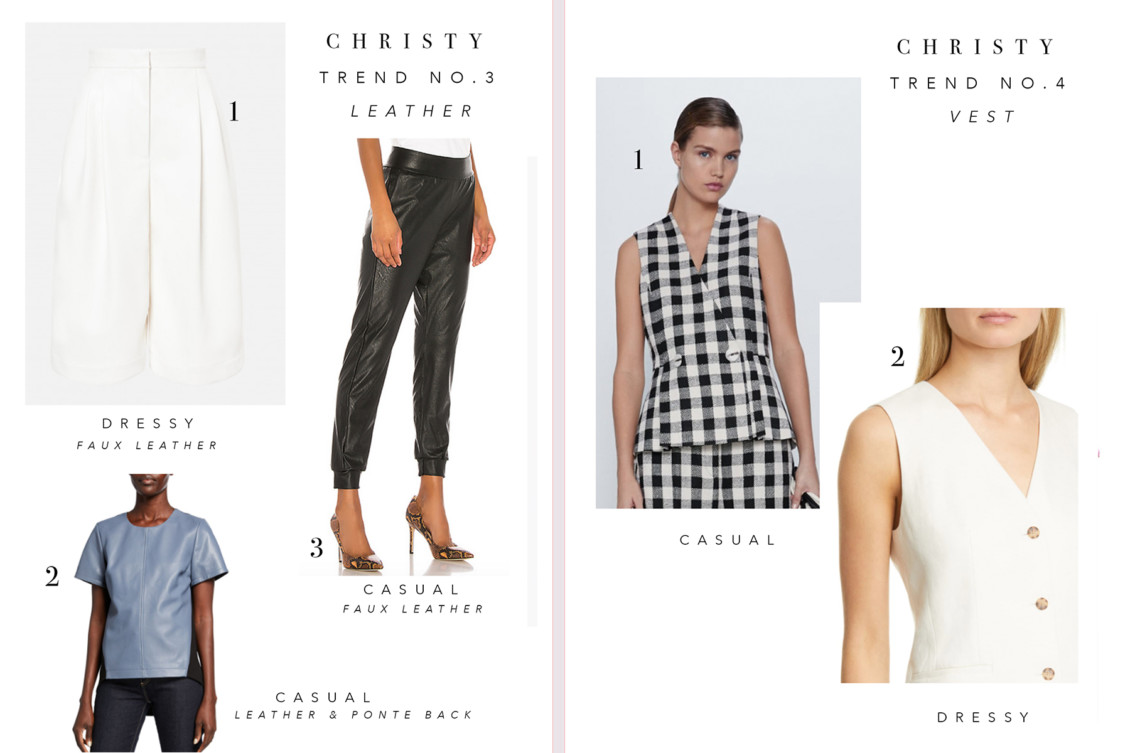 1 Philosophy White Bermuda Short | 2 Neiman Marcus Leather Collection Top | 3 Rowe Boutique Leather Jogger
Boy, I can't wait to wear "normal" clothing again…and these white leather bermuda shorts will be on the top of my list when we can get back out there! I love how sophisticated they feel with the long, full length and high waist. I'll wear them with a tee and peep-toe bootie for work, then with a silk cami and open sandal for a (long anticipated!!) date night! As for the leather joggers, I can be wearing right now, casually around the house with a cozy sweater or t-shirt, then down the road I can dress them up with a blazer and that same open sandal. The leather t-shirt is in the perfect powder blue hue we love for Spring! I can wear it with denim, or go full leather and pair it with the leather joggers! Casual yet cool!
1 Zara Two Toned Plaid Vest | 2  Lafayette 148 New York Zeller Linen Vest
How great is this checked vest?! I can dress this down and layer it over a white tee and pair them with a great denim bermuda short. But I also love that it matches back to pants for a suited, dressy look, and a nod to the 70s! The white, minimalistic, linen vest is perfect heading into the Summer months ahead! Dress up your Work-From-Home look now by layering it over a white button down or tee, and looks great layered under the matching white linen jacket for business-as-usual later!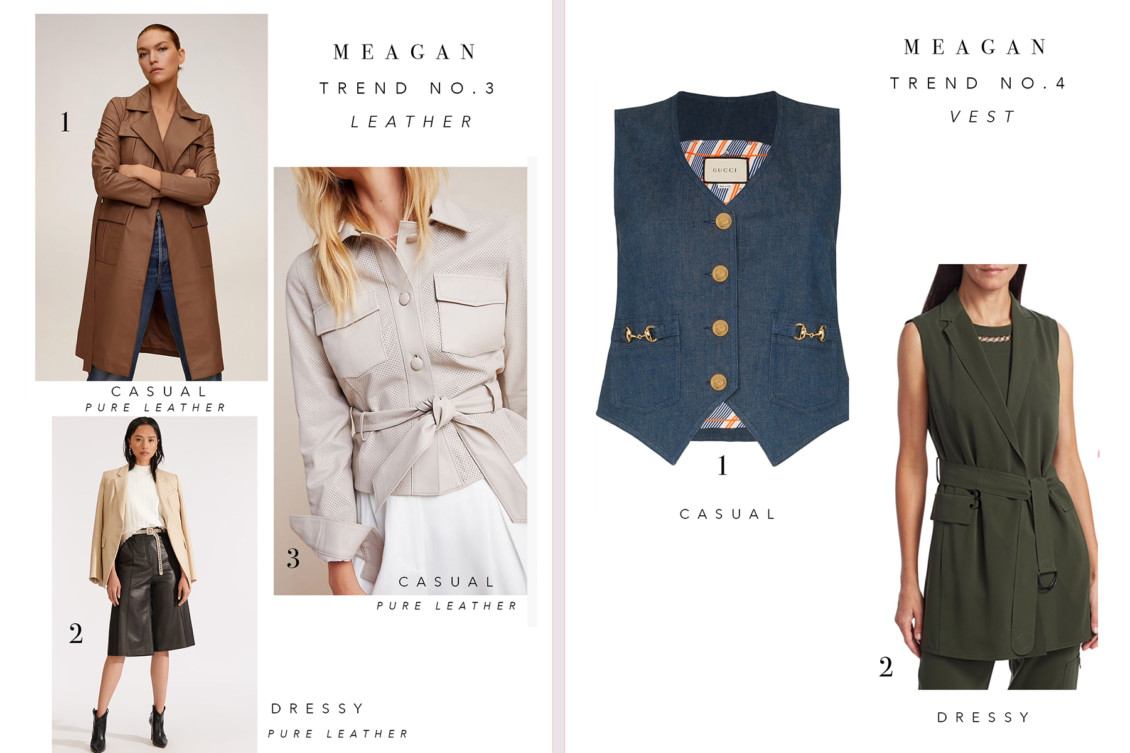 1 Mango Leather Trench | 2 Veronica Beard Arnold Culotte | 3 LaMarque Filipa Leather Jacket
This leather trench has so many details that really give it style: the tie waist, the utility pockets, and the of-the-moment color, cinnamon stick. Leather this summer? Oh yes! These leather culottes would look so chic paired back to blazer or vest and strappy sandals. And if you've jumped on the "shacket" trend (jacket/shirt hybrid), then this leather iteration is the logical next purchase for you! It's less fussy then a jacket but has more structure then a simple button down
1 Gucci Horsebit Denim Waistcoat | 2 Akris Punto Notched Belted Vest
This Gucci denim vest would look so good paired back to light denim and a tee for a casual 70s-inspired look. But I also love the idea of tossing it on over a midi dress to give it some structure and style. And I'm loving this belted vest for its figure-flattering silhouette. You can tie it up to enhance or create a defined waistline, or leave it long and open for a more casual look.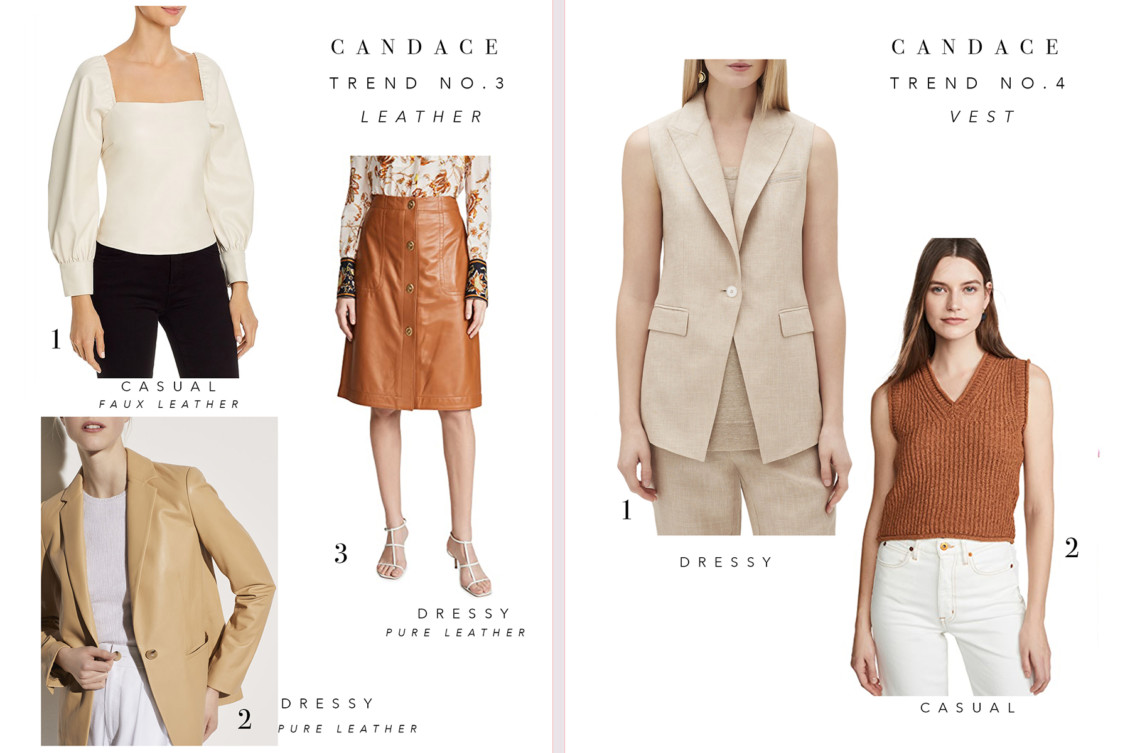 1 Lucy Paris Puffy Faux Leather Top | 2 Vince Fitted Leather Blazer | 3 Coach Leather Turnlock Skirt 
Leather for spring? Yes, yes and yes. This is perhaps my most favorite trend of S/S '20. When it comes to leather for warmer temps, it's all about selecting the correct weight and shade of leather. A faux leather top like this one above is super fun. It can be paired with denim Bermuda shorts and some of the other denim options we showcased last week. Of course, a new leather blazer is needed. This piece by Vince is nice and buttery in regards to texture and the color is truly perfect for spring and summer. Also, this piece will live well into fall making it a true trans-seasonal piece for your wardrobe. And lastly, a chic fit and flare skirt in one of our adored hues, cinnamon stick. This skirt paired with a stunning silk blouse and a heeled open-toed sandal…BEYOND CHIC. And oh yes, you will be able to carry this right into fall too.
1 Lafayette 148 Vanya Linen Vest | 2 Acne Studios Kandra Rustic Sweater Vest
The vest trend feels extra fresh…a new way to approach layering! I love this long and lean linen vest. This vest is the sister to Elizabeth's first choice. Honestly, you could put both in the wardrobe and rotate them based on the desired length. Both so good! And secondly, a sweater vest. A sweater vest is a great option for the gal who just wants that casual effortless look. This is piece is easy to wear and the color is spot-on for the season. Imagine it..white skinny denim, a sneaker or loafer, and a denim jacket. Hello cool casual chic.
BONUS! We chatted with Allison Salopeck, an industry expert in the healthcare field, concerning COVID-19 and what we can do to contribute to the cause. Read more…
To learn more about our Personal Shopping, Wardrobe Consulting, and Outfitting services, visit us here:  https://www.wardrobetherapyllc.com