Super Bowl Sunday is almost here! We think you can be festive to watch the game AND be fashionable. Why not?! It's going to be cold if you're on the East Coast,  and we're ready for it with these cozy chic looks. This week we are styling 3 different outfits each in 2 ways. One thing we love when servicing our clients is showing them versatility with their pieces. Enjoy these looks from our team to yours 😉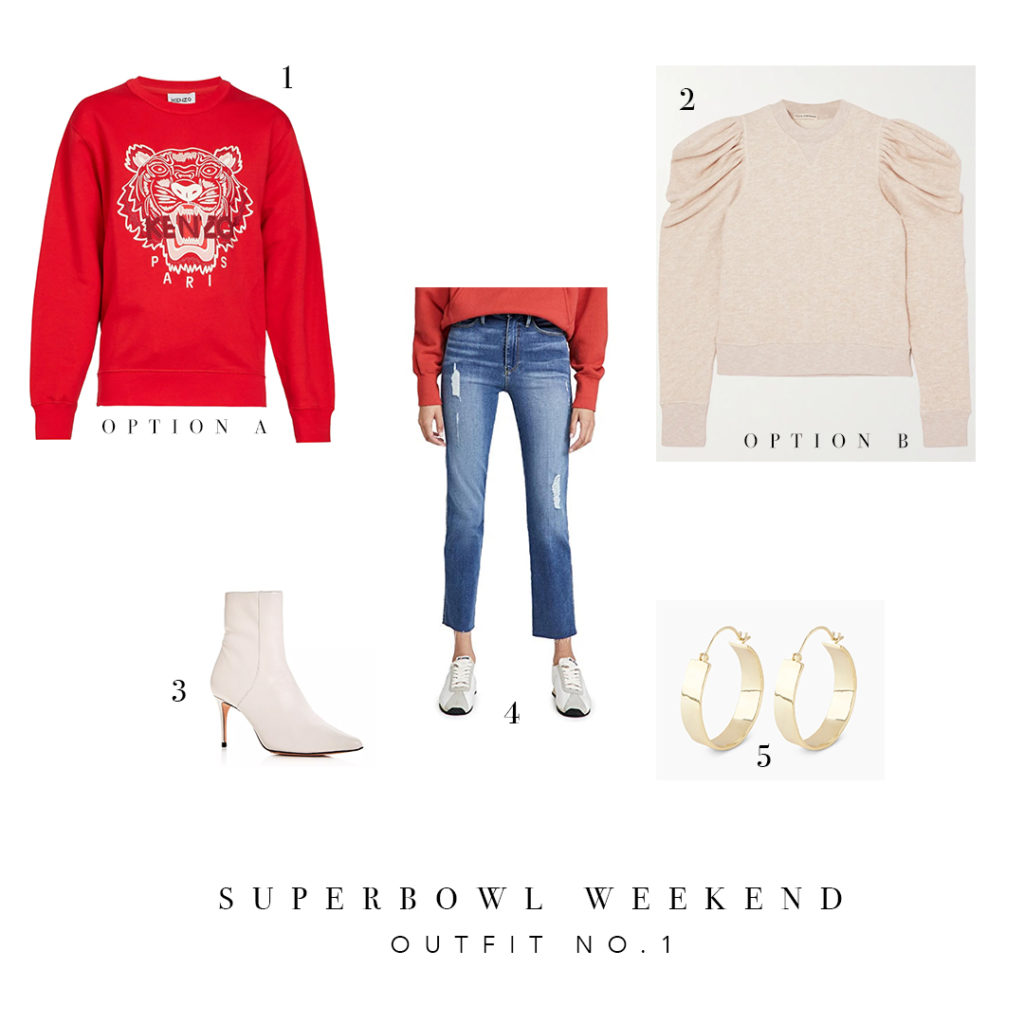 Swap out a jersey for a true American classic – the sweatshirt. Go bold with a trendy graphic print in your team's colors. Or if you're just watching the game for fun, opt for a neutral color with an of-the-moment puff sleeve detail. These straight leg jeans have just enough stretch that you can enjoy some yummy food and beverages. Add a white bootie and gold hoops to elevate this casual cool look.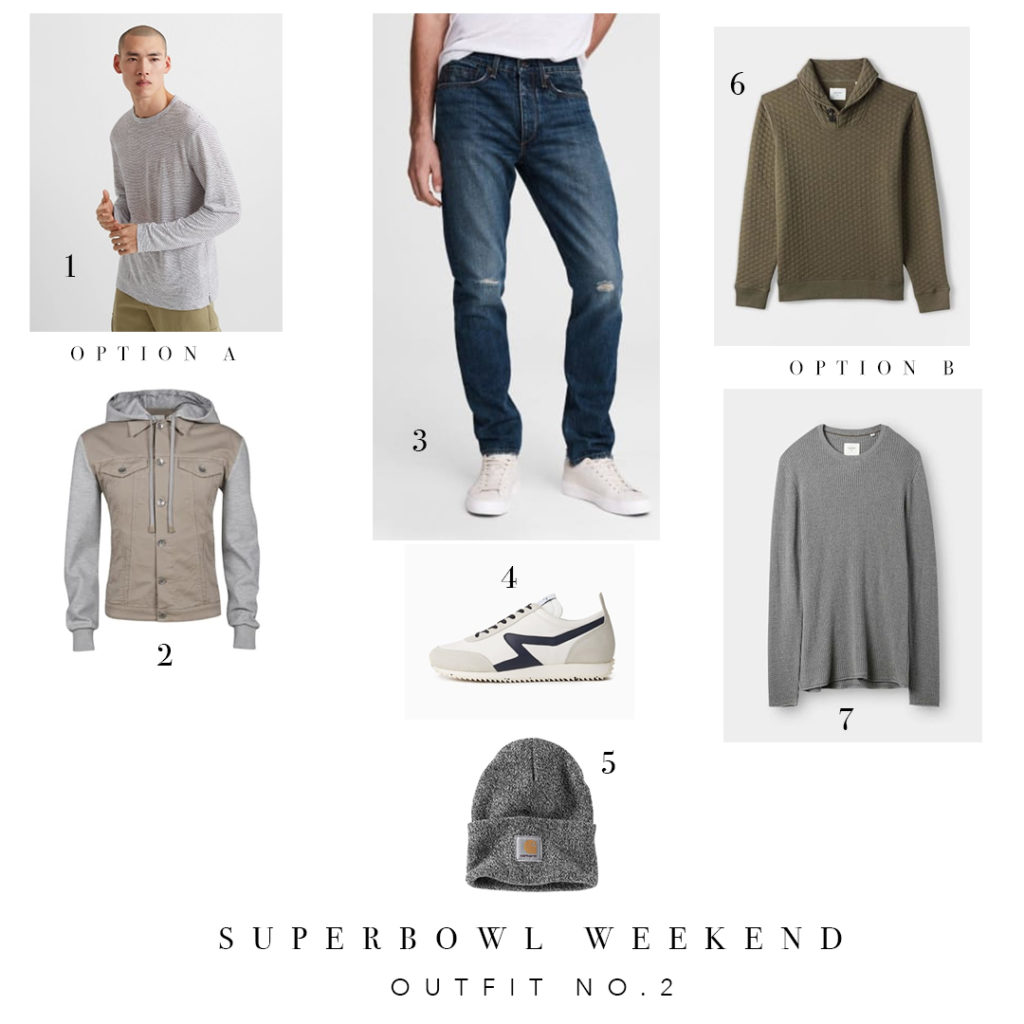 In the sporty-casual look, the champion piece is the Eleventy trucker jacket.  The cotton stretch of this jacket gives it mobility and comfort as you jump up to cheer for your team.  The linen striped t-shirt from Club Monaco and distressed denim and sneakers from Rag & Bone adds to the comfort of this look. Top it off with the Carhartt beanie to complete your sporty ensemble.
If the sporty look isn't vibing for you, then you could go move conservative with the Billy Reid thermal and quilted shawl collar sweatshirt.  The leather detail on the sleeves of the sweatshirt and the same Rag & Bone distressed denim makes for a good mix of casual and comfort, while keeping the look elevated.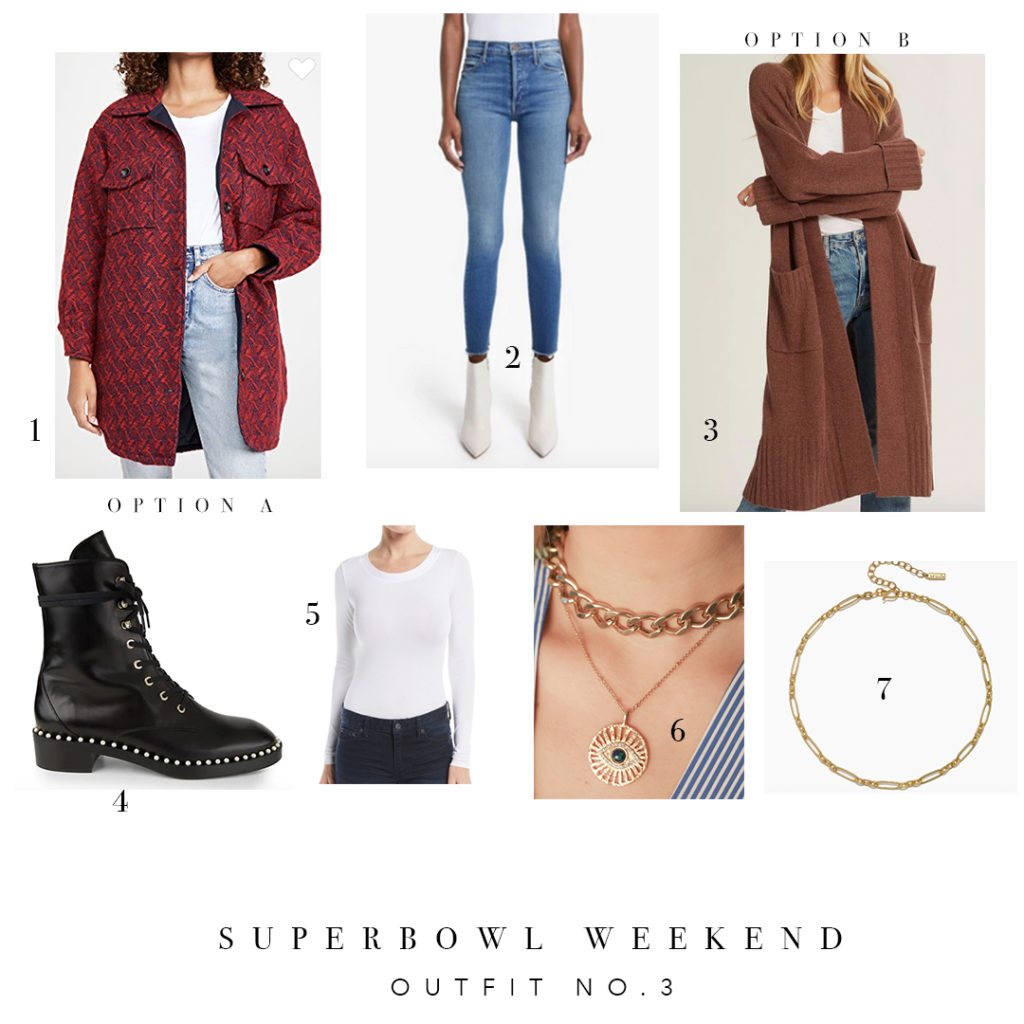 We love this layered look in red–gotta show equal love for both teams! The "shacket" (shirt+jacket) has quickly become a styling trend we are both wearing and styling our clients in. Such a chic way to take a casual look up a notch. But if you're not into the look, switch it out for a more classic piece like the long cardigan. Both work equally well for a way to pop red and works for Valentine's Day too… double bonus!
For content created on our website and social media, some links contain affiliate links which we earn a small commission from.