Hello Winter Arctic! The last couple of weeks have proven that we are most definitely in the midst of winter. It's beyond freezing, which means we are likely wearing layers upon layers to stay warm! We know that layering both stylish and yet practical, is important to YOU. This inspired our want to share the art of layering with a few winter wardrobe staples that most every gal should have!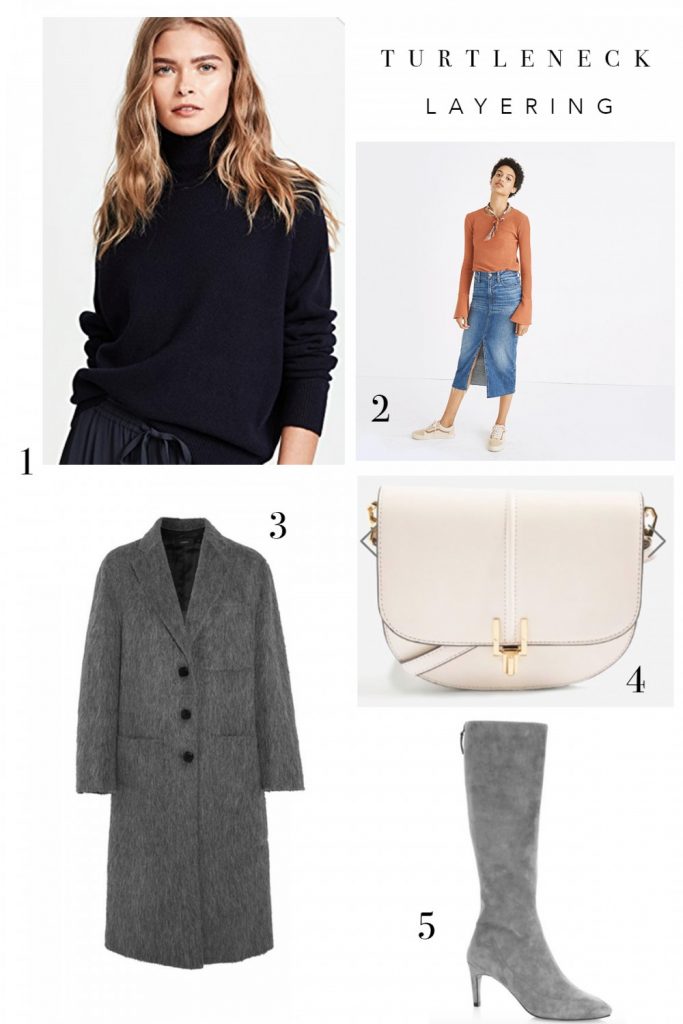 1.Vince Turtleneck  | 2. Joseph Coat (ON SALE) | 3. Madewell Skirt  | 4. Topshop Handbag | 5. Cole Haan Boots
Its winter and we know that clients are wanting to do the turtleneck craze … but not wanting to feel like they aren't chic.. or worse.. BORING. Remember: when layering, the key is to pair silhouettes that work nicely together. If you have a fitted turtleneck, try out a wide leg pant to tuck the turtleneck into. In this case, we found a great chunky turtleneck sweater in navy.. and paired back to a more structured pencil denim skirt. Tuck the front of the sweater into the skirt. This allows the waist to be defined, just a bit more. We then layered the grey Joseph coat, which is a structured, clean silhouette. Nothing too boxy, so it helps taper the chunky turtleneck. A skinny denim could work nicely too (if skirts aren't your thing)! We love the pop of the white cross body! So chic, but so winter fresh!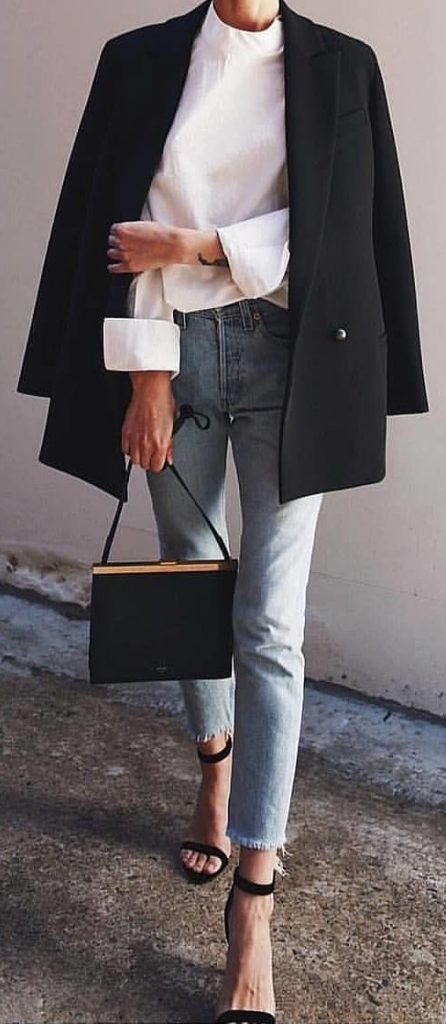 Source: sweetstyle.com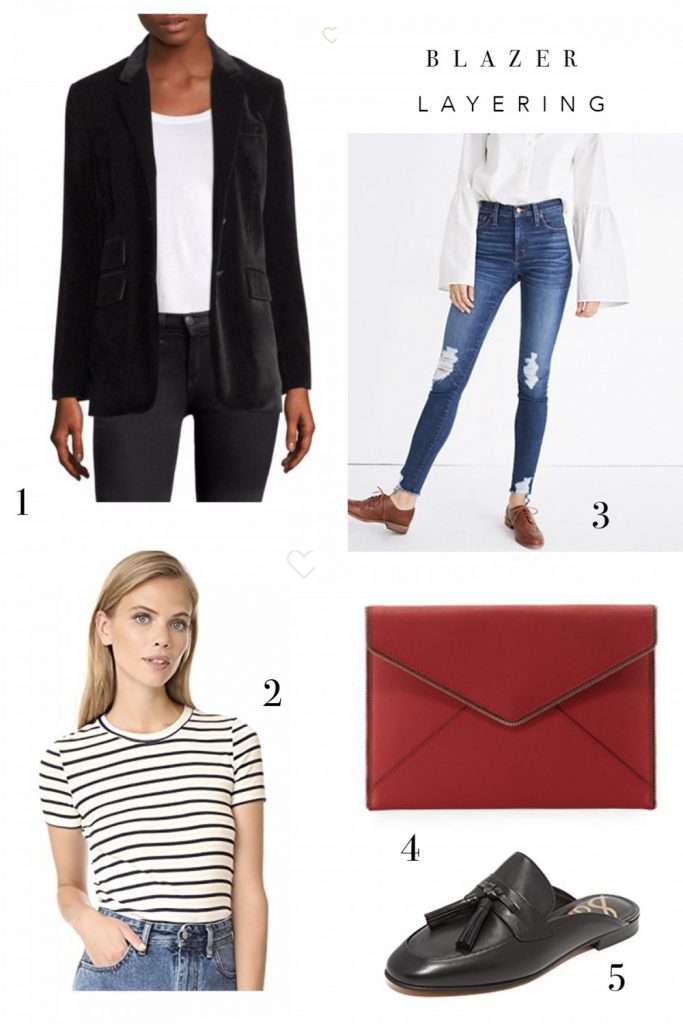 1 . Rag & Bone Velvet Blazer | 2. Petit Bateau Striped Tee| 3. Madewell Destructed Denim | 4. Rebecca Minkoff Envelop Clutch | 5. Sam Edelman Mule
When choosing pieces to layer with, we love recommending the classic blazer. This is a favorite that can be worn to the office or to lunch on the weekends. Layer it over a sheath dress, or over a feminine blouse and with a pair of fitted trouser pants for the office OR drape it over a tee shirt with jeans and hit the town.
Besides its chic silhouette, the blazer offers flattery to most (if not all) shapes. For the woman who is fuller in the belly–an apple shape– she can layer  over a blouse or top that has some flow through the middle, and the structure of the blazer actually helps square the shoulders, as well as create a slim tapered line through the mid-section, offering the illusion of an hourglass shape.
For a woman who is fuller in the hip, we recommend the top to come about 4″ below the waist, to disguise. That's why this longer velvet blazer by Rag & Bone is not only wowing us in the style department, but it fits the bill in length and shape!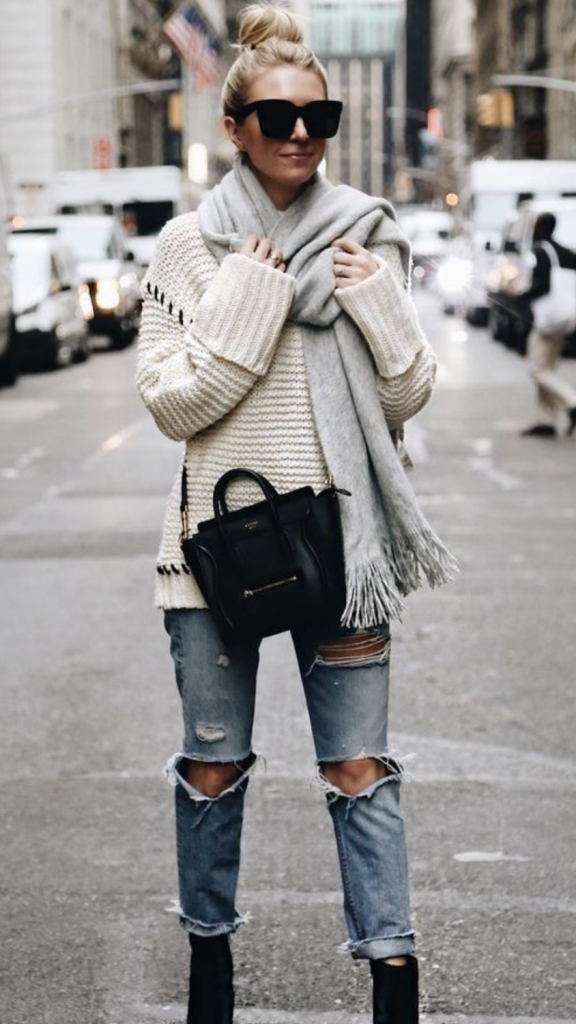 Source: Pinterest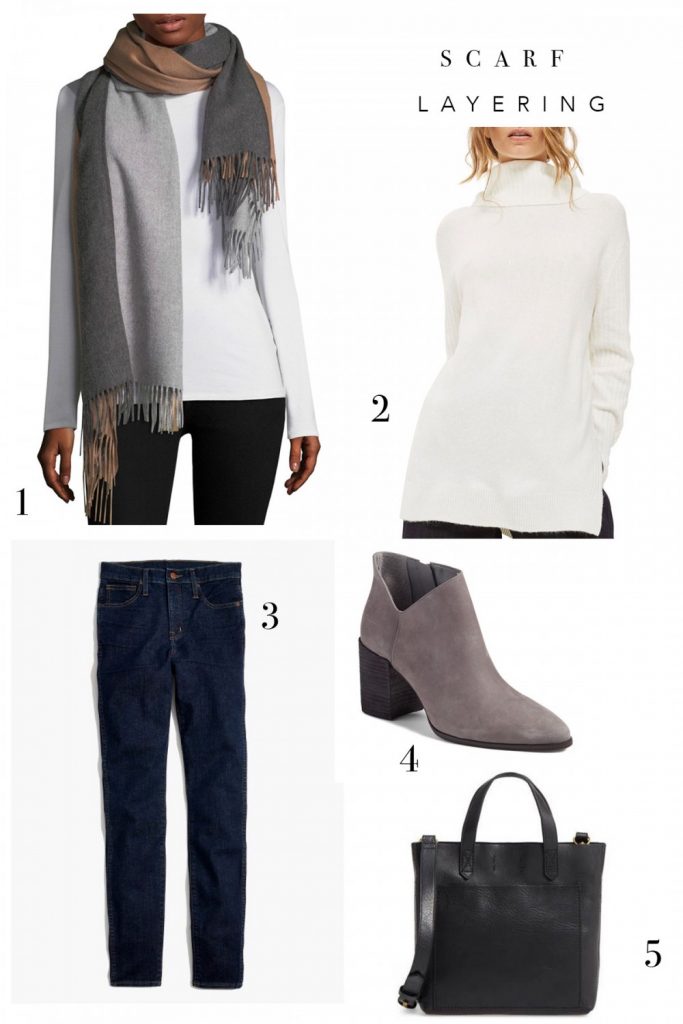 1. Donni Charm Scarf | 2. Topshop Oversized Turtelneck | 3. Madewell High Rise Denim | 4. Vince Camuto Kathrina Boot | 5. Madewell Small Transport Crossbody
When it comes to mastering the art of layering with a scarf, there are two important details to keep in mind. One being fabric and two being styling! One of the easiest ways to avoid bulk in layering your scarves is by selecting the right type of scarf. With layering in mind, reach for the wool (preferably brushed wool), cashmere and/or silk blend scarves you might have. These fabrics are guaranteed to lay much more flush to your clothing, while also keeping you perfectly warm.
Secondly, it's all about how you style your scarf! With thicker winter scarves, we recommend that you try the basic loop (see our previous post HERE). The basic loop consists of draping the front of the neck, bringing the ends around to the front and taking one of the loose ends and pulling it through the top of the scarf!
And there you have it! Just a few ways you can approach layering for the remainder of Winter. Stay warm friends, stay warm!
To learn more about our Personal Shopping, Wardrobe Consulting, and Outfitting services, visit us here:  https://www.wardrobetherapyllc.com