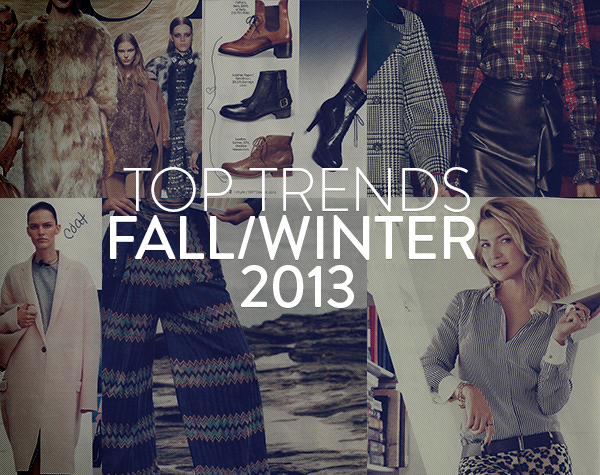 Fall/Winter 2013 Trends from Wardrobe Therapy, LLC
1. Menswear
It's all in the details. Especially in shoes, from platform oxfords, to short military boots.  You can find this in print and collar detail too.
2. Leather
Smooth and Sleek or Textured and Worn. You can find it on sleeve details, leather panels and leather shirts.
3. Accessories
Eye-catching. Riveting.  Look for choker necklaces, statement bangles and oversized clutches. Don't forget the over-the-knee boot on your way out.
4. Oversized Coats
Layer them over skirts in the same print or over turtlenecks and skinny pants for a clean, minimalist look.
5. Color!
Blue, Emerald Green, Pink tones, Winter White (For the ladies) Mustard & Olive Green (For the men) Charcoal Gray is unisex.
6. Mixing Prints!
Chic and unexpected. Mix larger prints with smaller prints.  Accessories count too! Pair a leopard print belt with a floral print bottom.
7. Fur
Last Fall it was all about the vest (which you can still throw on this season!), this Fall we are seeing fur chubbies, cropped fur jackets and fur in the details, Inspiration: Fendi.
8.  Texture.
Think Fringe, Feathers, Suede, Nubby, Boiled Wool.
9.  Plaid
Mixed or masculine. Think sophistication. Pair with the unexpected. Feminine blouses, leather skirts, etc.
10. Silk Pants & Palazzo pants
From an extreme wide leg pant to the ever popular harem pant. Classy loungewear has never looked any better.