Last week our team produced our top Spring/Summer 2021 Trends. We are always excited for a fresh start at the beginning of each season in fashion, and we don't know about you, but we're certainly feeling (and seeing) the excitement now more than ever as we enter this period of foreseeable light at the end of the *ahem* covid tunnel!! We're excited to really dress again, and we believe the feeling is mutual. This week we're making examples out of two of our favorite trends, the relaxed denim and the relaxed trouser. There are many similarities between these two, and cross-functional styling that can be done. So from casual to work, to dressy, take a look at how we are wearing and outfitting the pants of Spring/Summer 2021!
CASUAL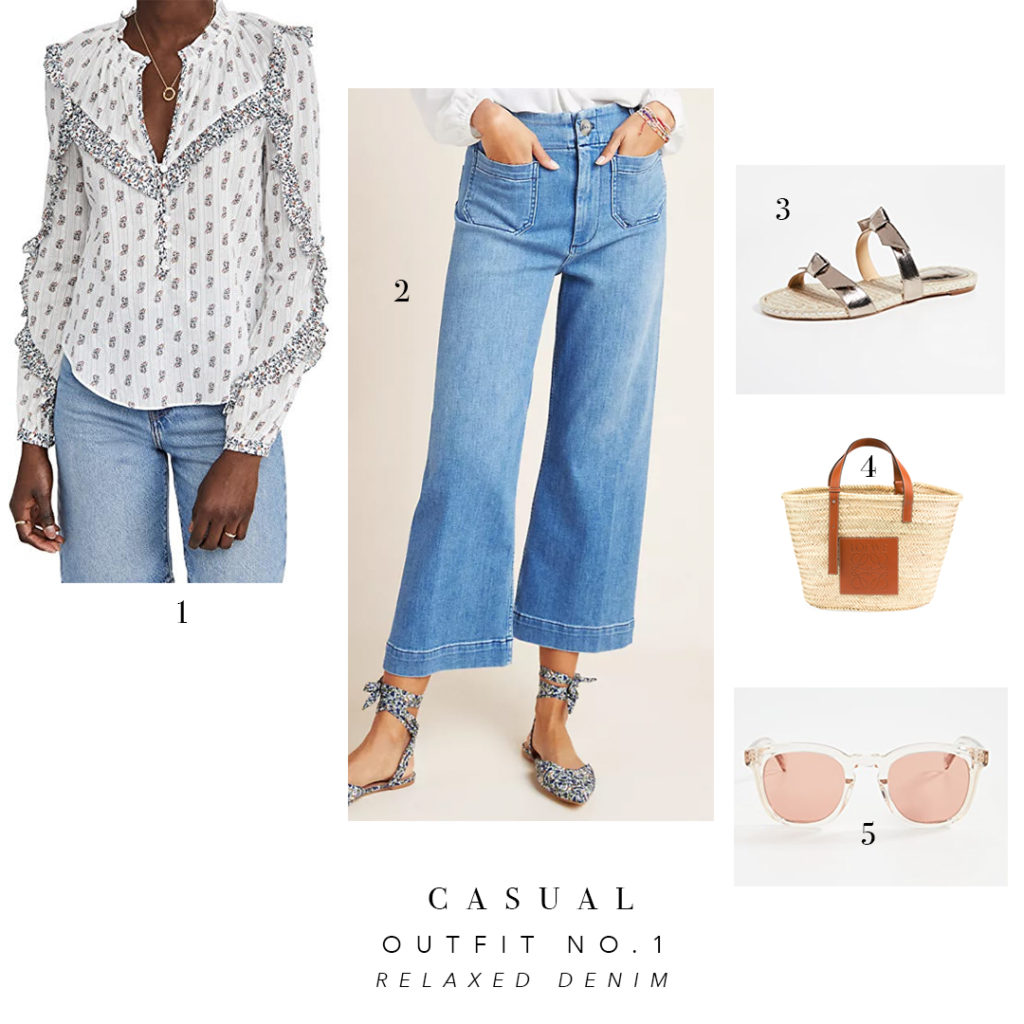 The newest silhouette for denim is a relaxed fit with a straight or even tapered leg. This seems to piggyback off the comfortable dressing we have all become accustomed to over the last year. The key to sporting this style is balance so the volume does not overwhelm your figure. That can be achieved with belting, tucking, a cropped leg length, adding heels, or a strong shoulder. The light wash here paired with easy sandals keeps this look low key.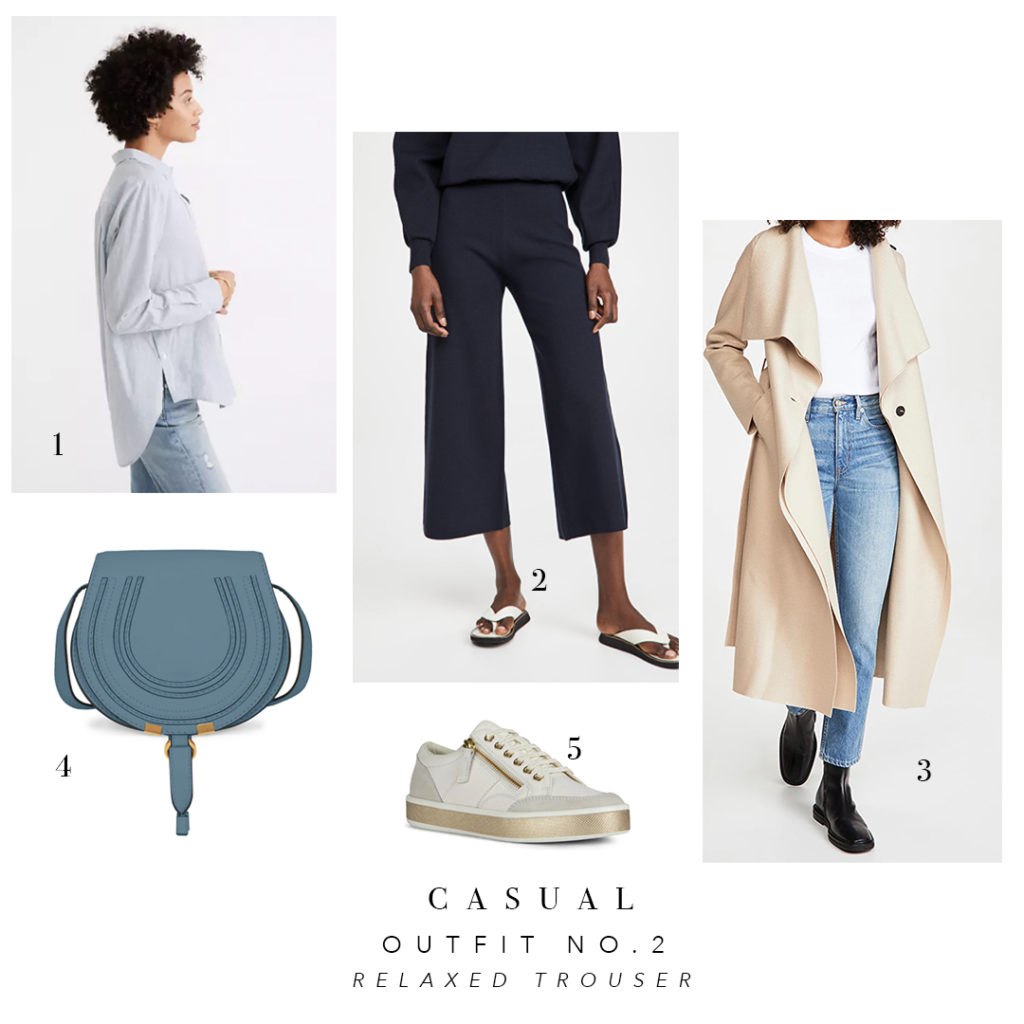 If you're sensing a theme, you are correct! The relaxed trouser is also taking center stage, which is great because as you head back into the office it won't feel too taxing to slip back into those work pants 😉 But the trouser need not be saved for just the office…we love this item worn casually as well. A slip on tailored trouser like the one above paired with a relaxed but structured shirt (front or half-tucked) and topped with a great trench, sneakers, and a crossbody shows you're ready for whatever the day throws your way, and you're going to be casually cozy-chic doing it!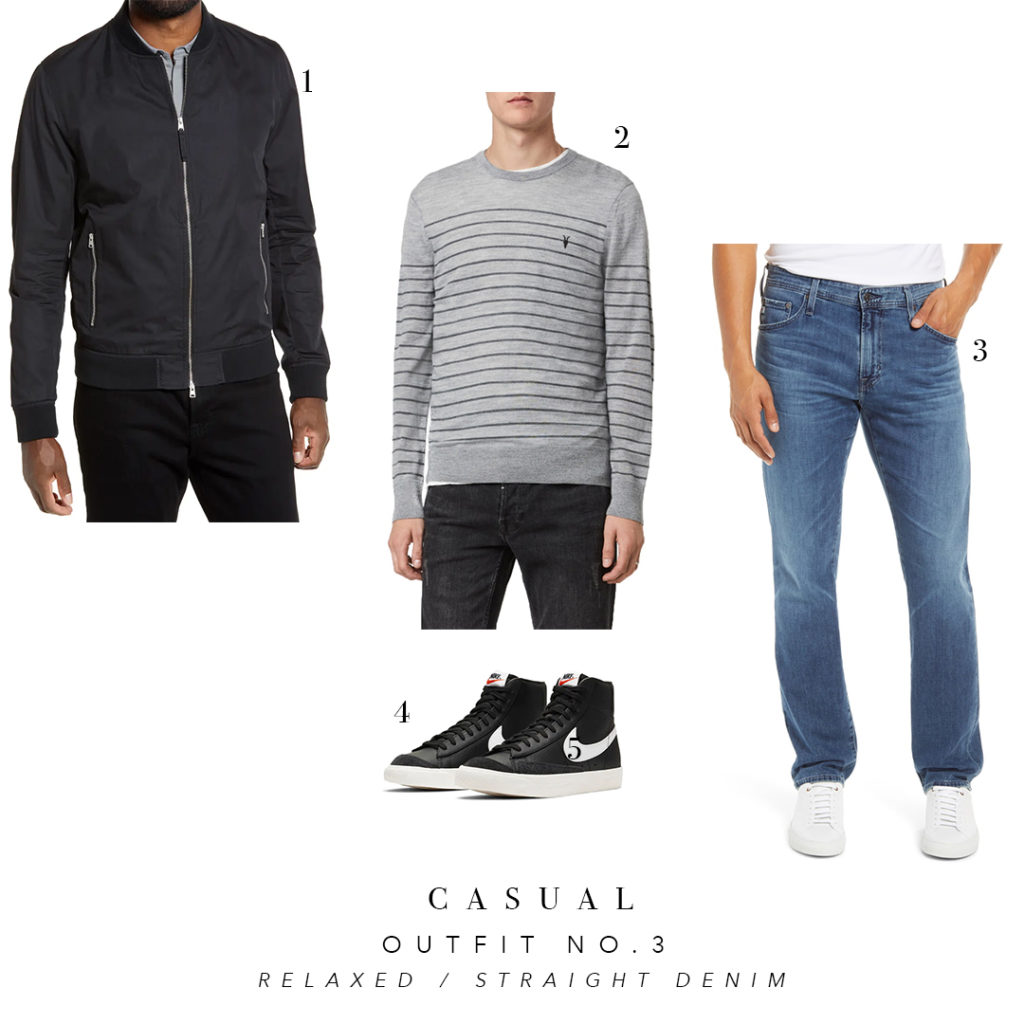 For our guys who are going for a good casual/weekend look, AG makes a slim-straight denim in their Everett fit.  This fit is straight through the thigh and tapers just slightly from the knee down, keeping the straight-leg look.  I would pair this with a light sweater, perfect for the transitional Spring weather, and layer with a bomber jacket (another great trend you'll see later this season!).  Finished with a great sneaker, this guy is ready for some weekend fun!
WEAR TO WORK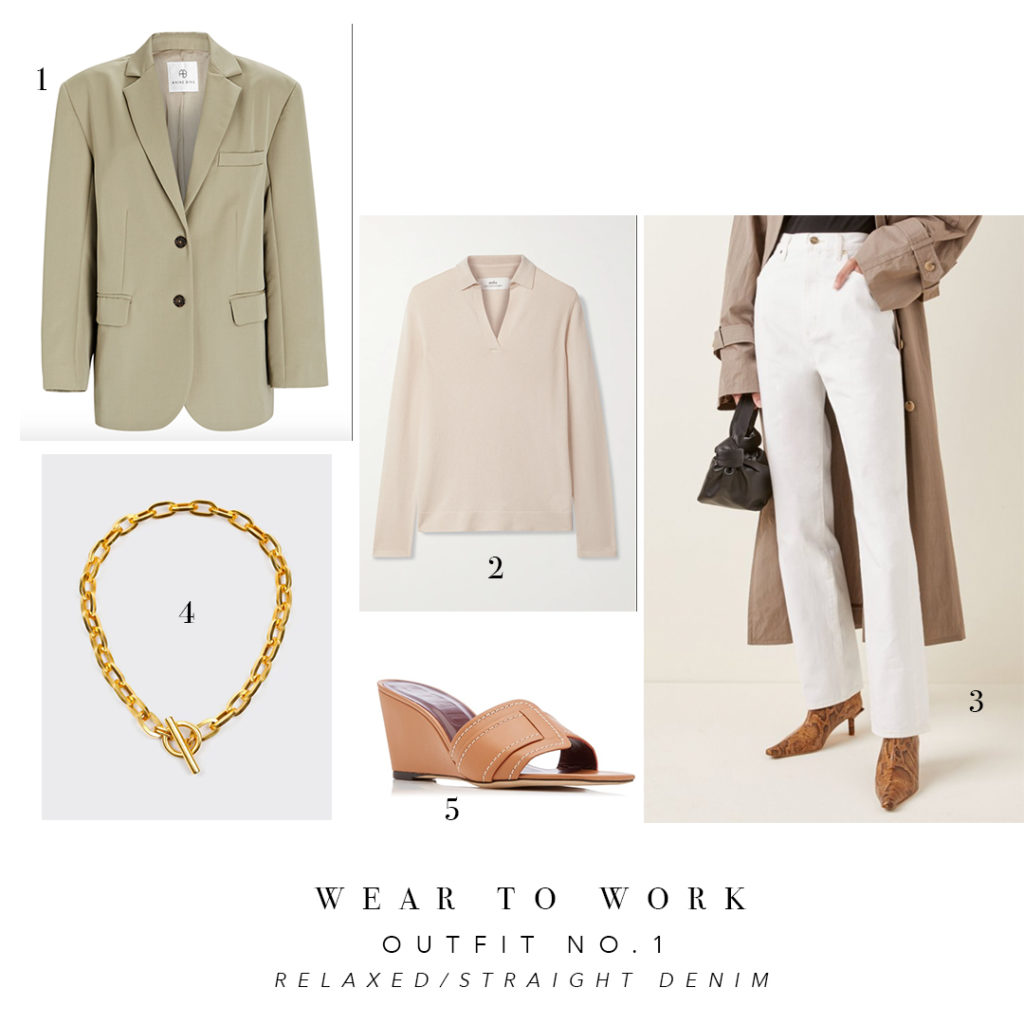 For those permitted to wear denim to the office (if/when you have returned/will return), try the relaxed denim silhouette in white! The look reads trouser but feels and fits like denim. With a looser and longer leg shape such as this, opt for a heel. And be sure to elevate your look with a polished top/jacket combo.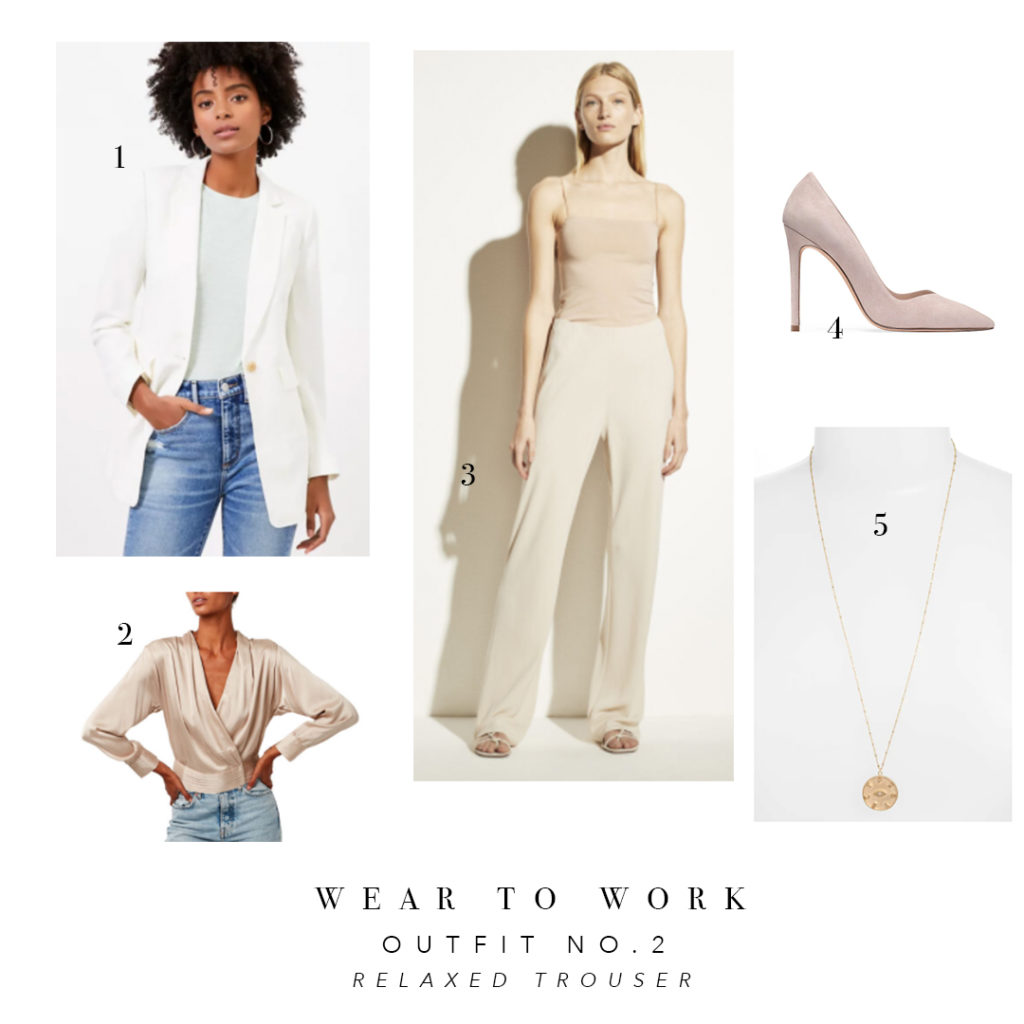 For our petite gals trying this look, make sure you are elongating the leg by adding a pump…but first and foremost, be sure the pant is tailored to the proper length for you so the pants don't drag. Also, pulling the waist in with a wrap top and adding a figure-flattering blazer for any body type helps the ease up and down the body, creating balance, which is ideal when any relaxed item is being worn!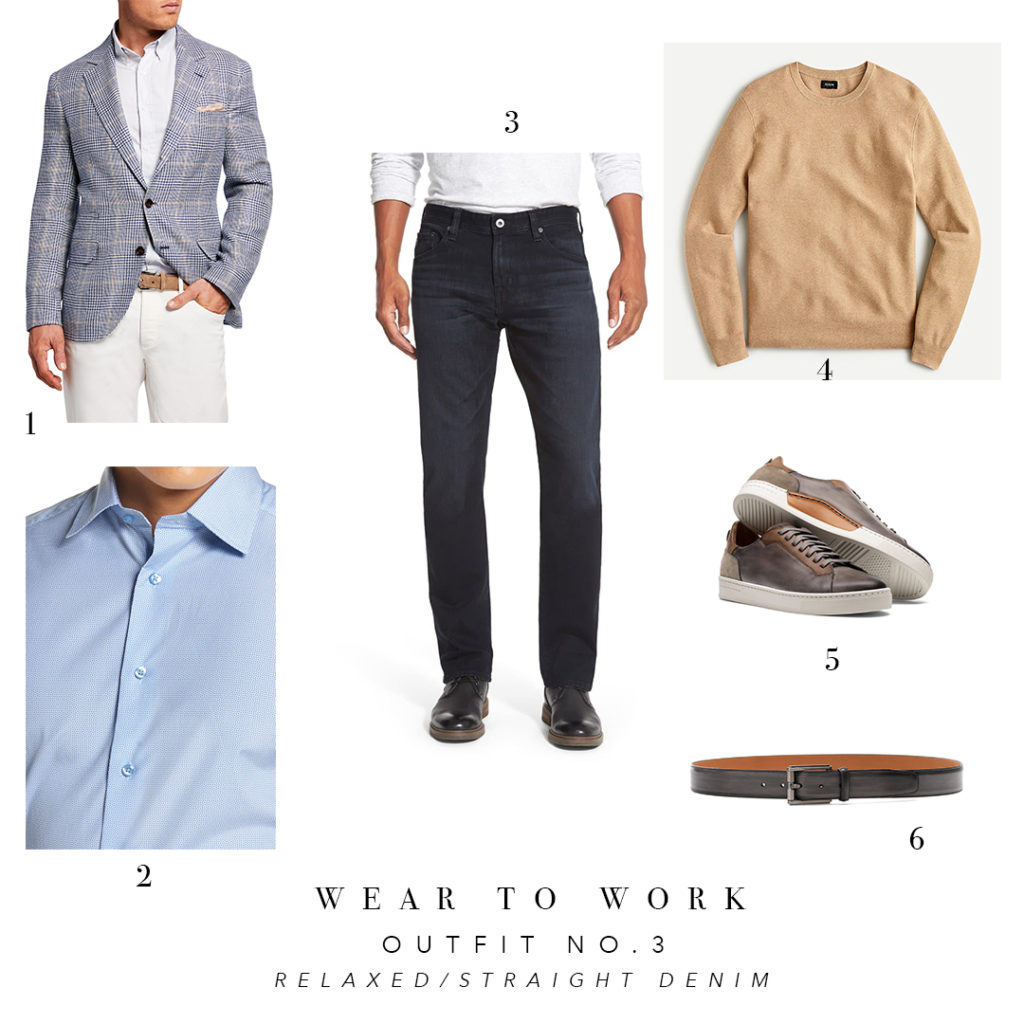 AG is one of our go-to brands for men's denim. They make a great straight leg in this Graduate fit.  A dark wash is perfect for WTW, keeping the look professional and casual. I would pair this with a statement blazer and layer with a shirt/sweater combo to keep with the business casual look.  I would finish this look with a fantastic sneaker and matching belt from Magnanni for added deliciousness.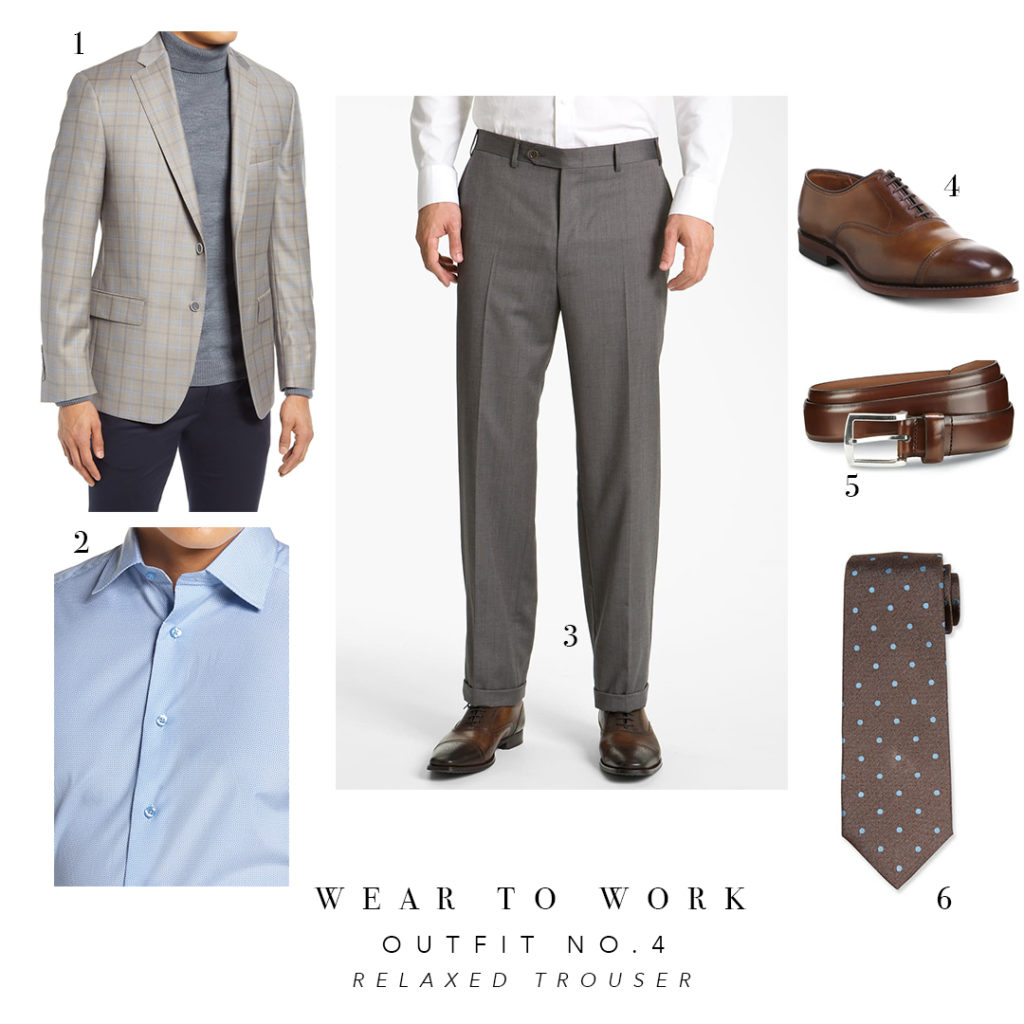 The straight-leg trend also applies to the men's trouser.  In this WTW trend we are keeping it dressier with the Canali trouser paired with a Hart Schaffner Marx blazer.  We like the add-on of this tie here to keep the look trendier with a more modern feel.
DRESSY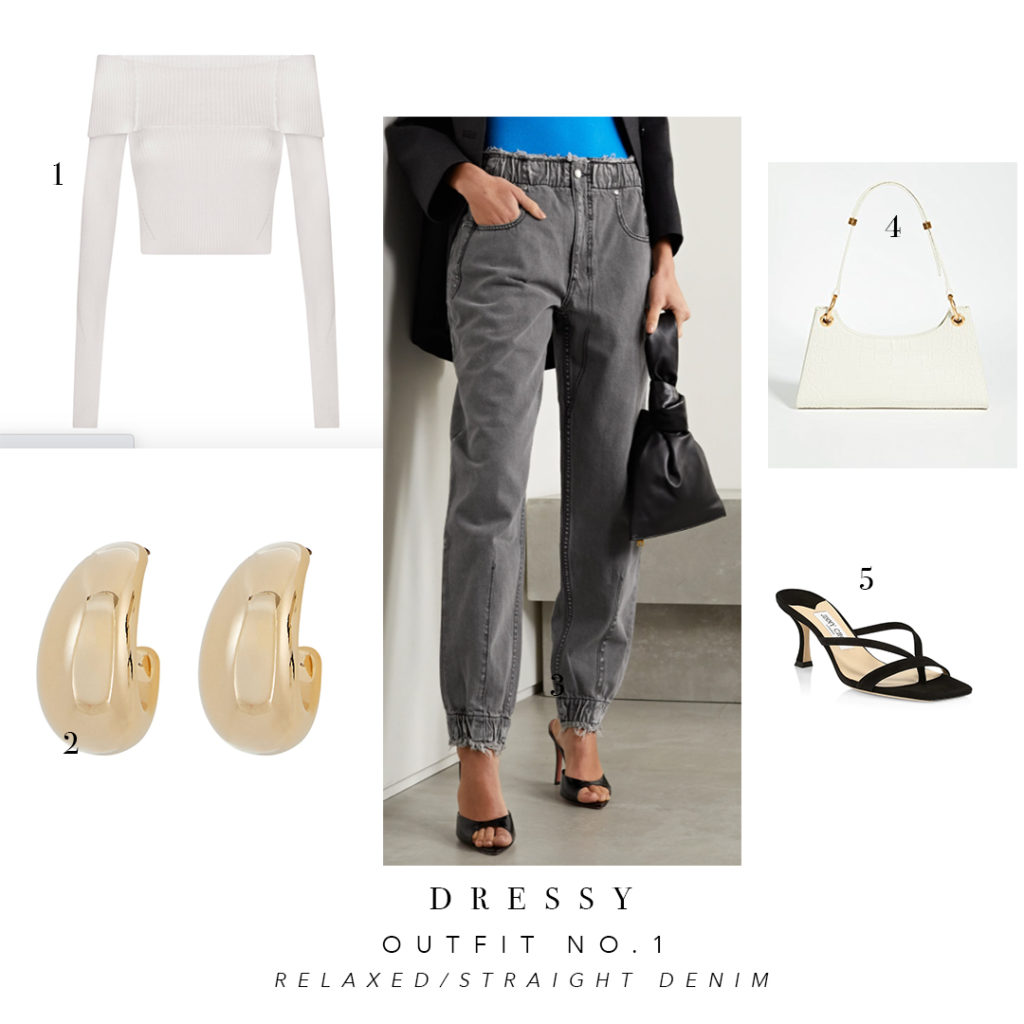 Dressy doesn't always mean tailored! Try the slouchy jogger-style denim for an edgy evening look. Be sure to go slimmer on top to balance out the volume. Add a heel for elongation (there's that word again! This is a big tip when going for volume on the bottom!) and top it with a chic and structured handbag.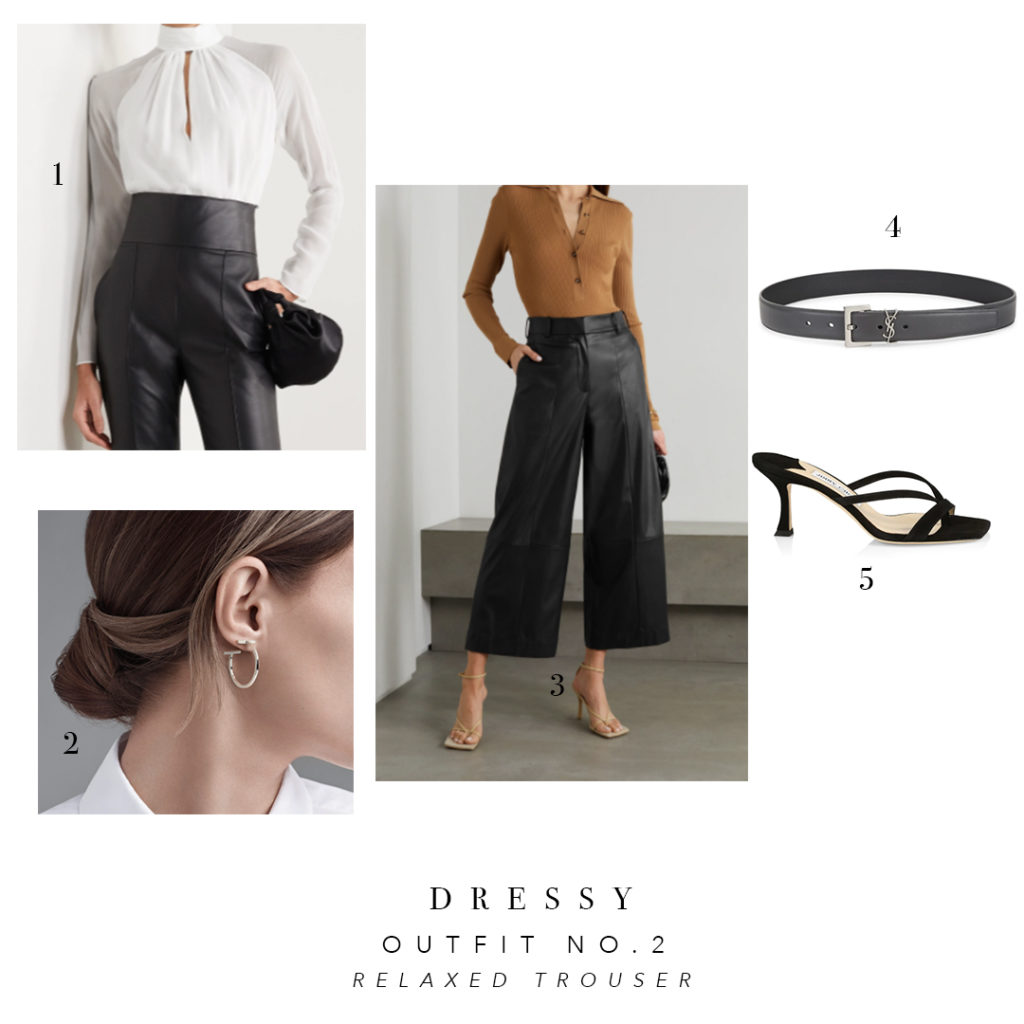 For a more elevated evening ensemble, try a classic but flirty blouse and pair it with a cropped wide leg leather pant. Classy meets edgy…yet refined! So many perfectly crafted juxtaposed elements. The key here is to tuck the blouse all the way in (no half tucks!) The belt pulls it all together, as well as flatters the middle and creates top to bottom balance.
Our stylists are currently booking for spring! To schedule your appointment or to learn more about our Personal Shopping, Wardrobe Consulting, and Outfitting services, visit us here: https://www.wardrobetherapyllc.com
For content created on our website and social media, some links contain affiliate links which we earn a small commission from.