It's July. It's Hot. We have officially entered the Dog Days of Summer, aka bathing suit season! Enter the inner dialogue of "should I wear a two-piece?"/ "does a halter-neck style suit really work for my body type?"/ "what kind of cover up should I opt for?" Ladies, you've come to the right blog 😉 We've got you covered. We are breaking down each body type as well as offering suggestions on what suit you should be wearing for that particular shape with plenty of options from conservative to just enough coverage, to edgy! So don't turn down your next pool party invitation…soak up the rest of this summer season knowing you are suited for swimming success!!
INVERTED TRIANGLE 
Inverted Triangle. If this is your shape, you want to balance your hips with your shoulders. You have broader shoulders, or a larger bust, in comparison to your hips. Thus, playing with proportion is key. Halter necklines can really be a game changer for this shape. As can scoop or plunging necklines.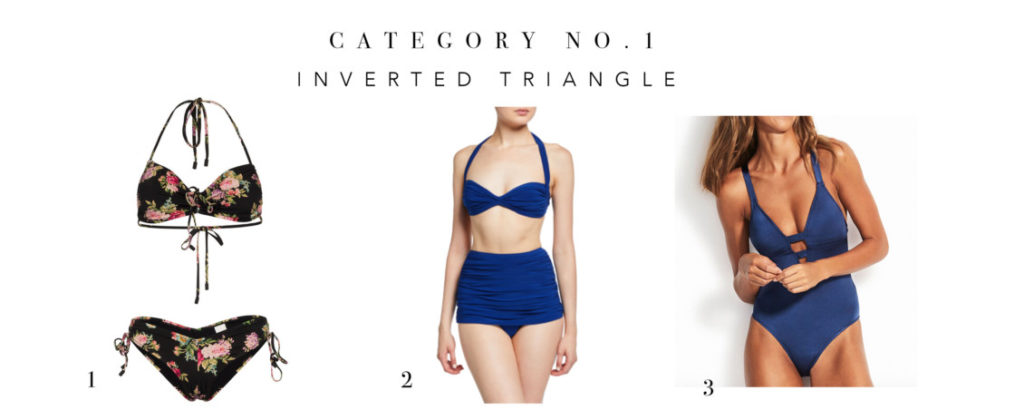 1 Zimmerman Honour Floral Print Bikini | 2 Norma Kamali Bill Ruched Halter Bikini | 3  Seafolly Shine On Deep V One Piece
The first look is a bit more playful, for the gal who is willing to show a bit a more. Take note:  the halter neckline.
The second look is modest but edgy. Really balancing the bottom with the ruching. And we are love the plunging neckline of the last suit, combined with the blue color. So classy, yet a perfect way to narrow the shoulders.
RECTANGLE 
This body type is straight with typically a smaller bust, not a very defined waist, and narrow and straight through the hips. Tips for this shape in swimwear is detailing at the bust like ruffles, asymmetrical stripes, or small prints to add curves and femininity.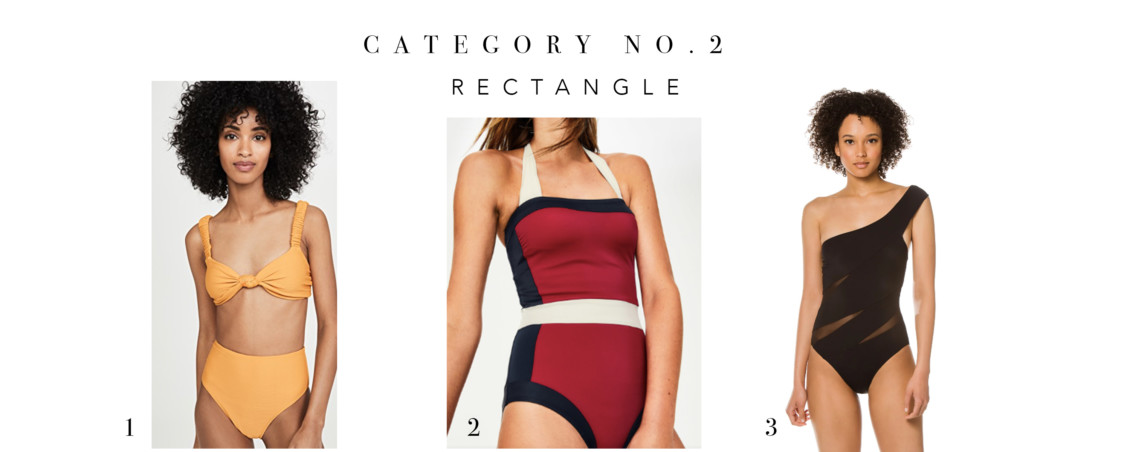 1 Ellejay Brittany Bikini | 2 Boden Santorini Swimsuit | 3 Moeva London Josephine One Piece 
With this first suit, we are emphasizing the waistline and adding curves by opting for a high waist. This style gives the illusion of a trimmer middle. The tie on the bikini top brings attention to the bust, which in turn creates balance…key for a rectangle shape! Also, this orange color is one of our favorite sunny shades for Summer:)
The color-blocked one piece, option 2, is a great way to add curves but stay modest and covered! The white belt helps give the illusion of a waistline, while the black paneling on the sides gives a figure-flattering illusion of an hourglass shape. And the halter neckline creates a feminine look to this sporty suit.
The third option is a sexier take on the one-piece. The one-shoulder aesthetic helps add the illusion of curves throughout the body, allowing the eye to continuously move up and down. The mesh inserts are edgy yet flattering to the waistline.
PEAR (TRIANGLE)
This body type tends to be slender in the shoulders and bust and full in the hips and thighs. Swimwear that helps create balance by emphasizing your top half and drawing attention away from your bottom half is key. Choose a bold print with a solid bottom, or look for a higher cut bikini or brief that flatters the hips.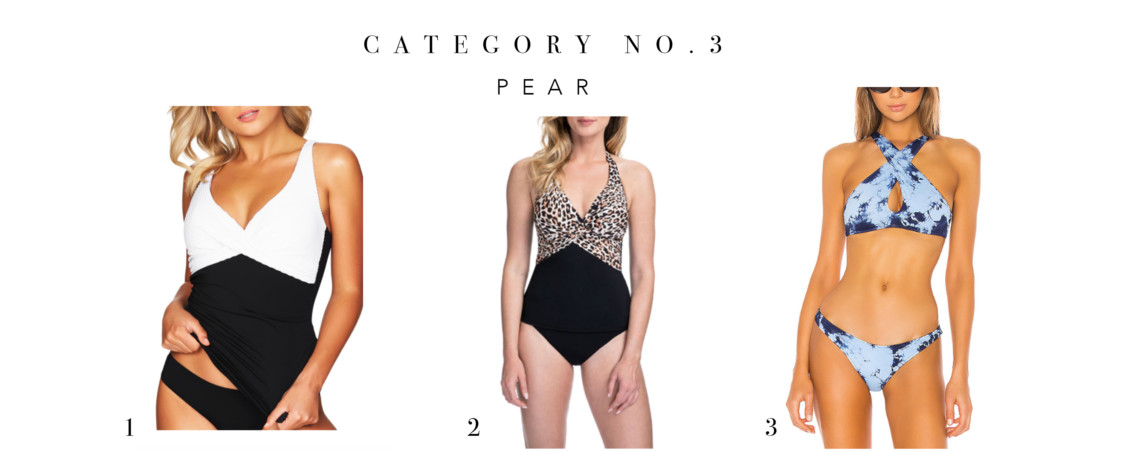 1 San Sebastian Cross Front Tankini | 2 Profile by Gottex Wild Things Halter Tankini| 3
Suit 1 is a tankini that is modest, yet figure flattering. The white contrast up top helps draw the eye up and away from the hips. The second option is edgy with it's animal print…and the print doubles as a distraction from the lower half of the body. Finally, option 3 is a trendy option for a bikini with it's tie dye print. The criss-cross halter draws the eye up, and the bottoms are cut high on the hip, which flatters the leg.
APPLE
Apple shape. If this is your shape, you want to find coverage through the middle and/or conceal the bust while also creating shape. Suits that are ruched and open at the neckline are perfect for YOU.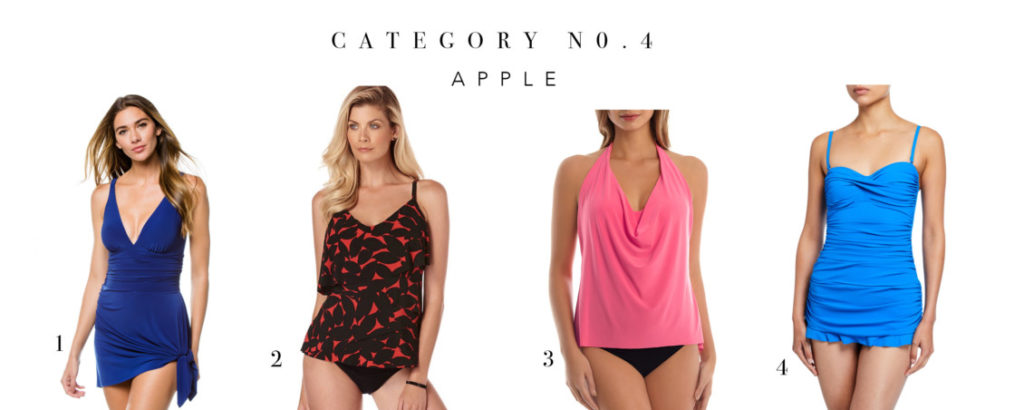 1  Magicsuit V-Neck Shirred One Piece | 2 Magicsuit Petal Pusher Tankini |3 Magic Sophie Tankini | 4 Profile by Gottex Tutti Frutti One Piece
We love the idea of a swim dress with ruching. This particular one has a nice open v-neck and a skirt that you can tie at the side for an extra dose of style. And the other option is also strong as the ruching is happening up and down the suit, helping to accentuate the things we love! Tankini tops paired back to a high waisted bottom is also a style you can explore. The printed one by MiracleSuit has some layered detailing which hones in on the waist. The second tankini has more of a plunging neckline that still provides great coverage through the bust. The plunging details naturally creates nice draping across the middle and helps to draw the eye up and down the body.
HOURGLASS
As an hourglass shape, you are more balanced in your upper and lower portions. While there is naturally definition through the waist, it is important to select swimwear options that contribute to further defining your waist and elongating your body. To do this you want to find pieces that help the eye navigate up and down the body. So suits with open necklines and detailing are the way to go.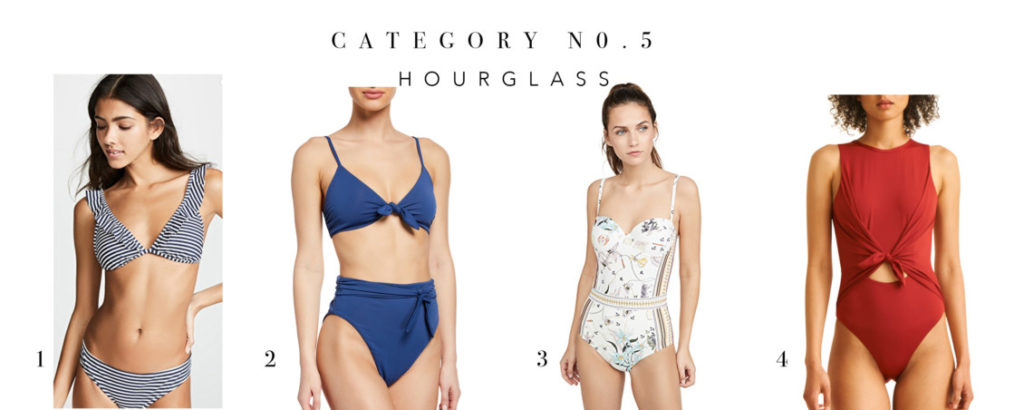 1 Tory Burch Classic Stripe Ruffle Suit | 2 Mara Hoffman Carla Suit |3 Tory Burch Colorblock One Piece | 4 Skin Naomi Tie-Front One Piece 
The first suit has a nice deep v, which helps pull the eye down. Paired with a simple bottom this suit is great for the gal looking for a more traditional 2 piece option with a touch of frill. A high waisted bottom is also a great option, as it creates definition at the waist. The combined knot detailing on the top and bottom here are super flattering. And lastly, one piece ideas. Opting for something with underwire is a great way to further accentuate shape. Another option to accomplish this is to choose something with detail right at the waist.
COVER-UPS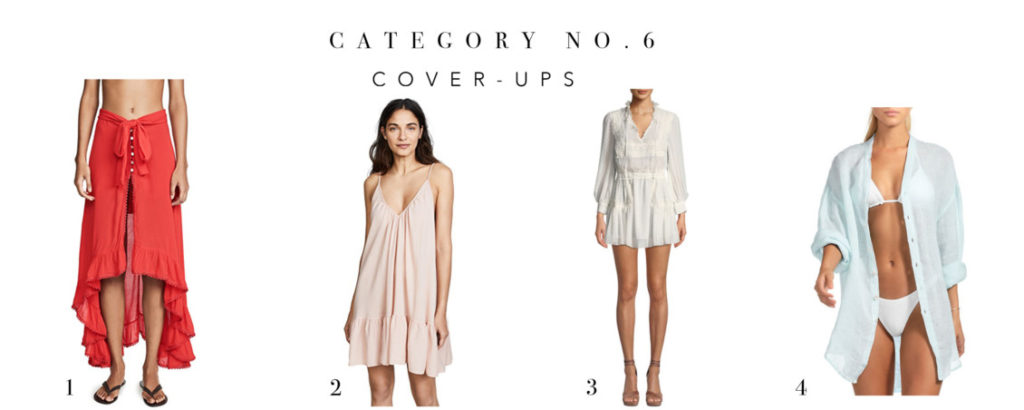 1  Peixoto Luna Skirt | 2 9seed St. Tropez Ruffle Mini Dress | 3 Loveshackfancy Amber Lace Coverup | 4 Vitamin A Playa Vee Linen Coverup Shirt
Whether you are lounging on the beach or you are poolside, here are four fab cover-up styles perfect for every shape and personal style!
The summer sales are still in full swing. Give us a call! We love to share tips and tricks on finding the best sales for you! To learn more about our Personal Shopping, Wardrobe Consulting, and Outfitting Services, visit us here:  https://www.wardrobetherapyllc.com