This week we're highlighting the shoe that gets us all through the hot summer season: the sandal. From casual, to dressy, and sporty, we've rounded up our top favorites for women and men. But we didn't stop there! We love a designer option, and will always pine for luxury when it comes to footwear for our clients, but we also work with all budgets and understand it's important to keep in mind affordability when it comes to fashion. Going forward we will be coining our "Under $100" picks as The Mid! Okay now book those pedicures, and here's to sunnier, warmer weather in our future 🙂
CASUAL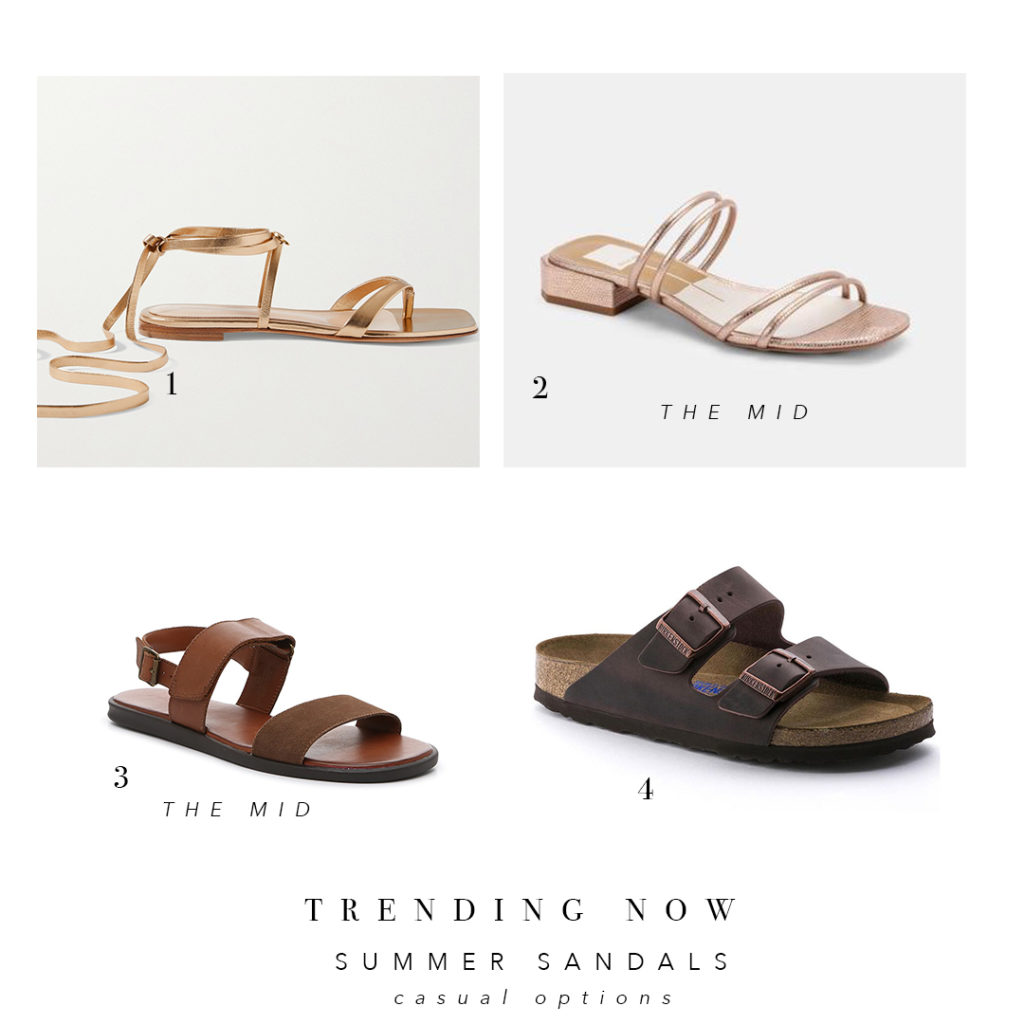 For The Ladies: 1 & 2
When it comes to casual sandals for our ladies, it's all about the square toe! There are truly endless options out there, but we like the idea of elevating things just a touch which is why we've opted for these beautiful gold sandals with a lace up detail. They can be worn with your denim, your shorts, your dresses and beyond and will give your casual vibe an extra touch of chic. If you aren't looking to splurge on this particular shoe this season, but like the idea, we love this moderate priced option by Dolce Vita which will also do the same job for you!
For The Gents: 3 & 4
One of the biggest trends for men's sandals is the Birkenstock. We saw them (or some version of them) in a lot of the Spring/Summer fashion shows.  This classic sandal is a staple in a man's shoe wardrobe.  I would style these with shorts or with a pair of rolled up jeans. We also enjoy these sandals from Vince Camuto and can be styled the same way. The simple silhouette of these make them a great choice for a summer sandal if the Birkenstock isn't your thing.
DRESSY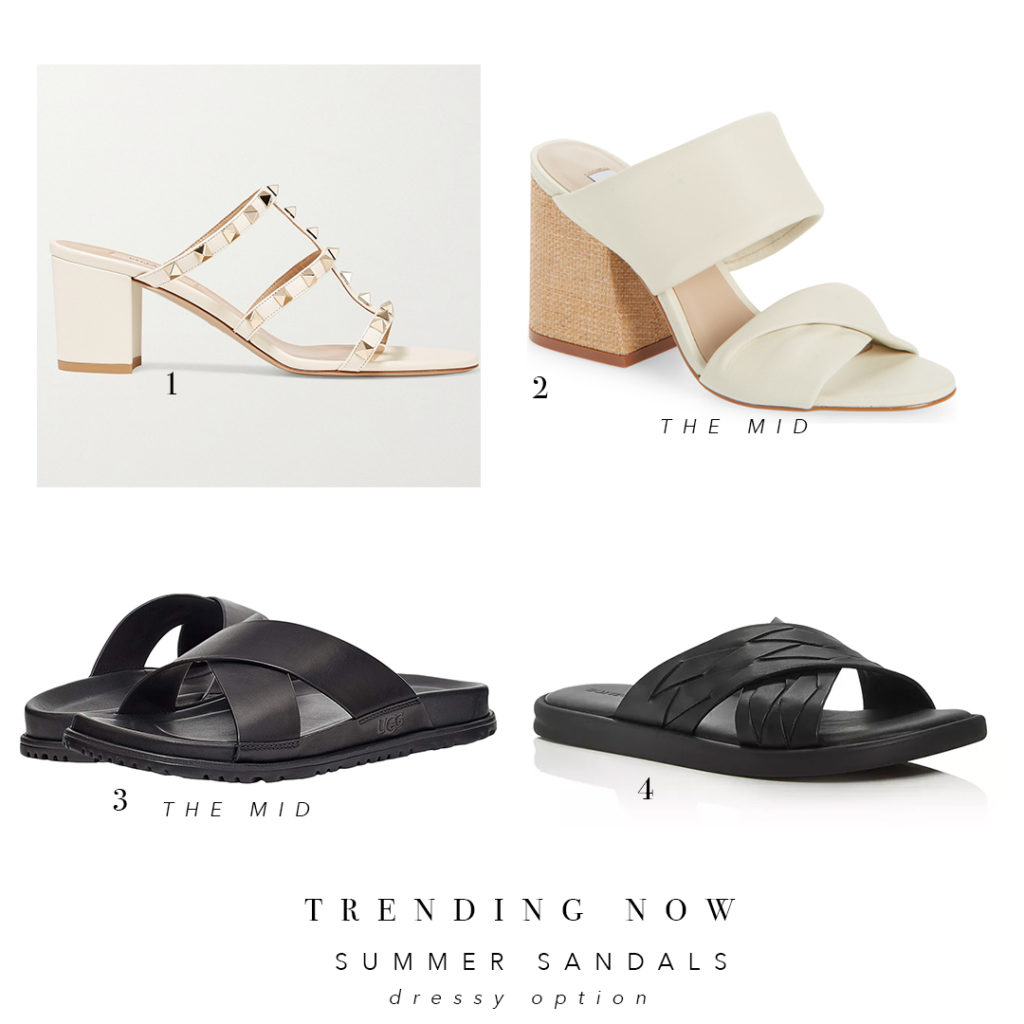 For The Ladies: 1 & 2
The evolution of less stilettos and more block heels continues. After a year of living a bit more causally we are all embracing comfort in a new way making the block heel option PERFECT. This year, your dressy sandal is all about having the right color…IVORY (cream or white will do the trick too)! Perhaps one of our all time favorite sandals is this classic rock stud beauty by Valentino. It's been around for several seasons but continues to be so relevant and timeless making it a great investment option. We also love this secondary option for the "Under $100" price point by Steven Madden that is slightly different, but embodies two other notable trends we are seeing with summer sandals this year: a woven heel and a cushioned or cloud-like leather.
For The Gents: 3 & 4
These leather sandals are a great option for a dressed-up summer look if you're having dinner on a patio or beach-side drinks while on vacation.  Styled simply with a dressier short and a tucked in polo shirt would complete this look.  Sometimes simpler is better!  The leather sandals from Ugg can also be used in a more dressy look.  They are more sleek and understated but give the same feel as the designer shoes.
SPORTY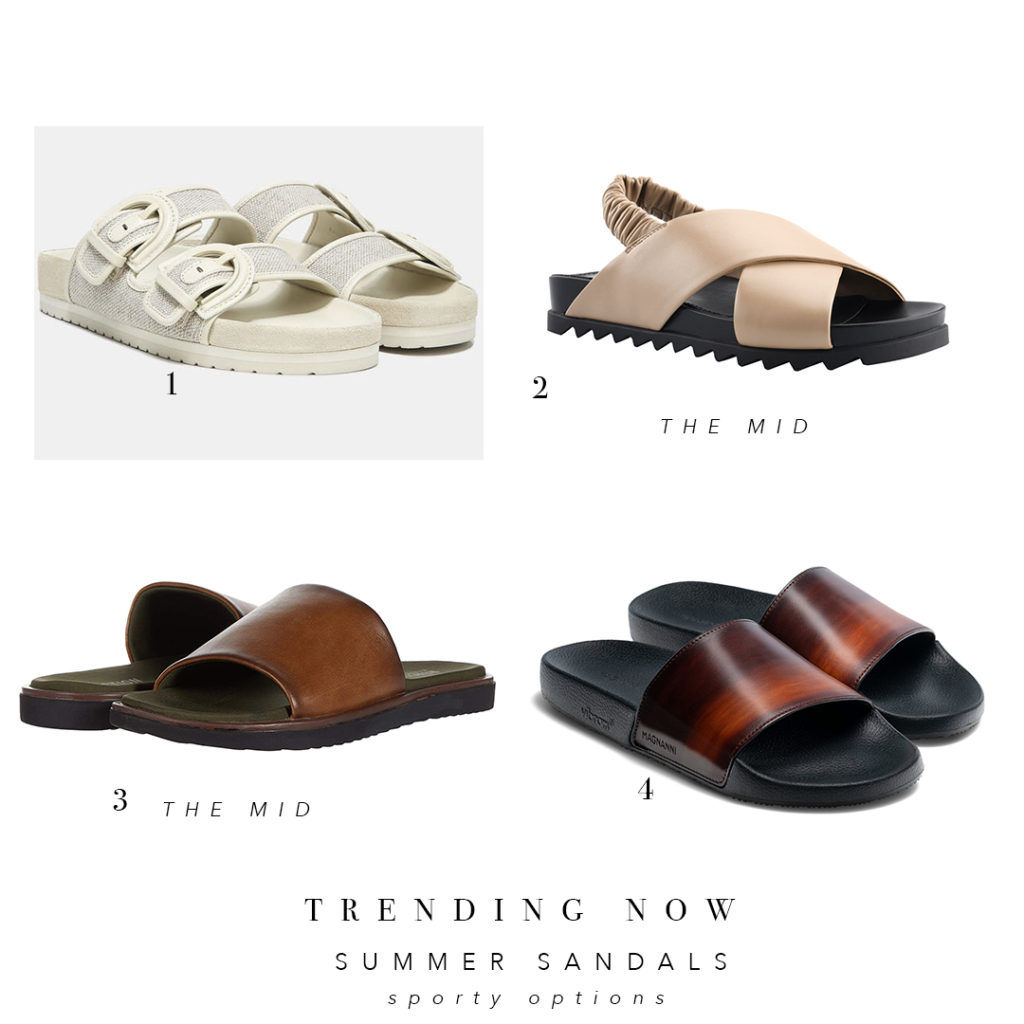 For The Ladies: 
A sporty, yet luxe sandal is definitely an item one needs in their shoe wardrobe this season. When it comes to finding the perfect sporty sandal, we believe that it is all about having that perfect balance of sport and luxe so the shoe feels truly wearable. We are loving this woven slide above that has a Birkenstock feel, but is even more elevated. It can be worn with your athletic pants, sporty knit dress or even your denim. Another great option that is a touch more affordable are these leather beauties with a scrunchy back strap. We are particularly loving the zig-zag detail on the sole. Again, you can wear these same way you would wear the woven slip-ons!
For The Gents:
The men's "pool slides" are having a moment and they come in every form you can imagine.  The one that catches our eyes are the leather pool slide. These Magnanni slides are hand painted calfskin leather with a rubber sole and perfectly elevate your pool or beach side look.  Another great option are these slides from Kenneth Cole.  Same great look but with faux leather for those that prefer a vegan, more moderately-priced optio; and light as air making them easy to wear anywhere.
Our stylists are currently booking for the spring/summer! To schedule your appointment or to learn more about our Personal Shopping, Wardrobe Consulting, and Outfitting services, visit us here: https://www.wardrobetherapyllc.com
For content created on our website and social media, some links contain affiliate links which we earn a small commission from.