Spring has sprung! We love this time of year, and we are ECSTATIC for the fashion this season has in store! Fresh pieces have been arriving in our favorite boutiques, mall stores, and online shops. With the weather changing throughout the midwest (hello sunshine!), and with the time change occurring this weekend, we think you should feel ready too! So without further ado, our Spring Trend Report is here! Oh, and watch for our Spring Trend Booklet, your pocket-sized guide for the season! If you haven't received one, let us know and we'll send one your way! Happy Trend Reading!
The 70's It Girl look was a huge focus for Fall and she's back again for Spring. The look is still classic, but much more relaxed. She's sophisticated, but savvy in her approach… she's playing with structured pieces and pairing them back to articles that embody an easy and relaxed vibe. We love how this look can be achieved across all trends! Catch a glimpse into our Spring trends booklet… highlighting "how" to work in our favorite fresh looks with a minimalist twist this season!
SPRING TRENDS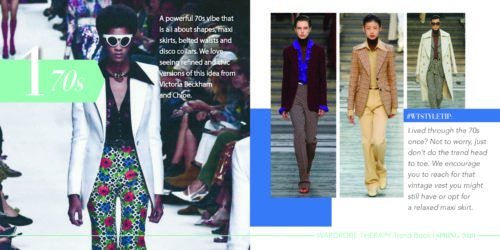 A powerful 70's vibe that is all about shapes, maxi skirts, belted waists and disco collars.  We love seeing refined and chic versions of this idea from Victoria Beckham and Chloe. 
#WTStyleTip: Lived through the 70s once? Not to worry, just don't do the trend head to toe. We encourage you to reach for that vintage vest you might still have or opt for a relaxed maxi skirt.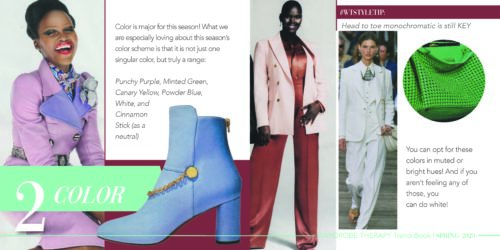 Color is major for this season! What we are especially loving about this season's color scheme is that it is not just one singular color, but truly a range: 
Punchy Purple

Minted Green 

Canary Yellow 

Powder Blue 

White 

Cinnamon Stick (as a neutral) 
You can opt for these colors in muted or bright hues! And if you aren't feeling any of those, do white! 
#WTStyleTip: Head to toe monochromatic is still KEY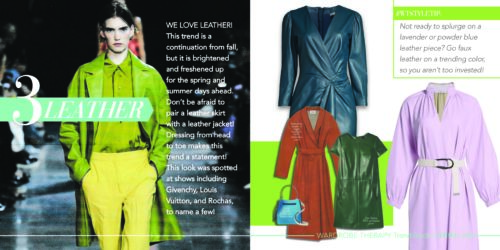 WE LOVE LEATHER! This trend is a continuation from Fall, but it is brightened and freshened up for the Spring and Summer days ahead. Don't be afraid to pair a leather skirt with a leather jacket! Dressing from head-to-toe makes this trend a statement! This look was spotted at shows including Givenchy, Louis Vuitton, and Rochas to name a few!
#WTStyleTip: Not ready to splurge on a lavender or powder blue leather piece? Go faux leather on a trending color, so you aren't too invested!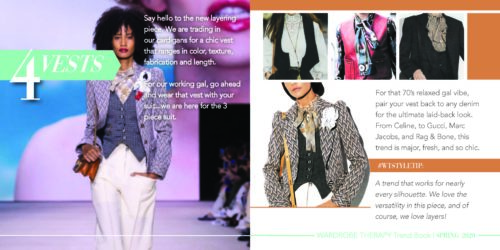 Say hello to the new layering piece. We are trading in our cardigans for a chic vest that ranges in color, texture, fabrication and length. For our working gal, go ahead and wear that vest with your suit… we are here for the 3 piece suit. For that 70's relaxed gal vibe, pair your vest back to any denim for the ultimate laidback look. From Celine, to Gucci, Marc Jacobs, and Rag & Bone, this trend is major, fresh, and so chic.
WT Style Tip: A trend that works for nearly every silhouette. We love the versatility in this piece, and of course, we love layers!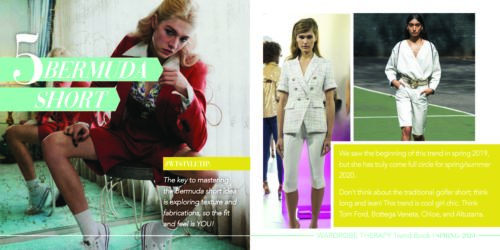 We saw the beginning of this trend in Spring 2018, but she has truly come full circle for S/S 2020. Don't think about the traditional golfer short; think long and lean! This trend is cool girl chic. Think Tom Ford, Bottega Veneta, Chloe, and Altuzarra. 
WT Style Tip: The key to mastering the bermuda short idea is exploring texture and fabrications, so the fit and feel is YOU!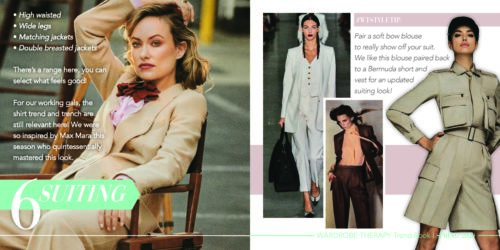 There's a range here, you can select what feels good! For our working gals, the shirt trend and trench are still relevant here! We were so inspired by Max Mara this season who quintessentially mastered this look. 
High waisted 

Wide legs 

Matching jackets 

Double breasted jackets 
#WTStyleTip: Pair a soft bow blouse, to really show off your suit. We like this blouse paired back to a bermuda short and vest for an updated suiting look!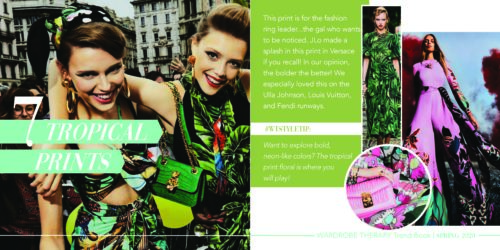 This print is for the fashion ring leader…the gal who wants to be noticed. JLo made a splash in this print in Versace if you recall!  In our opinion, the bolder the better! We especially loved this on the Ulla Johnson, Louis Vuitton, and Fendi runways.

#WTStyleTip: Want to explore bold, neon-like colors? The tropical print floral is where you will play!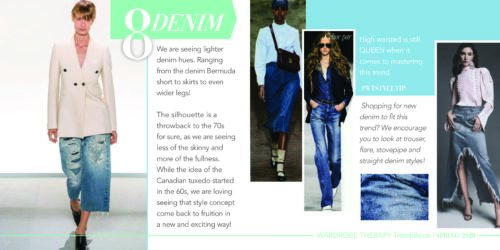 We are seeing lighter denim hues. Ranging from the denim bermuda short to skirts to even wider legs! The silhouette is  throwback to the 70s for sure, as we are seeing less of the skinny and more of the fullness. While the idea of the Canadian tuxedo started in the 60s, we are loving seeing that style concept come back to fruition in a new and exciting way! High waisted is still QUEEN when it comes to mastering this trend.
#WTStyleTip:  Shopping for new denim to fit this trend? We encourage you to look at trouser, flare, stovepipe and straight denim styles!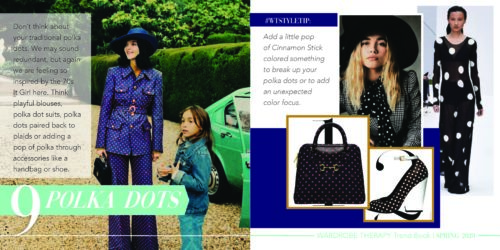 Don't think about your traditional polka dots here. We may sound redundant, but again we are feeling so inspired by the 70s It Girl here. Think playful blouses, polka dot suits, polka dots paired back to plaids or  adding a pop of polka through accessories like a handbag or shoe. 
#WTStyleTip: Add a little pop of Cinnamon Stick colored something to break up your polka dots or to add an unexpected color focus.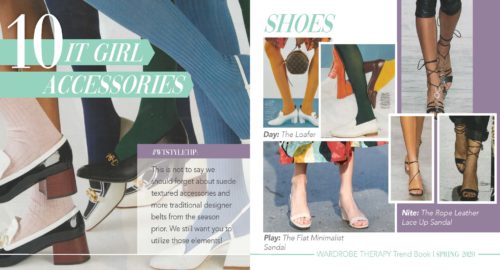 Day: The Loafer

Play: The Flat Minimalist Sandal

Nite: The Rope Leather Lace Up Sandal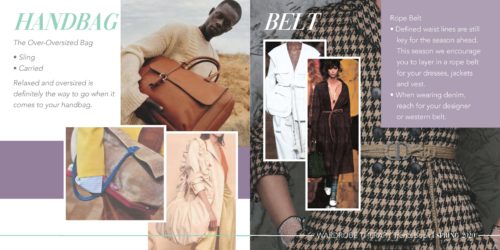 The XXL Handbag… sling or carried! Relaxed and oversized is definitely the way to go when it comes to your handbag. The rope belt… defined waist lines are still key for the season ahead. This season we encourage you to layer in a rope belt for your dresses, jackets and vest. When wearing denim, reach for your designer or western belt.
#WTStyleTip: This is not to say we should forget about suede textured accessories and more traditional designer belts from the season prior. We still want you to utilize those elements!
Spring consulting, shopping and outfitting is officially underway! We are currently booking now through the end of March and into early April.