WOMEN WE LOVE: Q&A with Meredith Piccin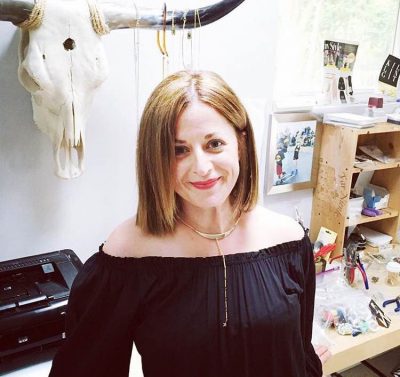 Ten years ago, Elizabeth Bean Smith founded Wardrobe Therapy with corporate retail colleague and friend Meredith Piccin. Soon after, Meredith decided to put her career on hold to focus on family. As she did, she also discovered a passion for jewelry making. Her Honey Rose & K line, which launched in 2009, has been featured in the pages of People and Elle, among others. And she proudly counts the Wardrobe Therapy team partners in style. This week, Kristy Eckert talks with Meredith about accidental passions, the grandmother after whom she named her company and her custom Wardrobe Therapy collection.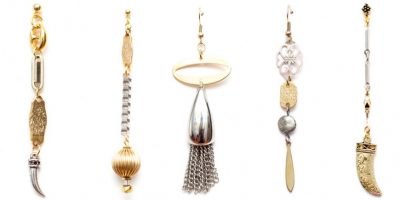 Q: Honey Rose & K is a jewelry line that incorporates vintage pieces and modern elements. What inspired it?
A: I had transitioned from working to staying at home, which I had never done. My son was 3, and he was going through some intervention and a lot of testing, and I just really felt that I needed to focus on that. I started playing around with my grandmother's costume jewelry. She had loads and loads of vintage pieces. It was a nice creative outlet for me—it was never something I thought was going to turn into this! I would post pictures on Facebook of what I was creating, and people started asking me if they could buy it and if it as available. I didn't want to sell things that were my grandmother's, so I started going to vintage stores and thrifting. Then I started consigning my pieces to stores. I didn't know how to wholesale. I wasn't confident. I had to teach myself everything.
Q: Where can people find your jewelry now?
A: The bulk of my business is online. I wholesale to about a dozen boutiques across the country and in Canada. I also do pop-up trunk shows, so people can have me come into their home or business, which I love doing because I get to interact with customers and see what they love.
Q: You're in the studio a ton. How many pieces do you make and sell?
A: I probably sell about 100 pieces a month. I do a huge amount of business from October through December. Right now, I probably have 200 pieces in my studio. I make things at least every other day.
Q: What is your creative process?
A: I could work on this all day long. I actually lose track of time when I'm working. I'm inspired by things that I find, and I try to design with a collection in mind. Right now, my collection is called "On The Edge." So my pieces are vintage with modern elements that are edgy—like spikes, black obsidian, quartz. I'll have a collection in mind that I want to do, so when I go out and search for my vintage pieces, I buy whatever inspires me. I lay it all out, I clean it, I take things apart and sand and drill, and the process just starts. I wish I had found that I was good at this when I was younger, because I could do it from morning 'til night, and it just never gets boring to me.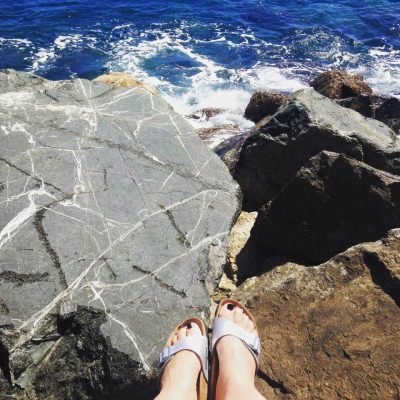 Q: Your husband is Italian, and on a recent trip to Italy, you found some rocks you're currently playing with. Tell us about them.
A: We were in Cinque Terre, and the rocks there are amazing. I had never seen rocks so beautiful that you could just pick out of the ocean. I have them sitting on my desk, and they are going to be plated. I don't know if I'm ever going to sell them. I find so much inspiration through traveling.
Q: Honey Rose & K is named after your grandmother. What was she like?
A: My grandmother's name was Honey Rosenkranz, and I shortened it to Honey Rose & K. She studied fashion design at Parsons in New York. We still have all her sketches. She became a window dresser at a store in New York, and I have some of her Christmas window display decorations that she would hang in the window that she handmade. I remember the first time she took me to Saks in New York to get a pair of sandals. She passed away when I was 5 years old. She was an incredible person. It was just natural for me to name the company after her.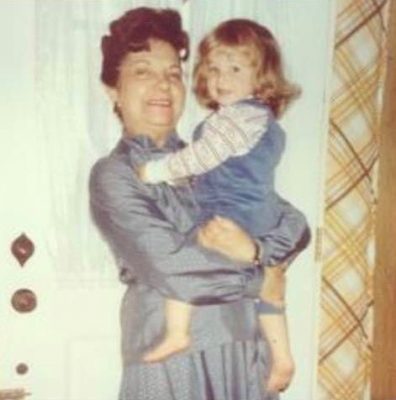 Q: How would you describe the line's evolution?
A: I feel like it's gotten a lot more sophisticated over the years. It's grown with me and my style as the years have passed.
Q: Why do you love your work?
A: Oh gosh—there's so many reasons. Mainly because I feel like it's not just about making jewelry, but it's about making jewelry that's sustainable. A big part of the business is about driving eco-friendly fashion. Also, I'm finally to the point in my business where I can give back. I donate 10% of all purchases to Make-A-Wish, and that feels really good. It brings so much more meaning to your life.
Q: What has been your most exciting moment as a business owner?
A: That's hard! Launching the website for e-commerce was so exciting. I have an app now, and that was really exciting. The first time I saw a piece in a magazine, that was exciting. The first time my pieces were in the Rowe fashion show, that was exciting. It's really hard to narrow it down to just one thing! [laughing] This was something that was really unexpected for me. If you had told me 10 years ago that this would have happened, I wouldn't have believed you.
Q: Tell us about your family.
A: I have an 11-year-old son, Charlie, and a 5-year-old daughter, Felice. And my husband Joe—he's so supportive. When we first moved into our house, I was working off the dining room table. I didn't even have a space. About four years ago, we added on and built a studio that was lofted. So I work from my house, and it's pretty awesome, because I'm able to get my kids off the bus at 3. I love that they are able to watch me do it and know that if they ever want to start their own businesses, it's something they can do, because they've watched both my husband and I do it. I think it's a great example to show them that we can create our own dream if we want.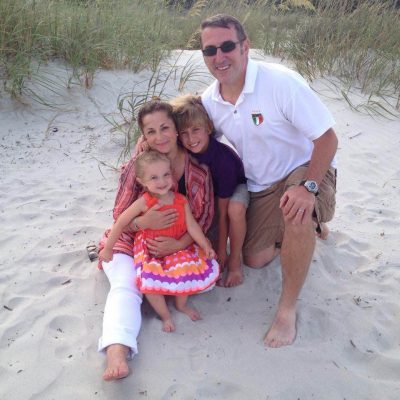 Q: If you could have any woman in history—past or present—wear one of your pieces of jewelry, who would it be?
A: Past, it would be my grandmother. And present, it would be Emma Watson. She's a huge eco-friendly fashion diva, and I would love to have her wear something.
Q: You made a custom collection for Wardrobe Therapy. Would you tell us about that?
A: Last holiday, Elizabeth came to me and wanted me to make some custom pieces as gifts, which I was so excited to do. And it kind of evolved from there. She is always looking for pieces for her clients that are just simple layering pieces. So I created a collection that the Wardrobe Therapy team can use with clients when they're styling them, and then the clients can purchase the pieces if they want. Really, it started because when Elizabeth or Christy were wearing pieces, clients would say, "Where did you get that? I want one." They're such good PR for my business. Everybody wants to wear what they're wearing!
Q: You are such a strong advocate for Wardrobe Therapy's work. Why?
A: Obviously, I experienced it firsthand, and I know how talented they are. I love what they do, because they're bringing confidence to women. Elizabeth is super talented and went to FIT and knows everything from fit to fabrication. It's amazing to watch her do her thing. The same goes with her team. But what I love most about Elizabeth is that she's also evolved into this great community leader who's doing great things in philanthropy and supporting other women business owners. We support each other. I feel like that's a good example for all women.
Q: Favorite meal?
A: Anything that we had in Italy! Locally, we love going to Pasqualone's. It's pretty authentic, and you get an awesome experience there.
Q: Favorite way to spend a Saturday morning?
A: Sleep in until 8. Have a cup of coffee by the fire. Go to South of Lane for brunch with the family. And then go to the flea market.
Q: What is the best compliment someone can pay you?
A: Personally, that my children are kind and nice to others. Professionally, the best compliment easily is when somebody shares your pieces with others and refers you.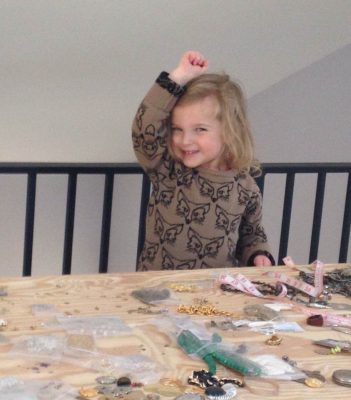 To learn more about Honey Rose & K and to shop Meredith's pieces, visit https://honeyrosenk.com.