Contemporary Art Matters. Those are THREE words that Rebecca Ibel, founder and curator of Contemporary Art Matters believes in and pursues daily. As creatives ourselves, we believe there is such power in visual arts. For this month's edition of Women We Love, we had the opportunity to chat with Rebecca about this very notion, how she balances being a business owner, wife, and mother, how she approaches fashion and her go-to statement pieces!
Q: You opened Contemporary Art Matters, your own private gallery, in 2017. What led you to this moment of curating your own space? 
A:  I have always been a champion of artists and showing their work is an honor. After spending 5 amazing years as the Director and Curator of the Pizzuti Collection, I was excited to get back to my roots and work directly with artists. When we sold our Short North building, where my previous gallery was located, my husband and I, along with our partner Jonathan Barnes, purchased an old factory building downtown Columbus. The building is from around 1910 and with its brick walls and old wood floors, makes for a cool place to work and show art. I started with a small office on the 3rdfloor and last year opened a first floor gallery that opens out to the courtyard.
Q: As creatives, we know there's always intention and power behind a name. What does "Contemporary Art Matters" stand for/represent? 
A: Contemporary Art Matters has a double meaning. Contemporary art does matter to me and I believe is an important part of life and community. Art feeds the soul as much as it is a reflection of our culture. It is a window and mirror, letting us look into other worlds and learn about ourselves. As a business name, it also refers to the kind of work I do. Along with representing artists, I work on various matters or projects with collectors, from advising and consulting to cataloguing. Working with individual collectors is a great privilege, helping find and support their collecting interests and manage the administrative tasks. I am also an independent curator with a project in Los Angeles later this year and a writer with an article in a forthcoming book. I like having the flexibility to be a jack of all trades as it relates to art. It makes my work interesting and allows me to continue to grow.
Q: You have been working in the art world for more than 25 years. What sparked your love for art? And more specifically want drew you to contemporary art? 
A: I am fortunate to have grown up with parents who appreciate art and culture. My mother regularly took us to performing art and cultural events in San Francisco. My father took us every summer to New York to visit family, where we always spent time in the museums. I found my calling at the Metropolitan Museum of Art and at MOMA.  I loved everything and still go back to the Met a couple times a year. After completing my degree in Art History at the American University in Paris, I got my first job at Sotheby's in New York. I floated in various departments and ultimately found a position in the Print department, which allowed me to work for the first time with Contemporary art. After a couple years in New York, my husband and I moved to Berlin, Germany. Living there right after the fall of the Berlin Wall was an amazing experience, but not easy to get work. Starting my own gallery came more out of necessity in that I couldn't seem to get the job I wanted! After organizing a few exhibition projects in Berlin, I rented a space in Columbus' Short North for a temporary exhibition that was meant to last 3 months. Instead, it lasted 18 years!
Q: We know you travel a good bit sourcing art for your gallery and for clients. Of all the places you have traveled, what city most inspires you and why? 
A: I do travel a lot and enjoy exploring the world through the lens of art. Meeting artists and learning about their work is an amazing way to understand people and culture. Vibrant art capitals are exciting and inspirational. New York and Los Angeles are vibrant art centers full of amazing artists, galleries and important museums. Miami with the December Art Basel fairs is also an incredible giant convention of the art world, bringing artists, collectors, curators and everyone together.
I have been fortunate to have traveled to Havana several times and find the most incredible artists. Next week, I'm off to New Delhi for the India art fair and am excited to learn more about this amazing place. The culture offers a completely different point of view and the art reflects that in a profound and moving way. I have my sights on several cities in West and South Africa and hope to travel there in the near future. We live in a global community and appreciating art and cultures around the world helps us understand each other.
Don't underestimate Columbus! We have a lively art community right here. I am pleased to show work by Ann Hamilton, our own international art star, as well as the amazing Laura Sanders.
Q: Ok, the million dollar question. As a business owner, wife, mom and arts advocate, how do you maintain balance in your life? 
A: I'm a work in progress and finding balance is always the challenge. It's pretty much non-stop from 7 am to 8 pm. The advantage of owning my own business is having flexibility, which just means I can leave to pick up our 11 year old daughter Sarah after school and take her to one of the many sports and activities she does. My family is my priority and they are everything. Sebastian and I will be celebrating our 30thwedding anniversary later this year! Weekends are our time together, where I try not to schedule much. We ride horses and spend time outdoors, which is my happy place and allows me to recharge. Along with the art world, I have been very involved with the Matriots, a political action committee that supports women candidates in Ohio. It's rewarding and exciting, meeting the most incredible women around the state, and also takes every last bit of my time.
Q: There is so much research that confirms the importance of having the arts present in our lives. From improving our communication skills to giving us an appreciation of different perspectives, there is so much to gain through art. What are some ways we can incorporate art into our lives daily without visiting a gallery, per se?
A: Living with art is as important to me as music. As music is around us, so is art. Buy some! Take it home and enjoy it! It is part of who we are. Instagram can be an amazing tool to discover artists all over. You can just open your phone and travel the world. I discover many artists this way, but it is only an introduction. Visual art is meant to be seen in person. Go and see it! We have incredible museums and galleries right here and across Ohio. They even host fun parties and serve food. Go to the Wex or museum for lunch and wander around for a little. It will lighten your load, inspire thought and will be the best part of your day.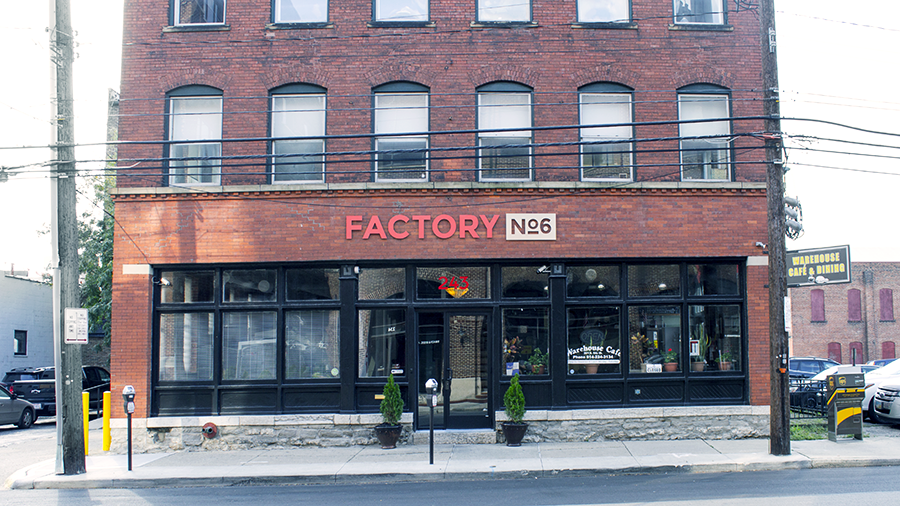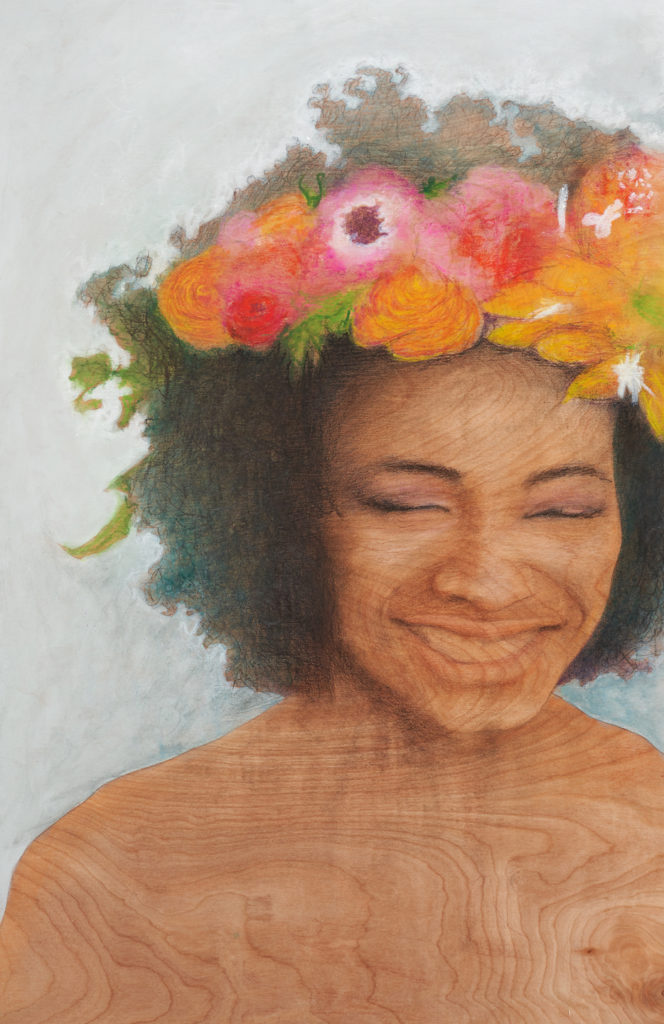 From Lisa McLymont's Natural Beings: paintings from the Universe Tribe series || You are the Reason I Smile, 2018, Mixed media on panel, 24 x 16 inches || Source: Contemporary Art Matters
Q: At Contemporary Art Matters, you have a viewing room! What exhibitions do you have on the calendar for Winter and Spring of 2019?
A:At present, we have the exhibition 'For the Love of Painting', on view through February 15. It features gallery artists whose work ranges from cool California abstract to representational figure painting. (check it out on our website www.contemporaryartmatters.com)
Opening in our 'Viewing Room' this week is 'Natural Being: new paintings from the Universe Tribe series', the first solo show of Columbus based artist Lisa McLymont. The paintings belong to the ongoing group of work 'Universe Tribe,' where the artist explores idealized figures, both real and imagined that are gender inclusive. With her interest in new age spirituality and mythologies, the paintings convey a positive energy.
Opening March 1, OSU photography professor Jared Thornewill show new photographs from his series of landscape pictures featuring Planned Parenthood clinics around Ohio. Smart and probing, Thorne tackles cultural and political issues in a subversive manner.
Spring brings new shows with works by William Kortlander, Stephen Mueller and Nikos Rutkowski. (Follow us on social media to learn more and join us!)
Q: Fashion and art definitely go hand-in-hand. How do you curate your fashion and how does art play a role in that curation process? 
A: I love fashion, even though my day-to-day dress may not reflect it. I follow some designers on Instagram (such as Duro Olowu) and drool over their clothes. Being able to express myself in fashion for special events makes me feel good and hopefully shows others that I care. The art world is famous for dressing all in black. The basic black allows for the focus to be on the art and makes it easy for travel and always have an acceptable uniform. Personally, I'm bored with black and with my very pale skin, I can look like death warmed over. I try to find clothes that will take me from carpool to client meetings for studio visits.
Q: Every woman has a go-to piece. What is your go-to statement piece that makes you feel most complete and confident? 
A: Anything goes in the art world if you can pull it off. It is important to show style with a little unique personality. I admit to be pretty basic wearing trousers, t-shirts and jacket. What makes me feel special is that one extra – a vintage Hermes scarf, a chunky necklace from India, fun shoes from Camper, or even a bright blazer. I'm quite comfortable with who I am and where I am in life, even with my size and age, and look to reflect my curiosity in fashion. It doesn't come naturally to me, so I rely on resources including family (my sister Melinda has the best jewelry), friends (Maren Roth has great taste) and professionals (Candace at WT found me amazing pieces that work for my life).
Visit www.contemporaryartmatters.com to discover more about Rebecca Ibel and to get a preview of the upcoming exhibitions that will be at "Viewing Room" this Spring. To learn more about our Personal Shopping, Wardrobe Consulting, and Outfitting services, visit us here:  https://www.wardrobetherapyllc.com