Stylist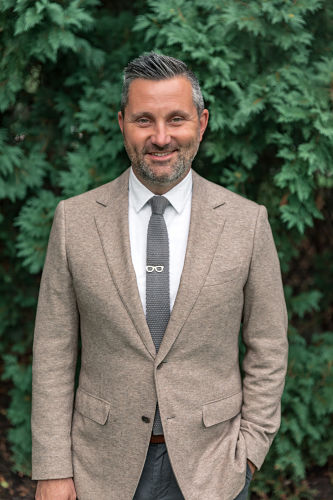 Ben is an Ohio native who graduated from Ohio Northern University. After college, Ben moved to Columbus and worked in sales at various retail stores around the city. He found his niche for styling at Nordstrom, where he built a ten-year career of fostering relationships and making people look and feel their best. He currently lives in New Albany with his husband and son.
Style Philosphy: Your style should be authentically you. I want to help people look and feel good from their kid's soccer game, to lunch with colleagues, to rooftop drinks with their friends.
Style Icon: John Legend, Colin Firth
Favorite Label: Rag & Bone; I love his passion for authenticity, quality and craftsmanship.
Most Meaningful Item in My Wardrobe: The watch my husband proposed to me with is stunning and timeless.  I hope to pass it on to my son one day.  I also love the tie I wore for my wedding.  I feel special when I wear it and is a great story when I get compliments on it.
Favorite Jeans: Rag & Bone Fit 2 slim fit jeans. I love denim and I love finding the pair that fits like a glove.
Biggest Splurge: My Magnanni Chelsea boots. Saw them -- had to have them immediately.
Greatest Steal: My Vince track jacket, found it at a reduced price in NYC!
Perfect Saturday: Morning coffee on the front porch with Drew and Elliott; afternoon at the pool; then dinner with friends and their families.
Favorite Food to Make: Pizza with my family recipe sauce. My family owned a small restaurant in western Ohio for over 40 years.  They were known for their pizza and people would come from miles away to get it.  I'm really proud of what my grandparents and parents built and the values they instilled in me.
Band You Wish to Meet Backstage: The Decemberists or Janet Jackson.
My Life in a Hashtag: #keepingupwiththetoddler
Word to Live By: "People will forget what you said, People will forget what you did, but people will never forget how you made them feel." - Maya Angelou
Philanthropy Close to The Heart: Kaleidoscope Youth Center
When You're Not Thinking Fashion, You're Doing: We like to keep it local: homegrown restaurants, shops, festivals, and theatre get our support.
Contact Ben at ben@wardrobetherapyllc.com or 614.561.3212.