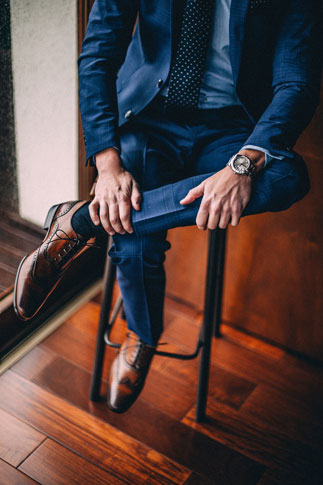 Never sure what to wear?  Let the professionals help.
Working with Wardrobe Therapy ensures that you're presenting the best version of yourself, and that you have a go-to resource to help you choose the right clothing for any occasion.
Our experienced stylists give you the tools you need to be knowledgeable about shopping for your age, body type, and day-to-day responsibilities, while helping you maximize the pieces in your current wardrobe.
Fashion is a tool to help build your personal brand, and most importantly, to give you the self-confidence to know that you always look polished and put together.
INDIVIDUAL SERVICES
Wardrobe Consulting
Our stylists review your existing wardrobe, sharing ways to work with the clothing you already own. We edit, purge, and organize, identifying gaps we will fill together.
Personal Shopping
We advise you on how to build a wardrobe with a solid foundation. Stylists can shop with you or for you, based on your preference. Should you choose for us to do the shopping, we help you outline a budget, discuss a shopping plan, and deliver the items.
Outfitting
New pieces are added to your existing wardrobe, with stylists showing you how to best maximize your entire wardrobe, including shoes and accessories. All outfits can be photographed and added to digital look books for easy reference.
Travel Wardrobe Planning & Packing
We handle everything – from checking the weather at your destination, to shopping for anything you might need, to packing your bags for you.
CORPORATE SERVICES
Look the Part
Available on an individual basis or in a group seminar format, this service helps professionals look the part, whatever their role and industry may be.
Photo Shoots
Our corporate clients look and feel their best for photo shoots thanks to our stylists outfitting and attending shoots.
WORD ON THE STREET:
   What our male clients say
"When I first contacted Wardrope Therapy, I was unsure of where the process would lead me. Three years later, I'm thankful I did! My closet looks amazing and I love the confidence I have in my wardrobe. Working with Christy has been a 10; responsive, professional, and personal."
–Doug, Corporate Pilot
"Wardrobe Therapy has helped me out tremendously.  Whether it be finding new clothes, putting together outfits, or organizing potential combinations into a convenient and easy to navigate digital Lookbook, Wardrobe Therapy was extremely professional and a pleasure to work with."
–Columbus-area Client and Business Executive
"Wardrobe Therapy not only helped me to identify my style, but has allowed me to have confidence in both my working and weekend wardrobe!  I have had several colleagues that noticed a difference, and are now clients of Wardrobe Therapy themselves. That is a true testament to the services that they provide! My wife is in agreement!"
–Columbus-area Client and Angel Investor