Partner & Owner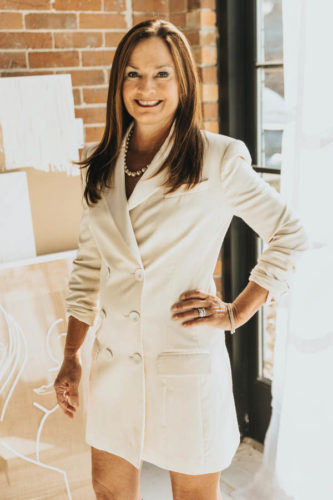 Katie is a Bexley native, graduated from CSG, and went on to Miami University Oxford Ohio. She began working for her family's company, The Dispatch Printing Company, in November 1996. Her career began in HR before she transitioned into Marketing, which led to her being named Publisher of The Niche Publications for the company, including Capital Style, a local women's fashion magazine, which only further deepened her interest in fashion. Elizabeth and Katie began working collaboratively which led to a long-term relationship and Katie taking a partnership role in December 2019. Katie is excited to bring new ideas to the brand, yet still remains active in her current role overseeing philanthropy for the Wolfe family. She lives in Bexley, Ohio with her husband, two sons and four dogs.
Style Philosophy: When you feel good about how you look, it translates to how you feel and how you project yourself.
Style Icon: Jackie O and Audrey Hepburn
Favorite Label: Alice & Olivia or a classic Theory piece.
Most Meaningful Item in My Wardrobe: My father's platinum and diamond pinky ring.
Favorite Jeans: Mother Denim
Biggest Splurge: Carolina Herrera Dress
Greatest Steal: Fur Coat
Perfect Saturday: Workout, then a bubbly brunch with family and friends.
My Favorite Food/Meal to Cook or Bake: My mom always said, "if you can read, you can cook." I am the exception so my meal prep for good food includes either a phone, Postmates or dinner out.
Band You Wish to Meet Backstage: Madonna
My Life in a Hashtag: #TryingToKeepUpWithLife
Words to Live By: Everyone deserves to be treated well.
Philanthropy Close to The Heart: The Center for Family Safety & Healing, Star House, The Columbus Zoo & Aquarium, The Ohio State Veterinary School.
When You're Not Thinking Fashion, You're... All things family, mom and working out.
Contact Katie at Katie@tdpcompany.com.