Stylist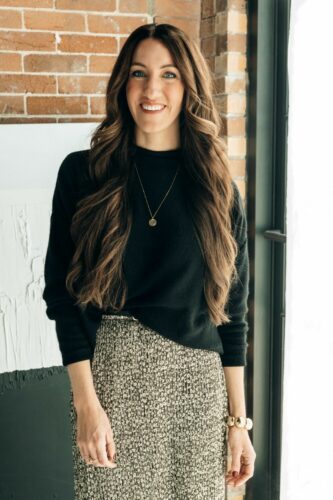 Brittany Emery's dad is a college football coach, so she has been to more football games than the average fashion girl. Fall is her favorite season because of the fashion, but also because of the nostalgia of football season and attending games with her family. Britt spent the majority of her career with Anthropologie, most recently as the Visual Merchandising Manager at the Easton location, but she was at the Short North store for four years as well. Britt and her husband moved to Columbus from Indianapolis in 2018, and have loved being in the Buckeye state (though only one of them claims to be a Buckeyes fan). They have a mini golden doodle, Winnie, who is notorious for floating a sassy side-eye. They call Rock City Church home and enjoy getting brunch afterward on Sundays at one of their favorite local spots (Emmett's in German Village tops the list!).
Style Philosophy:  Fashion has always been my favorite creative medium. I love to play with color, texture, and prints to create a look that is unique to myself or the client I'm styling.
Favorite Label:  Stephane Rolland for couture - the sculptural aspects of his designs are incredibly unique and jaw-dropping.
Most Meaningful Item in My Wardrobe: My mom's sapphire birthstone ring.
Favorite Denim: Mother
Biggest Splurge: Two Alice and Olivia dresses from my early days when I was a personal stylist at Nordstrom. They were my first higher-end pieces. They were from the same collection, and I loved them. At the time, they were a splurge for me, and also my greatest steals because I got them on sale with my employee discount!
Greatest Steal: The Alice + Olivia dresses from my time at Nordstrom.
Favorite Food to Make: Takeout order from Northstar
Your Perfect Saturday: A football game with the fam!
My Life in a Hashtag: #everafteremery
Words to Live By: "33 I will sing to the Lord all my life; I will sing praise to my God as long as I live. 34 May my meditation be pleasing to him, as I rejoice in the Lord." - Psalm 104:33-34
Philanthropy Close to The Heart: Columbus Dream Center
When You're Not Thinking Fashion, You're... Planning my next adventure
Contact Britt at Britt@wardrobetherapyllc.com.