Stylist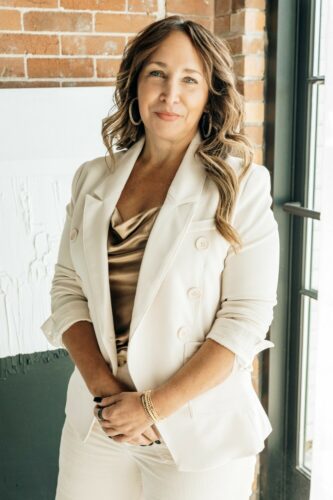 Christine Ciminero grew up in Northeast Ohio in a small town called Niles (close to Youngstown), where her parents still live. Her first job was at the Limited, and she worked there throughout high school and during college breaks. Christine graduated from The Ohio State University, moved to Columbus, and started a family. While her kids were younger and in school, she had the great opportunity to re-enter the fashion world, at Thread Boutique, where she worked for about 5 or so years. Her children have since grown; her daughter, 24, recently moved to Chicago and her son, 21, attends The Ohio State University.  Christine's life has taken a few detours, and amazingly enough, has brought her full circle back into the fashion world, to Wardrobe Therapy.
Style Philosophy:  Personal style should be a reflection of who you are. When you look good, you feel better- more confident. Confidence gives you a more positive attitude, you begin to treat yourself and others better.
Favorite Label:  Tom Ford and Veronica Beard
Most Meaningful Item in My Wardrobe: My mother's original engagement ring, without the diamond. I'll have it set with a ruby and give it to my daughter and my father's St. Christopher pendant which will go to my son.
Favorite Denim: Citizens of Humanity
Biggest Splurge: My Louis Vuitton sunglasses
Greatest Steal: Valentino sneakers
Favorite Food to Make: I'm 100% Italian, so anything Italian…homemade sauce, meatballs… you name it!
Your Perfect Saturday: Work out, have coffee/tea on my patio, and watch college football or other sporting event. If my kids are around, spend time with them. Otherwise, dinner with friends.
My Life in a Hashtag: #embracethedetour #meeep
Words to Live By: Be kind to everyone, you never know what someone is going through. A smile and a hello can change someone's day.
Philanthropy Close to The Heart: CAPS for a Cure and Thread of Hope, benefiting Sam's Fans.
When You're Not Thinking Fashion, You're... I'm spending time with my family and friends. I love going to dinner and walking through the Short North. Maybe trying a new recipe or watching a good movie.
Contact Christine at Christine@wardrobetherapyllc.com.