Founder & Partner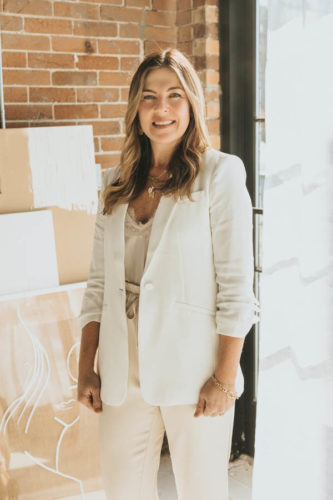 Elizabeth graduated with a degree in fashion merchandising and design from Bowling Green State University and New York's Fashion Institute of Technology, which has recognized her in its Hue magazine for Wardrobe Therapy's success. Before launching Wardrobe Therapy, Elizabeth worked as a corporate stylist for Fortune 500 Columbus-based retailer Express and as a stylist and manager at an upscale Columbus boutique. She lives in Bexley, Ohio with her husband, son and daughter.
Style Philosophy: When you look good, you feel good. It's really that simple.
Style Icon: Kate Moss and Sienna Miller.
Favorite Label: Rachel Pally & Ulla Johnson
Most Meaningful Item in My Wardrobe: Christian Dior saddlebag given to me for college graduation from my grandmother. It was my first designer bag, and she has since passed. Or my other grandmother's fur. Both pieces are "forever" pieces in my wardrobe and will be passed to my daughter one day.
Favorite Jeans: High Rise Mother Straight Denim
Biggest Splurge: Vintage Chanel Bag, found at What Goes Around Comes Around in NYC.
Greatest Steal: Ron Leal trench coat, which I got because it was a sample. It now feels like I should store and frame it!
Perfect Saturday: Going to a sporting event for our kids, heading to the park, lunching late and dinner with friends and family. The best day!
Favorite Food/Meal to Cook or Bake: I'm not the greatest cook, but I do aspire to make fabulous things! My favorite recipe expert is either Clean Food Crush or my sister.
Band You Wish to Meet Backstage: The Lumineers or Mumford & Sons (we have a dog named after the band!)
My Life in a Hashtag: #familyiseverything #nevergiveup #smile #makeeverydayarunway
Words to Live By: "Be kind. Work hard. Stay humble. Smile often. Stay loyal. Keep honest. Travel when possible. Never stop learning. Be thankful always and love." -Ritu Ghatourey
Philanthropy Close to The Heart: Freedom a la Carte, Flying Horse Farms, Dress for Success, so many amazing non-profits that make giving easy.
When You're Not Thinking Fashion, You're... Seeing Family & Friends. Watching our 2 kids grow before our eyes and adapting to each stage that they love, while making sure my husband and I are making all the memories too! Life is a beautiful treat.
Contact Elizabeth at elizabeth@wardrobetherapyllc.com or 614.323.0889.