Social Media Marketing Manager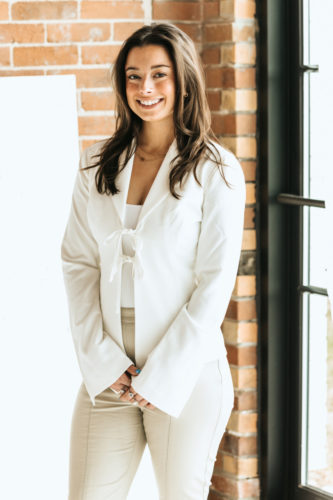 Iris graduated from Ohio University with a degree in Visual Communications. After working in the marketing world she realized it was time to pursue her passion- fashion. She then worked for Nordstrom and quickly became part of their stylist program. During her time at Nordstrom she built meaningful relationships with clients and learned a lot about the fashion and styling industry. She now lives in Grandview with her friend from college. 
Style Philosophy: Don't let trends dictate your wardrobe. Focus on what flatters your body type and what works with your daily life. Trends will come and go but quality pieces that flatter your silhouette will last forever. 
Style Icon: Audrey Hepburn, Bella Hadid 
Favorite Label: I love The Row, they are innovative and edgy but still have a strong focus on fit and quality. Orseund Iris is another label I love. Their ultra fem styling and use of amazing materials captivate me. 
Most Meaningful Item in My Wardrobe: My late father's baby ring engraved with his initials, I never take it off. Also, the Fendi watch my mom bought me. It was my first ever designer piece. 
Favorite Jeans: The Abercrombie Curve Love, they are the perfect fit every wear. 
Biggest Splurge: I recently bought my first pair of Valentino shoes… their classic studded slingback heels. 
Greatest Steal: My Cinq a Sept blazer I got from Second Chance. Practically brand new and fits like a glove!
Perfect Saturday: Morning cuddles with my cat, then brunch with my friends at Del Mar. Followed by a day at the pool. 
Favorite Food to Make: My world revolves around pasta, so anything involving one of my mom's pasta recipes. 
Band You Wish to Meet Backstage: Not a band but I would love to meet Dua Lipa or Selena Gomez. 
My Life in a Hashtag: #styledbyIris #happytobehere
Word to Live By: "Fashion changes, but style endures." – Coco Chanel
Philanthropy Close to The Heart: SPCA, Freedom A La Cart, Ohio Alley Cat Resource
When You're Not Thinking Fashion, You're Doing: Crafting with my friends or visiting local restaurants. 
Contact Iris at Iris@wardrobetherapyllc.com or 513.500.7702.