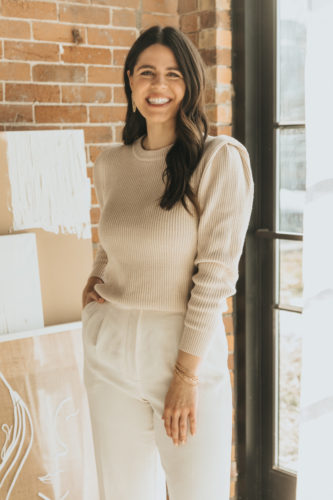 After a 4 year adventure in Los Angeles, CA, Whitney Shmidt returned to her roots in Columbus, Ohio. Knowing that Columbus was a blossoming fashion capital Whitney began her career in retail that lasted nearly 10 years. Starting at Kate Spade in 2013, which led to managing Coach, then Kendra Scott and most recently Evereve. While at Evereve, she spent time cultivating meaningful relationships with clientele and building trust in the fitting room.  It was during this time she recognized she felt most fulfilled styling and helping women discover the power of dress.
Whitney lives in Columbus, Ohio with her daughter Sophie.
Style Philosophy: Style is dressing the way you feel confident and beautiful/handsome. Confidence is the hero of every outfit.
Style Icon: Victoria Beckham (swap the stiletto for a sneaker) & Anine Bing
Favorite Label: Celine
Most Meaningful Item in My Wardrobe: A sparkly beaded bracelet made by my sweet girl.
Favorite Denim: Agolde Pinch Waist. I love the fabrication and the way they feel like my favorite vintage pair of jeans after just a few wears. Big plus, the brand focuses on sustainability and global impact.
Biggest Splurge: My Coach leather bomber. It was in their runway collection and when I saw it I had to have it. I found a way to wear it weekly the first season I had it.
Perfect Saturday: Breakfast with my girl at our favorite local spot, Fox in the Snow. Then we're off to explore our city, play at a park or Franklin Park Conservatory's Children's Garden. What Saturday is complete without a little mid afternoon nap?
Favorite Food to Make: A good charcuterie board. There's nothing better than a block of Pave du Nord or Manchengo alongside a glass of Cabernet Sauvignon.
My Life in a Hashtag: #mamalife #simplepleasures
Words to Live By: "My mission in life is not merely to survive, but to thrive; and to do so with some passion, some compassion, some humor and some style" - Maya Angelou
Philanthropy Close to The Heart: I spent years working for an anti-human trafficking organization.  There are so many good organizations fighting: Unlikely Heroes, Freedom a la Cart & Not For Sale are just a few.
When You're Not Thinking Fashion, You're... Everyday mama life with my best girl.  You can find us having a dance party in the kitchen, living in her world of imagination, going for walks around our neighborhood or exploring the city.  When I have a moment to myself, you'll find me listening to a podcast or reading over a good meal or a relaxing bath.
Contact Whitney at whitney@wardrobetherapyllc.com
Sorry, we couldn't find any posts. Please try a different search.