Fur is fabulous and forever, and extra worthy during the Holidays! Whether it's real or faux, every fashion gal should have a go-to piece for Winter occasions. We always say YES to fur! It's timeless, luxurious, and stunning. To inspire your fur shopping or to begin outfitting your current furry staples, we've put together a variety of fierce fur styles for you this season! p.s. it's super warm!
THE FUR JACKET: Daytime Casual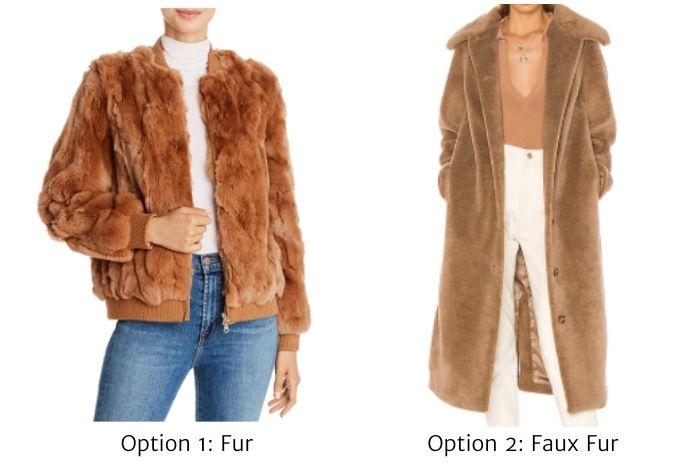 Real Rabbit Fur Bomber || Song of Style Faux Fur Coat
A great fur coat is classic, warm and long-term. This short-haired rabbit fur is oh-so-soft and chic. The bomber keeps the look casual, sophisticated and wearable. Pair with a graphic tee, black denim and combat boot in your 20's-30's. If 45+ pair with a turtleneck tucked into straight denim and a bootie. We also love this longer length "faux" fur. Chic for all ages, the v-collar lapel offers figure-flattering shape and the color is on point. Throw it on with denim or a knit to dress up a look. While we typically play with prints for "faux," this is an exception… it looks so real! [Clothing options linked].
THE FUR STOLE: Evening Attire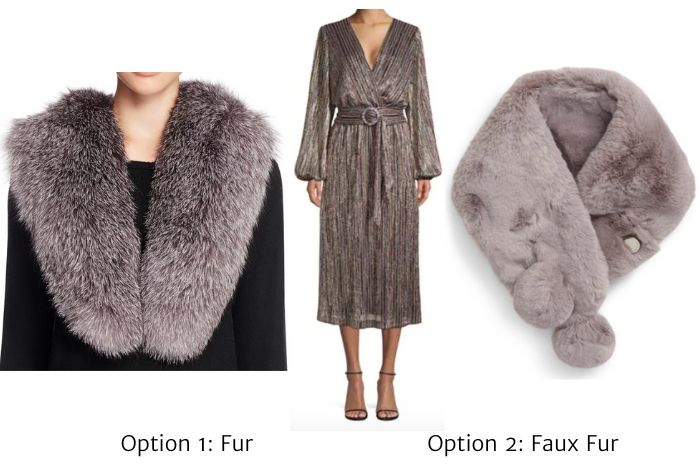 Surell Fox Fur Stole Scarf || Ted Baker Faux Fur Stole
A fur stole? Yes! An accessory that dolls up any evening dress without going head-to-toe in a long coat or short jacket. Make a statement with these elevated fur looks. A more delicate choice, the stole is definitely for the fashion-forward gal. It provides extra warmth, you can't go wrong! Nothing says fur accessories quite like this fox, and grey is so versatile. Not ready? This faux find still makes the cut. Need a holiday dress to complete the look? This metallic number may give you inspiration. [Clothing options linked].
THE FUR SHAWL: A Touch of Fur
Agnona Cashmere Shawl with Fur Pockets || Ralph Lauren Faux Fur Reversible Shawl
A fur shawl is a go-to for those who love a good cardigan. Less structured and more free-flowing, shawls add a touch of fur ornamentation without the entire fur look. This grey open-front shawl screams tres chic. It's cashmere, aka incredibly soft. What makes it extra special? The fur pockets and leather piping! This faux fur is also great for the gal who's classic or a tad edgy. Similar to the open fur option, but in a lovely camel with a cream underside, making it reversible. Oh, and the collar is detachable! Worn separately or together, it's a true workhorse piece for your wardrobe. With the level of versatility, it works for a variety of style preferences.
THE FUR VEST: A Sleeveless Statement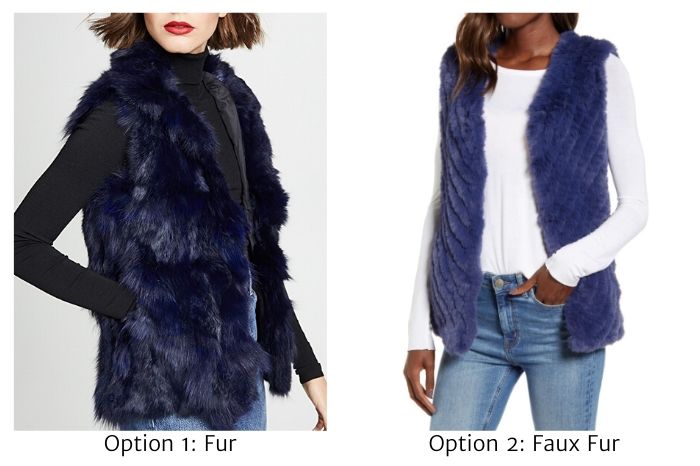 Adrienne Landau Fur Accent Vest || Love Token Faux Fur Vest
While a fur vest can offer warmth, we often like to incorporate this piece as a style statement. You normally wouldn't opt for a vest on the daily, so if you're going to work this fur look into your Winter wardrobe, we say "go fun" with this furry find. We love the pop of color idea. A rich jewel tone keeps this statement piece utterly chic and unique.
We hope you consider working fur (or faux!) into your Winter outfits! It's nearing holiday time, and this textured piece could be a great gift to give or receive! Need a hand choosing the right one? We can help you find your forever piece.
LIMITED TIME ONLY! Shop Wardrobe Therapy Gift Cards! The perfect gift! For existing and new clients, NOW is the time to stock up and save! Receive additional hours of service with each purchase… SHOP NOW!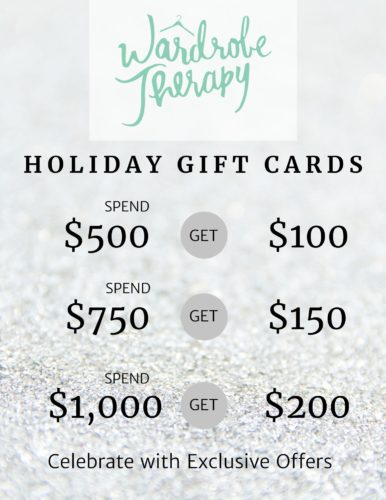 Winter consulting, Holiday styling, personal shopping and outfitting is here! Don't forget to book your stylist now! To learn more about our Personal Shopping, Wardrobe Consulting, and Outfitting Services, visit us at: www.wardrobetherapyllc.com/services/