LEATHER/FUR- SIDE PANELS, DETAILS
And so it continues for another fall season. Leather + fur = Fall.   And we couldn't be happier! It's on side panels of pants, on collars of jackets, it doesn't have to be real, faux is super chic too! Designers that embraced this trend: Alexander Wang, Altuzarra, J. Mendel.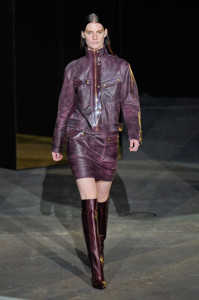 MENSWEAR-OXFORD, FULL SUITING
The last few seasons, it's been difficult to find full on suiting, without feeling "stuffy or ultra-conservative."  We love the element of the menswear look from day to night.  So Diane Keaton.  Just Plain Chic.
Derek Lam did it so right, we had to obsess.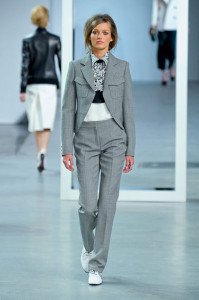 LADYLIKE-ULTRA FEM, SHEER/LACE, PETER PAN COLLARS
From Jcrew to Carolina Herrera we LOVE how polished us ladies can truly be.  Sheer blouses, peter pant collars, high-waisted skirts and jackets, oh my!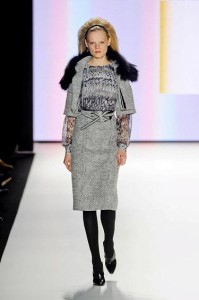 COLOR! –RICH JEWEL TONES, MIXED W/PRINTS
Burgundy, Emerald Green, Blue
The brights and neon color trend still holds steady, so if you have been hesitant to invest in it….just go with it! The citrons, hot pinks and bright blues all continue, they are mixed in with shades of Jade, burgundy, gold, grey, deep browns and rust shades to balance the bright colors.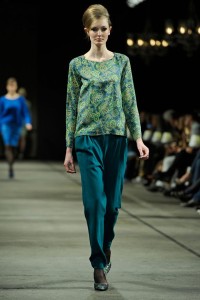 REPTILE PRINT-ACCESSORIES/BLOUSES/DRESSES
The Reptile trend can easily be infused into any wardrobe! J. Crew shows the trend as an accessory and in a very wearable skirt. If you are hesitant to go pull the trend into your wardrobe, add in a great handbag, belt or shoe.
Designers that love the trend are: Yigal Azrouel, J. Crew Runway, Rebecca Minkoff and Rebecca Taylor.
DENIM-METALLIC/COATED OR WAX DENIM/COLORS REMAINING
Anything goes this season! It's all about leather and suede infused denim and printed denim. We are seeing all of the Fall color trends too. Our favorite's are the jewel tones and faded reptile prints by: AG denim, J. Brand and Genetic.
PEPLUM-(PAIRED BACK TO PENCIL SKIRTS/DENIM/LEATHER PANEL PANTS)
The peplum trend continues from Spring. We love the idea of wearing peplum in the leather or brocade fabrications. If you want something wearable for everyday, look for a peplum sweater to pair back to your denim. Shown is Peter Som's take on the trend in a ladylike Audrey Hepburn inspiration. Get more inspiration from Tory Burch and Zac Posen.
MONOCHROMATIC NEUTRALS-(WINTER WHITE/SOFT TONES/BLUSH TONES)
White after Labor Day, says who?! We are loving the look of the all-white ensemble, but don't be afraid to mix in shades of ivory, blush tones, tans, and light greys. As for your shoe—aren't you glad you picked up that nude pump last spring?! Shown is Reed Krakoff's flawless idea of pairing a white suit with an ivory top. Other designers embracing the monochromatic neutral trend are J Mendel, Peter Som, and Proenza Schouler.
PATTERN- (MIX AND MATCH/MONOCHROMATIC PATTERN/ACCESSORIES)
This fun trend continues for Fall and we couldn't agree with it more! If you are weary about mixing patterns, don't be!! Just keep your prints small and in the same color way and you will be set. We love Derek Lam's take on this trend, keeping the pattern on the collar similar to the pattern on the dress, but spicing it up with a pop of color! We saw other great pattern looks from Diane Von Furstenburg, Tory Burch, and J Crew.
NAVY & BLACK-(MIX AND MATCH/ACCESSORIES)
Who would have thought after all those years of keeping our navy paired with navy and black with black, we would be outfitting the two together and calling it a trend?! But we LOVE it! Not convinced? Start small by pairing that navy dress with black tights and shoes, begin with your accessories and build from there! Break those rules and we promise you will look ultra-chic! Our favorite rule-breaking designers are Carolina Herrera, Bottega Veneta, Bill Blass.