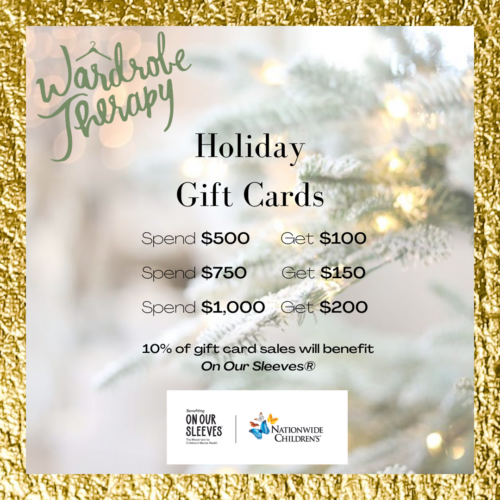 The countdown is officially on! And we have you covered for Hanukkah gifts, stocking stuffers or a large wardrobe overhaul! Wardrobe Therapy makes a fabulous gift for the hard to buy love in your life. The recipient will thank you (or they already have and know our talented team!) and all they want is a bonus on their account! Either way, we are gifting ready! In honor of this holiday season we are donating 10% of our gift card sales to On Our Sleeves® – a Nationwide Children's campaign dedicated to breaking the stigma around childrens' mental health.
In case you missed last week's newsletter, we had the opportunity to speak with Marti Bledsoe Post, the Executive Director of the On Our Sleeves® campaign. Marti gave great insight on what On Our Sleeves® is all about. She also gave tips on how to normalize the conversation around mental health. Click here to read our full interview with Marti.
The Holiday season is here! We love helping with the perfect gift!
Give the Gift of Style!
Make this Holiday Season a Runway!