February is typically reserved for our "Men We Love" feature; however, this time we want to shake it up a bit and highlight one of Wardrobe Therapy's go-to places for our male clientele and the woman, whom we love, that is behind it locally in Columbus: Carissa Abele, professional custom clothier with
Balani Custom Clothiers
located in the Short North.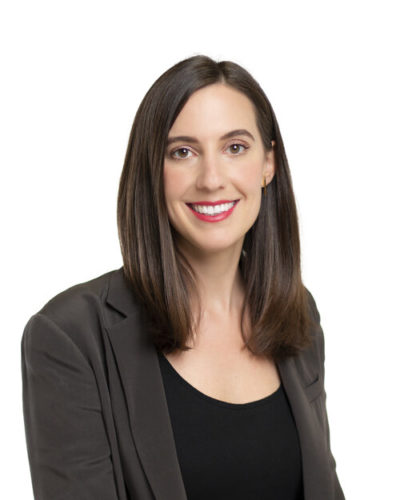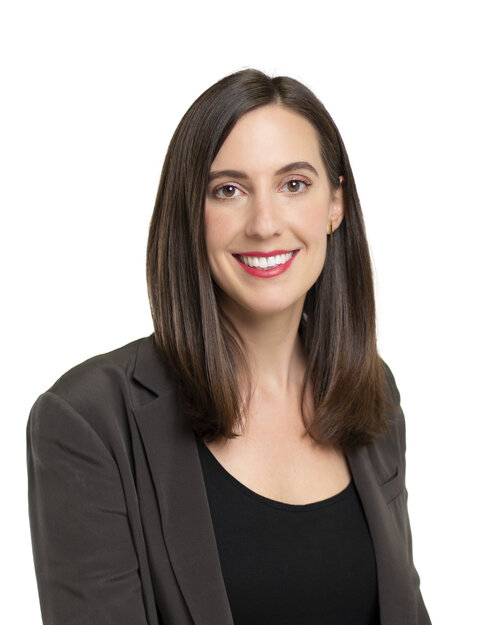 Over the past couple of years and even before the pandemic, we have seen a casualization in men's wear-to-work fashion.  The pandemic forced a lot of us to create WFH (working from home) offices and in turn curate our own WFH wardrobe.  Offices, businesses, and companies all went to a more casual dress code. That pendulum swung so far that we even stopped seeing formal office wear; i.e. suits and sportcoats, in the stores.  As businesses are starting to open back up and dress codes are being reevaluated; the question that continues to be asked is "What do I wear to the office now?"; and even more terrifying: "Where do I go to get it?"
Our team has been working hard to answer these questions and guide our male clients in the right direction as they are going back to the office. As mentioned above, Balani has been one of Wardrobe Therapy's go-to places for our clients in need of a suit, sport coat, shirt, or pants; and Carissa has been there to assist us and our clients along the way.  We are excited to share our conversation with Carissa to learn more about her, her career in fashion, and Balani Custom Clothiers.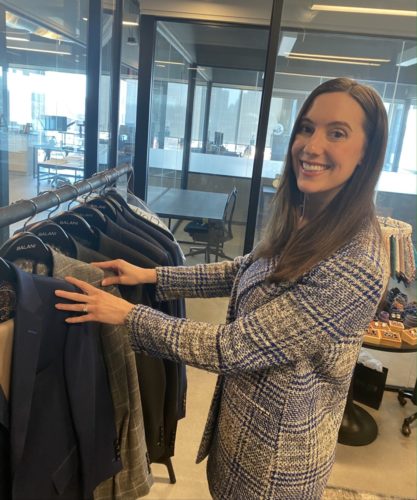 Q: Our Wardrobe Therapy stylists have been using Balani Custom Clothiers for just over a year now.  Can you tell our clients, who may not know you, a little bit about your background and how you came to be a custom clothier and work with Balani?


A: At 14 years old, I was marking, pinning, and fitting clients at a local tailor shop. There, I became an apprentice for well-tailored clothing and my interest for fashion and design peaked. I graduated from Kent State University where I studied Fashion Design. After college, I moved to LA and started my career in pattern making at BCBG. It quickly became apparent that I enjoyed human interaction over working on a computer all day. I transitioned to high-end luxury sales on Rodeo drive, and shortly after landed a job working for a custom Red Carpet designer, Mark Zunino. We dressed celebrities and socialites for everyday, weddings, and award shows. It was equally fun and challenging, but it was LA, so working 2 jobs to keep up with the lifestyle of a 22 year old was the norm. My second job was at Nordstrom. I worked these two jobs, 7 days a week, for 2 years before moving back to Ohio. In Ohio, I landed at Nordstrom in Columbus as a personal stylist for both men and women, where the opportunity to work in custom menswear presented itself. I decided to make this career move as it would satisfy my creative drive, as well as provide an amazing experience for my clients. My clients could get clothing that was not only made for them, but also tailored to their individual lifestyle needs. When I finally joined BALANI Custom Clothiers, it had already been recognized as a leader in the industry for over 52 years and I knew that this was an amazing opportunity to learn and develop in my career. I am now in my 8th year as a custom stylist—time flies!
Q: Balani is in 15 cities now, how did it all begin? 
A:
BALANI Custom Clothiers was established in 1961 by master tailor, Peter Balani. For over 40 years, Peter Balani traveled the globe, 

dressing and 

establishing relationships with elite businessmen

 and celebrities

. In 2003, Sonny Balani, Peter's son, took over as CEO of BALANI Custom Clothiers. With a background in business and finance, Sonny restructured the company model and modernized BALANI C
ustom Clothiers as a 

destination

, luxury experience. He opened 

BALANI's first

 modern showroom 

in Chicago 

and created an environment where men could relax with

 a

 beverage while customizing their new clothing

 with the help of a professional stylist

.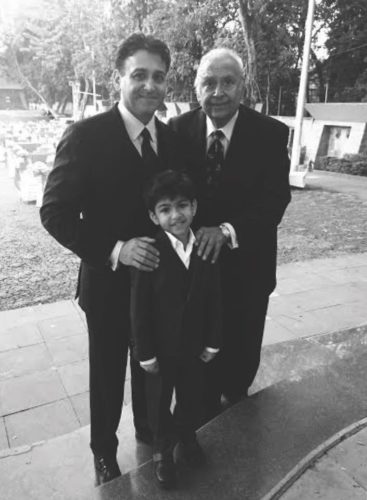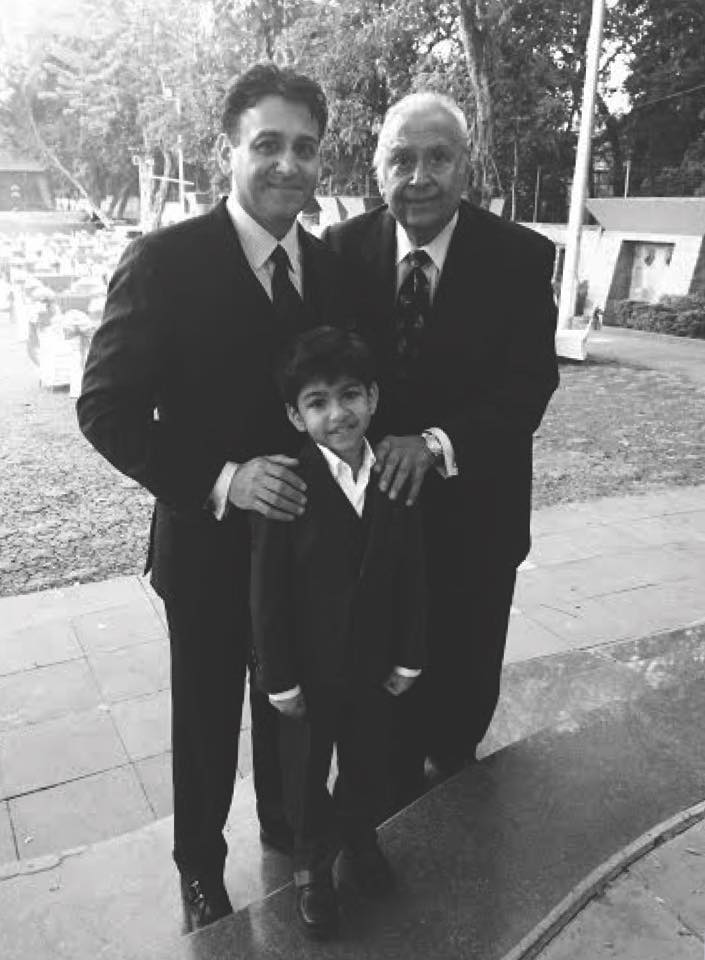 Sonny Balani (l), Peter Balani (r), Jai Balani (c)

Q: Our stylists have introduced some of our clients to Balani for custom suits, shirts, sport coats, pants, etc. One question we get a lot is about all of the choices for fabric. How does Balani decide where to source their fabrics from? 
A
:
All of our fabrics are sourced from some of the top mills in the world. Over 60 years ago, Mr. Balani, the founder of the company, traveled across Europe to meet with different English, Spanish, and Italian fabric mills. He personally established relationships with these vendors that we still work with today. Each of the mills we partner with are world-renowned for their luxury fibers, meticulous weaves, and innovative patterns.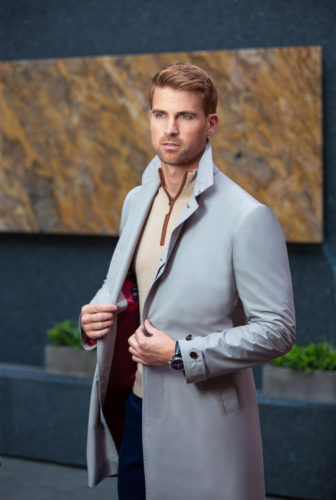 Q: Personally, I love when a client chooses a well-fitting sport coat with a unique pattern.  What is your favorite piece to make for a guy?
A: I agree! I absolutely love making custom sport coats, as they usually become a wardrobe-favorite and they elicit tons of compliments. I also love designing custom outerwear.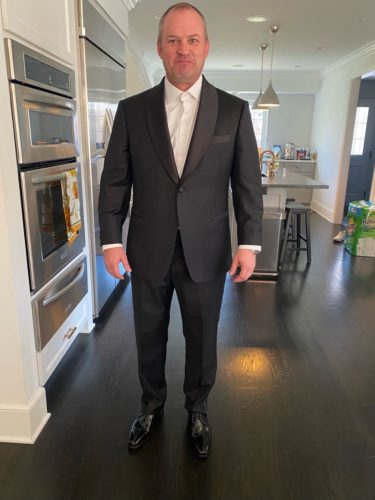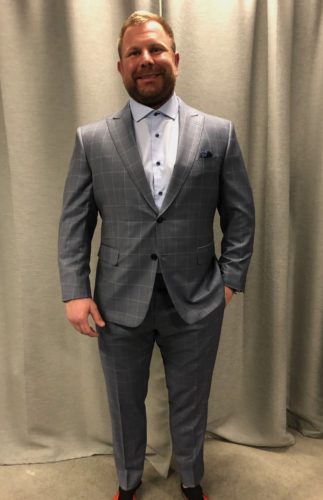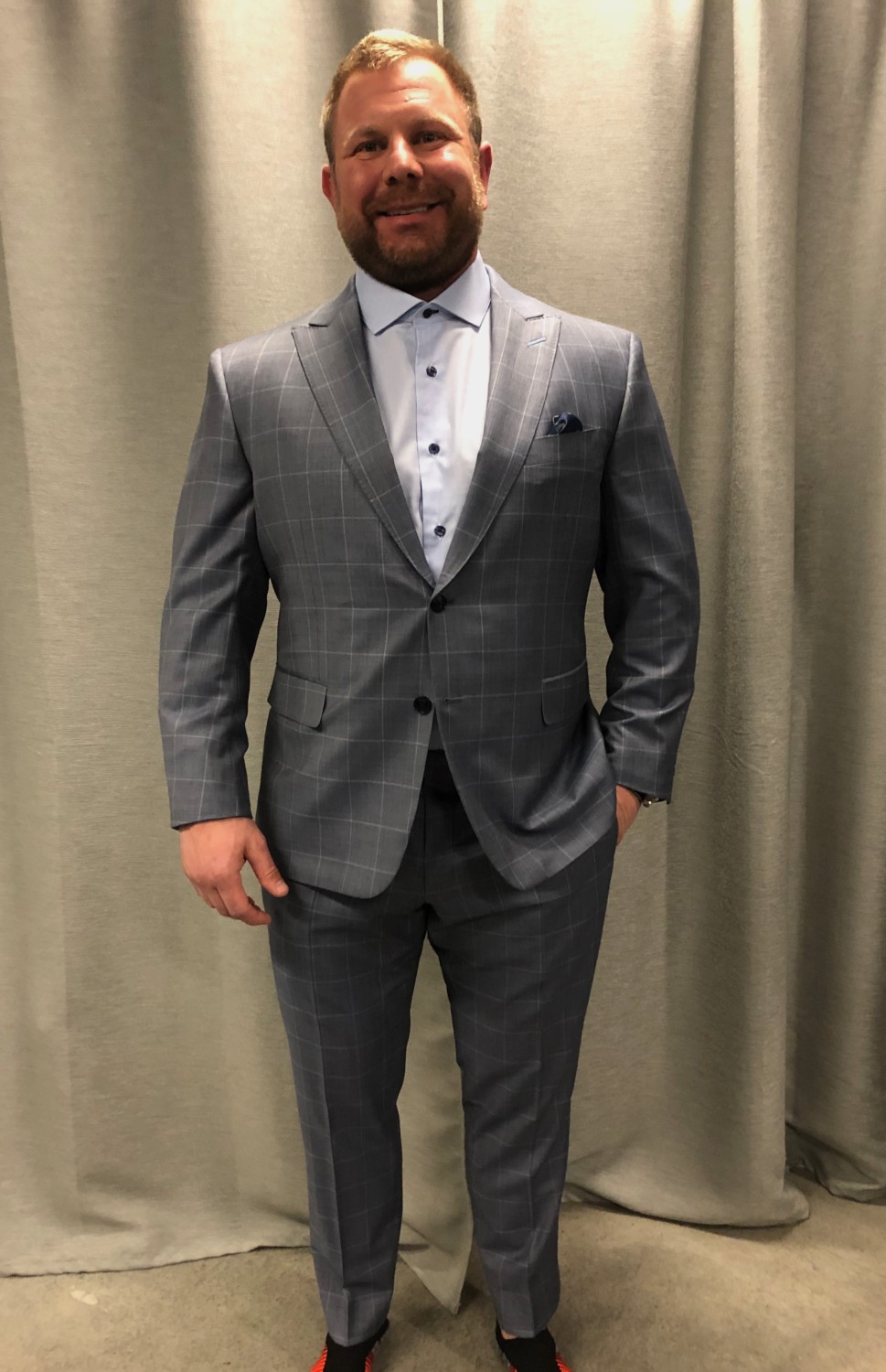 Mr. Chris Adkinson                                                                         Dr. Jon Runion
Two of Wardrobe Therapy's clients that Ben and Candace have helped create outstanding looks from Balani.
Q: Working in custom clothing, what is the most rewarding part of your job?
A: I would say the most rewarding thing is dressing my clients for their biggest moments—a first job, a promotion, a wedding! It is of course satisfying when I know a client looks amazing in their custom clothing, but it is immensely gratifying when they exude happiness and confidence. I've seen so many unforgettable smiles and dancing (yes, dancing!) when clients try on their garments for the first time!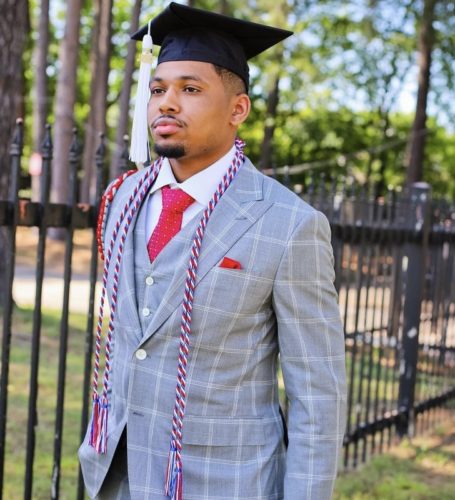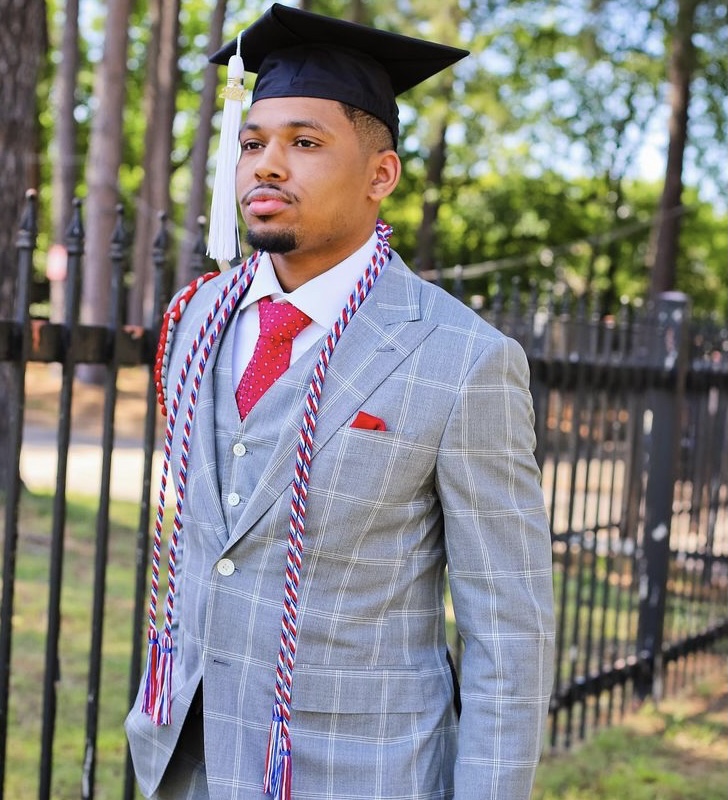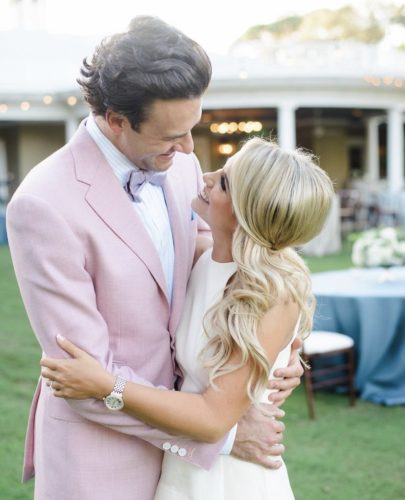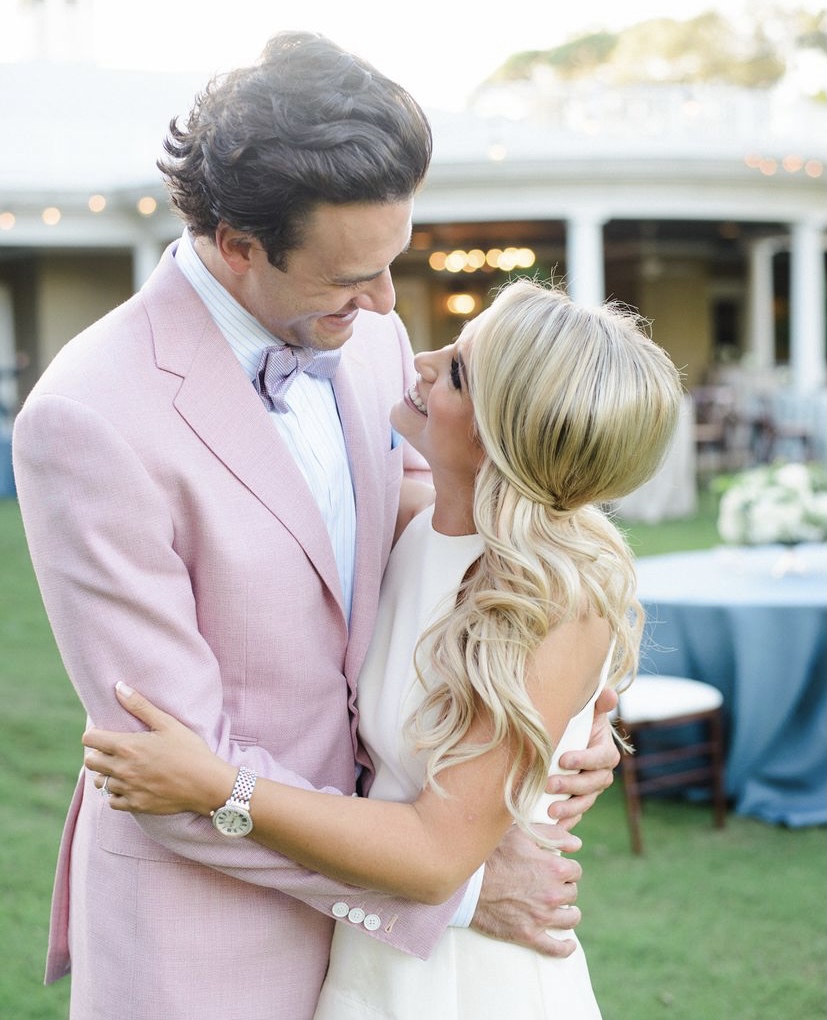 Q: I think custom clothing gets the reputation that it's only for that hard-to-fit guy.  Can you describe the Balani client? Who is custom clothing for?
A: While we certainly have clients that find it difficult to shop off-the-rack, we also have a variety of clients with different wants and needs. Someone who is very busy, someone with limited time, someone who dislikes shopping, someone who wants something unique, someone looking to add that special occasion piece to their wardrobe for a wedding or event, or the everyday business professional, are all gentlemen that appreciate our services.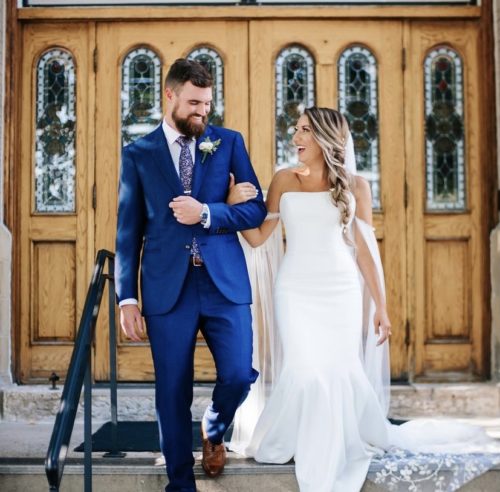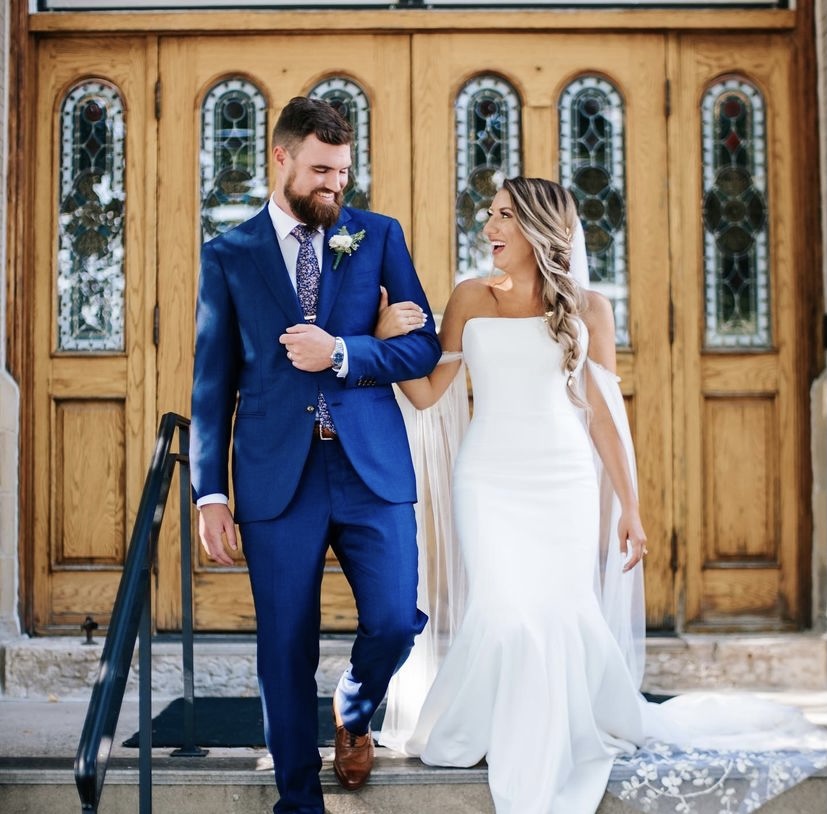 Q: We recently had our Spring trend meeting with all of our stylists where we discussed the spring trends coming this year.  What trends are you excited to see coming for menswear in 2022?  
A: I have 2 favorite trends right now. Green suiting is one that has been seen on the runway and is easily translated to everyday casual or workwear. I have been working with various green shades in custom sweaters, sport coats, and suiting. The other trend I'm loving right now is a casual varsity jacket—an easy and fun piece to throw on for weekend outings. 
Mark Your Calendars!
Wardrobe Therapy is co-hosting an event with Balani on March 10th at
Le Meridien
in the Short North. Please RSVP to your Wardrobe Therapy stylist if you are interested in coming.  We are encouraging that you bring a friend that might be interested in learning more about Wardrobe Therapy and Balani! Come have a cocktail and a light bite with us!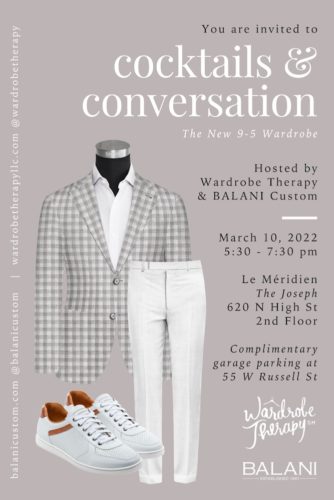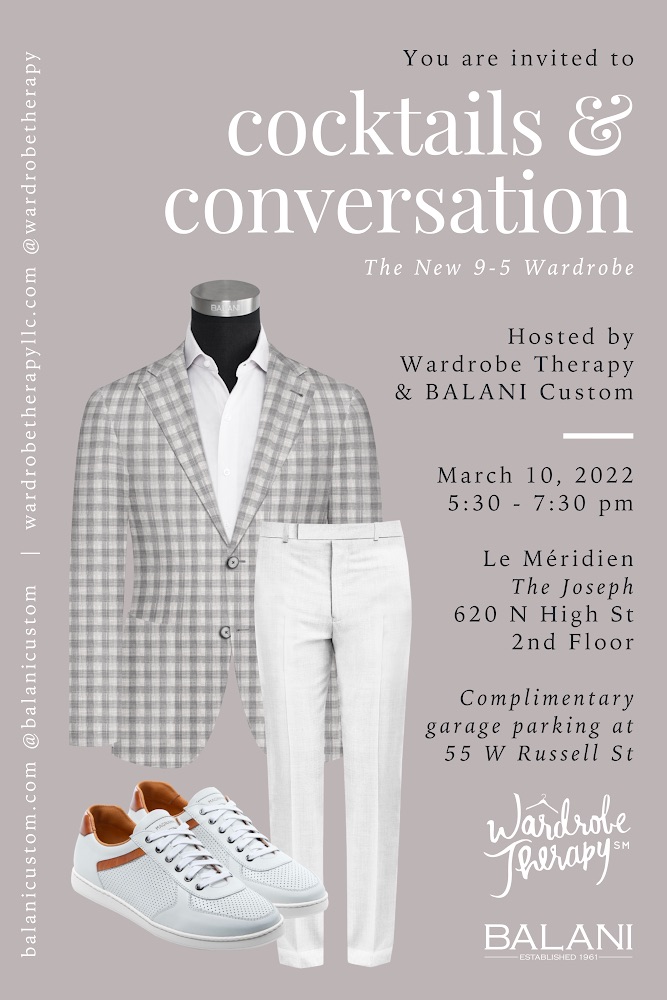 Spring is fast approaching and our stylists are booking up! Let one of our stylists help get you ready for Spring.
Keep Making Every Day A Runway!