We're incredibly lucky that Columbus, Ohio is becoming a widely known fashion arena,  where we get to enjoy fashion shows without having to travel out of our backyard.  And to "one up" your typical runway show, we get to attend shows that benefit local organizations – who doesn't love a party with a purpose?!
On September 24th, Leál Boutique will present the "Runway to Awearness" Show benefitting the Patricia A. DiNunzio Ovarian Cancer Fund and the following week, September 30, Rowe Boutique will present "Street Style Love Song" benefitting The Jack Roth Fund.  And of course, we have Columbus Fashion Week coming in October! We can't wait to see you out and about! So you have your tickets, you've gathered your friends, but now what to wear? We've put together 3 looks, no matter your personal style, that will have you looking and feeling fabulous for each show!
The Contemporary Fashion Queen
Layers, plaid trousers, pops of color – this look will turn your Wardrobe Dilemma Frown into the Queen of the Fashion Show FROW.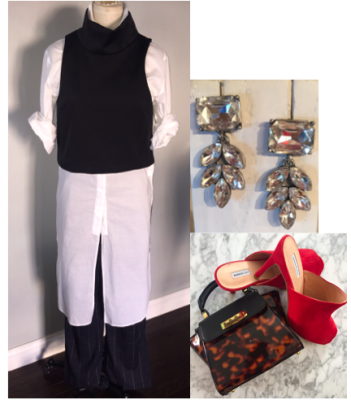 Entire Look – Ladybird Boutique
The Cocktail Dress with a Twist
If you like to get dressed up but you aren't sure how to put that Fall Fashion spin on the typical cocktail attire, then this next look is for you.  A faux wrap dress paired with the softest of furs and a great chapeau, will have you wanting to dance down the runway with the rest of the incredible looks!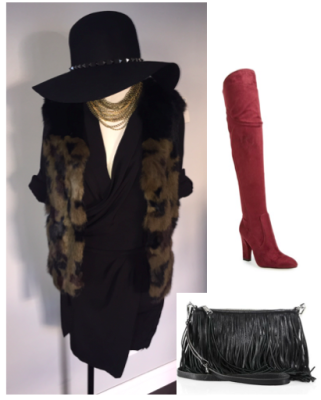 Dress, Fur Vest, Hat, and Necklace – all Rowe Boutique
Rebecca Minkoff Fringe Bag – worn as clutch
The Dressed Up Denim
For those of us who live in our denim duds, this is an easy way to dress up your look without feeling like you're not yourself.  Pair a sleek, leather pant with a girlie take on the crew-neck sweater (unbutton those shoulder buttons to keep the neckline open), add some jewels and a heel and you are ready to strut your stuff!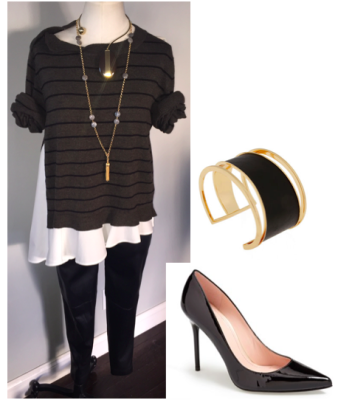 Leather Pants, Sweater, and Necklaces – Leál Boutique
To find out more about each show and to purchase tickets, visit the links here:
5th Annual "Runway to Awearness" presented by Leál Boutique
"Street Style Love Song – AW 15 Fashion Show" presented by Rowe Boutique
And to learn more about our Wardrobe Consulting, Personal Shopping, and Outfitting services, visit https://www.wardrobetherapyllc.com, or email the stylists directly at Alic@wardrobetherapyllc.com, Christyw@wardrobetherapyllc.com, or Elizabeth@wardrobetherapyllc.com.
Keep Making Every Day A Runway!