Hat Day (if you're local to Columbus) is only 1 week away and the Kentucky Derby follows it up the following day! Whether you want to wear a dress or pants, a wide-brim hat, or a fascinator we have inspiration for you!
Nothing says Hat Day and Spring better than a gorgeous floral frock! And no one does it better than Zimmerman! If you're splurging, this is a favorite! We love the juxtaposition of a sweet dress with a Western hat, and this ivory option is perfect (and local!). Top it off with a nude heel that disappears, and a pop of color with your handbag and you are Hat Day ready!
We love a chic pantsuit in lieu of a dress for this event.  To elevate the look and accentuate your waistline, wear the silk blazer closed and tie the wrap neatly to the side. Pair with a structured clutch and architectural heel to add a modern touch to this classic look. Finish off your hat day look with this gorgeous fascinator. We went with a monochromatic look for our hat, but you could also do cream for contrast.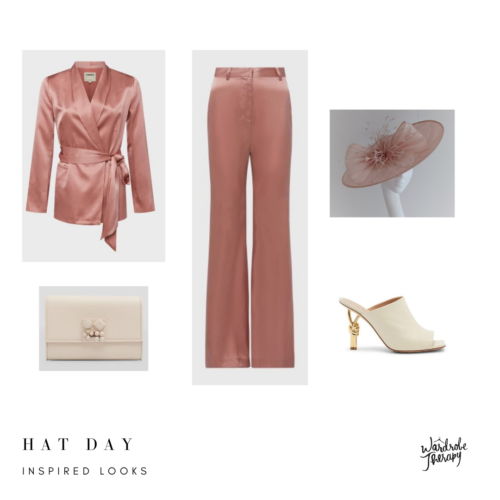 You can never go wrong with a dress option for Hat Day! Rather than opting for your usual, we encourage you to push beyond your comfort zone and do something fun and festive, like this dress by
Rhode
. To complete the look, we are opting for this lovely cream blazer, which grounds the additional color pops we are including through our accessories choices. And we most definitely suggest draping the jacket across the shoulders rather than wearing it for a more elevated yet relaxed look!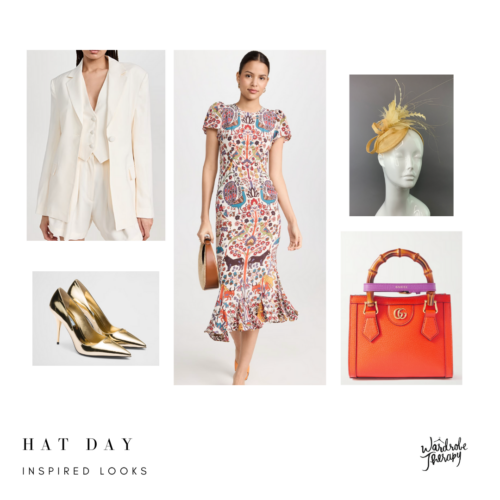 Keep Making Everyday a Runway!
For content created on our website and social media, some links contain affiliate links which we earn a small commission from.